ProstateMD® is scientifically-formulated for prostate health.*
Gluten-Free
Preservative-free
Soy-Free
Non-Dairy
Non-GMO
Shellfish-Free
Sugar-Free

Get Comprehensive Prostate & Urinary Tract Support*
ProstateMD® uses patented and clinically studied ingredients, selected for their targeted role in urinary tract and prostate health. This comprehensive men's health solution supports healthy prostate cell function and promotes normal urinary flow.*
Promotes Normal Urination Schedule During the Day & Nighttime Hours*
USPlus® is the only saw palmetto extract in the United States to receive verified certification from US Pharmacopeia (USP) and Consumer Labs, making it the highest quality saw palmetto oil on the market. Independent, 3rd-party testing shows USPlus® consistently achieves 85–95% total fatty acids, and contains three times the beta carotene, ten times the amount of lutein, and 30 times the zeaxanthin of typical saw palmetto extracts.*
Pumpkin seed oil and saw palmetto oil, both alone and in combination, have been found to help promote quality of life by maintaining healthy prostate function.*
Pygeum is an herbal extract from the bark of the African cherry tree that is used to support urinary function.*
ProstateMD® contains a potent sterol lipid blend of pine bark extract, stinging nettle, sunflower lecithin, and safflower oil, which promotes prostate health.*
Consistency Supports Optimal Prostate & Urinary Tract Health*
Tracking your progress over a minimum of 3 months can maximize your results.
Month 1

As you incorporate ProstateMD® into your routine, start limiting acidic foods at dinner to decrease nighttime bathroom trips.*

Month 2

Studies have shown it takes an average of 66 days to develop a habit. By now, taking your ProstateMD® dose will become more automatic.*

Month 3 & Beyond

Past 90 days, saw palmetto clinical trials resulted in support of a healthy prostate.*
*Individual results may vary. This timeline may not reflect the typical purchaser's experience, and is not intended to represent or guarantee that anyone will achieve the same or similar results.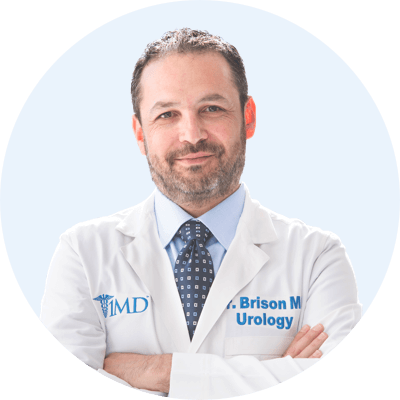 Recommended By 1MD's Urologist
Dr. Daniel Brison
The prostate is a walnut-sized gland vital for proper male reproductive system function and urinary tract health. As a board-certified Urologist, I have helped thousands of men maintain healthy prostate size and hormone levels, thus promoting a healthy lower urinary tract with normal nighttime urination, urgency, and stream, all of which may have an effect on quality of life.
This is why I stand behind 1MD's ProstateMD®, a scientifically designed formula made with unadulterated USPlus® saw palmetto, the only saw palmetto extract in the United States to receive verified certification from US Pharmacopeia (USP) and Consumer Labs, making it one of the highest-quality saw palmetto extracts for normal prostate function, bladder control, and urinary tract health on the market today.*
This formula combines 10 additional ingredients, including pumpkin seed oil and pygeum, all added to help promote prostate and urinary health. In my opinion, 1MD has created the purest and most comprehensive male health supplement on the market, offering men an opportunity to take a more proactive approach to improving their overall health and vitality.*
Patented & Comprehensive Ingredients For Targeted Prostate Health
ProstateMD®'s comprehensive men's health solution offers a potent blend of bioavailable plant sterols, essential nutrients, and vital minerals.*
USPlus® Saw Palmetto Extract

Shown in independent third-party testing to contain three times the beta-carotene, ten times the lutein, and 30 tmes the zeaxanthin of typical saw palmetto extracts.*

Pumpkin Seed Oil Extract

Alone and in combination with saw palmetto, pumpkin seed oil has been shown to maintain healthy prostate function.*

Pygeum African Cherry Tree Bark Extract

A potent botanical that is used to support urinary tract function.*

Lycopene Extract From Tomato

A powerful plant sterol shown to support healthy prostate cell growth.*
You can rest assured knowing there are never any harmful fillers or additives in 1MD products.
ProstateMD®

Supplement Facts

Serving Size: 1 Softgel | Servings Per Container: 30
Amount Per Serving
%DV

USPlus®

(Saw Palmetto Extract)

320 mg
**

Pumpkin Seed Oil

160 mg
**

Pygeum Bark

100 mg
**

Lycopene

15 mg
**

Lutein

6 mg
**

Monterey Pine Bark Extract

(Pinus radiata)

45 mg
**

Stinging Nettle Leaf

45 mg
**

Sunflower Seed Lecithin

45 mg
**

Safflower Seed Oil

24 mg
**

Copper

(from Copper Amino Acid Chelate and Copper Chlorophyllin)

2 mg
222%

Boron

(from Boron Amino Acid Chelate)

2 mg
**
Percent Daily Value based on a 2,000 calorie diet.
** Daily Value Not Established
Other Ingredients:
Gelatin, Water, Glycerin, Sunflower Seed Oil, Corn Oil, Beeswax
* These statements have not been evaluated by the Food and Drug Administration. This product is not intended to diagnose, treat, cure, or prevent any disease.
USPlus® is a registered trademark of U.S. Nutraceuticals, Inc.
Gluten-Free
Preservative-free
Soy-Free
Non-Dairy
Non-GMO
Shellfish-Free
Sugar-Free
How to take ProstateMD®

As a dietary supplement, adults take one (1) softgel daily, with a glass of water, or as recommended by a healthcare professional.
Write a Review
What are people saying?
I have suffered with Prostate issues for years. This supplement has made a huge difference.
I ordered this for me because I heard it was good for your skin. My husband started taking it because his doctor recommended a prostate supplement. He had taken prostate supplements in the past, but he really liked the results he saw from ProstateMD.
I'm 69 years old, very happy with this product and I've only used it a week. I now only have to get up once a night to use the bathroom. I'm even hopeful that in a little more time i will experience an uninterrupted night of sleep. Thank you for producing this fine made in the USA product.
For me this product starting working after a month. So far working great was getting up three four times a night. Down to only once a night now. Tried other products this works the best.
Hi, I'm new at this ( leaving a review ) but i must say, i started using this product last night ( Aug. 1st, 2020 ) and all ready this morning i can see and feel the difference. Belly not as bloated. Did not feel the need to rush to the bathroom and most important, was able to urinate fulling and comfortable. If this is a sign of whats to come, I'm very excited. Thank you 1MD.
My husband has taken 3 bottles of this and he really notices a difference. He is now only getting up to go to the bathroom twice per night instead of 4 or 5 times. It took about 2 bottles to really get these results.
It is really nice. Worth it.
I have been using Prostate MD for 4 months now and do not have any prostate issues other than those that are ordinary and customary in your senior years. In the 4 months I have been using Prostate MD, I have experienced a noticeable difference in my urine flow and numerous false alarms related to urination. I started noticing a difference after about 15 days of taking the supplement on a daily basis and the benefits form taking Prostate MD enhanced, to include better bladder control, the longer I took it up to about the two month point. Since then, the benefits I have recognized have stabilized as I have continued my daily dosage. The in one of the most beneficial supplements I have ever taken. I highly recommend trying it.
I've been using Prostate MD for almost 3 months now. I'm in my 50's now and in the past couple years I would get up at least once during the night to go to the bathroom. After 2 weeks using this product, I didn't get up. I was really surprised how quickly it worked. It seems like my pipes are working really well now. I can even enjoy a glass of wine at night without the worry of having to get up. Worth every penny.
Write a Review
Frequently Asked Questions
How is ProstateMD® different from other prostate supplements?
ProstateMD® is the most advanced prostate health support supplement on the market. ProstateMD® uses a blend of 11 powerful all-natural ingredients backed by the best scientific research in the world.
How is USPlus® Saw Palmetto Extract different from other extracts of the same name?
Due to the popularity of saw palmetto, a disturbing new trend of adulteration has led to some issues in supply. One of these has been the presence in the market of powder saw palmetto made from ground, unripe berries, which lack most of the important bioactives associated with the botanical's prostate health effects. In addition to the use of unripe berries to make extracts with low bioactives, numerous commercial suppliers were also found to contain large amounts of substitute materials, including extracts from different berries closely related to the palm species and some even went as far as to substitute with low-cost vegetable oil.
Valensa's USPlus® is the only saw palmetto extract in the United States to receive verified certification from US Pharmacopeia (USP) and Consumer Labs. USPlus® saw palmetto berries are grown and hand-picked in the wild in Florida, then dried to create saw palmetto oil by using a trademarked Deep Extract™ supercritical CO₂ technology process to extract the bioactive lipids from the saw palmetto fruit, without the use of strong solvents. This extraction process produces the highest quality saw palmetto oil in the world, consistently achieving 85 – 95% total fatty acids, found in studies to have superior bioactivity compared to many other phytotherapeutic extracts.
How does pumpkin seed oil help my prostate health?
Pumpkin seed oil can help inhibit the body from metabolizing testosterone into a substance linked to increases in prostate size. Pumpkin seed oil and saw palmetto oil, both alone and in combination, have been found in studies to help improve the quality of life of subjects with prostate health issues.
What is pygeum?
Pygeum is an herbal extract from the bark of the African cherry tree that is used to help ease problems related to urinary control, such as too-frequent urination, night urination, and urinary incontinence.
Does ProstateMD® have side effects?
ProstateMD® is an all-natural supplement with no known side effects. Our product is manufactured in the USA in an FDA-regulated facility using GMP standards. However, it is advisable that you consult your physician if you are concerned about any interactions with prescription medications you may be taking.
*These statements have not been evaluated by the Food and Drug Administration. This product is not intended to diagnose, treat, cure or prevent any disease.