OsteoMD® is a doctor-formulated bone health supplement with a clinically studied dosage.*
Non-GMO
Gluten-Free
Soy-Free
Preservative-free
Sugar-Free
Shellfish-Free
Dairy-Free

Improve Bone Mineralization & Bone Growth*
OsteoMD® uses groundbreaking, clinically proven ingredients, at their clinically studied dosage, to supply bone cells with crucial and highly bioavailable nutrients to help promote proper skeletal mineralization. Carefully formulated to work synergistically, OsteoMD® is proven to help support strong bones, boost calcium absorption, and promote healthy bone density.*
Increases Bone Density & Muscle Strength*
Calzbone® is a clinically studied form of Cissus quadrangularis (a perennial plant of the grape family, commonly known as veldt grape, devil's backbone, adamant creeper, asthisamharaka, hadjod and pirandai) supports bone-formation and efficient calcium utilization. Traditionally known as "hadjod" which means bone builder, the stem of Cissus quadrangularis has traditional use as a bone health treatment for Ayurveda.*
MenaQ7® is the only clinically backed form of vitamin K2 available on the market. Its most powerful benefit is to supply osteo cells with the necessary nutrients to make the protein required for bone formation.*
Vitamin D3 helps promote calcium absorption and skeletal mineralization and is more bioavailable than vitamin D2.*
Calcium Hydroxyapatite is a bioavailable, easily absorbable, naturally-occurring, whole mineral form of calcium and is the substance on which bone cells build bone. When paired with D3, it is clinically proven to help bone density improve more than calcium supplementation alone.*
Get On The Path To Healthy, Stronger Bones*
In clinical trials, significant improvement began at the 2 month marker.*
Month 1

Improvement in bone and muscle discomfort.*

Month 2

Increased circulating levels of vitamin K2 and increase in osteocalcin, which work together in bone formation and calcium loss prevention.*

Month 3 & Beyond

Clinical study participants reported bone fracture healing times reduced by 4 weeks, as well as bone density improvement.*
*Individual results may vary. This timeline may not reflect the typical purchaser's experience, and is not intended to represent or guarantee that anyone will achieve the same or similar results.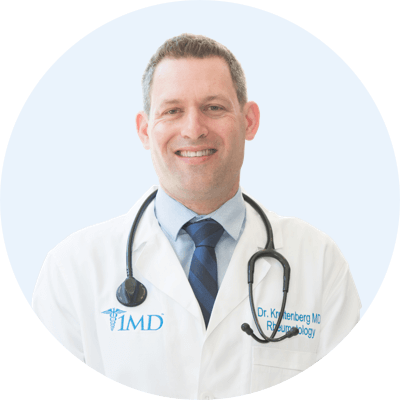 Dr. Kreitenberg's OsteoMD Report.Watch
Doctor Formulated
Dr. Adam Kreitenberg
As a board-certified rheumatologist, and a son who watched his mother suffer on a daily basis from disabling psoriatic arthritis, I have a strong interest in treating patients with severe and debilitating bone and joint ailments. My holistic approach marries cutting-edge immune therapies with nutrition, gut health, and physical therapy. Through my practice, I have witnessed dramatic improvements in my patients' quality of life.
This is why I stand behind 1MD's OsteoMD®, a clinically studied bone health supplement formulated to improve bone density, enhance bone mineralization, boost calcium absorption, and much more. Thus, providing complete bone health support.
This broad spectrum bone health formula offers a potent dosage of Calzbone® and MenaQ7®, two natural ingredients, proven to improve bone health. The addition of vitamin D3 boosts proper calcium absorption while the bioactive calcium hydroxyapatite works synergistically to enhance bone mineralization.
In my opinion, 1MD has created one of the most advanced bone health supplement on the market, by combining these four bioavailable nutrients. I recommend OsteoMD® to anyone looking to build and maintain strong healthy bones, promote skeletal strength, and improve their overall bone health.
Clinically Proven Ingredients United Into One Potent Formula
OsteoMD®'s potent blend of patented, clinically proven ingredients supports bone health.*
Calzbone®

This clinically studied form of Cissus quadrangularis increases bone mineral density and bone growth, while also helping the body direct calcium towards bone growth and maintenance*

MenaQ7®

This patented form of vitamin K2 as Menaquinone-7 is clinically proven to help reduce loss of bone density and encourages the body to properly utilize calcium to build healthy bone tissue.*

Vitamin D3

This form of vitamin D3 as cholecalciferol helps properly regulate serum calcium and phosphorus concentrations in the bloodstream and directs proper mineral deposition onto bone.*

Calcium Hydroxyapatite

When paired with vitamin D3, calcium hydroxyapatite is clinically proven to help improve bone density more than calcium supplementation alone.*
You can rest assured knowing there are never any harmful fillers or additives in 1MD products.
OsteoMD®

Supplement Facts

Serving Size: 2 Capsules | Servings Per Container: 30
Amount Per Serving
%DV

Calzbone®

(Cissus quadrangularis)

750mg

**

MenaQ7® Vitamin K2

(as Menaquinone-7)

180 mcg
**

Vitamin D3

(as Cholecalciferol)

50 mcg (2000 IU)
250%

Calcium Hydroxyapatite

(21.85% Calcium)

400 mg
6.7%
Percent Daily Value based on a 2,000 calorie diet.
** Daily Value Not Established
Other Ingredients: Vegetable Cellulose Capsule, Rice Flour, Vegetable Oil Powder, Silica
* These statements have not been evaluated by the Food and Drug Administration. This product is not intended to diagnose, treat, cure, or prevent any disease.
MenaQ7® is the registered trademark of NattoPharma ASA, Norway; Patented in the United States and Canada (US Patent numbers 8,728,553 & 8,354,129; Canada Patent Number 2,347,387).
Calzbone® is a registered trademark of Verdure Science, Inc.
Non-GMO
Gluten-Free
Soy-Free
Preservative-free
Sugar-Free
Shellfish-Free
Dairy-Free
How to take OsteoMD®

As a dietary supplement, adults take one (1) capsule, twice daily, with a meal, or as recommended by a healthcare professional.
Write a Review
What are people saying?
I started a month ago and hope to give you positive feedback. Currently have a horrible sinus infection and cough caused by phlegm drainage.
I just received my order 1/21/21 I look forward to giving you good news. Thank you for following through.
I been on this a short time, but can feel the difference already. Going to get bone scan next year and will let you know how it goes. Great team to work with. Thank you!!!! Dusty.
I had ordered 1 btl. but had to cancel due to lack of funds & it was done efficiently with all info needed. I have since ordered the 3 btl special and my paperwork for cancellation was taken care of so product to be received in 4-5 business days.
My right hip was really bothering me. I ordered OsteoMD with a lot of reservations, but wanted to try it. Within three weeks, I could see a slight difference. Within two months, I could take steps again without that stabbing, right hip pain. It really seems to help.
Ordered it a while ago and was nor able to start until recently due to medical testing I had to undergo. However,, I have been taking it regularly for 2 weeks now and feel much better my stiffness has subsided quite a bid.
While this product seems fine, the online account management and customer service at this company is very difficult. Based on the inability to deal with their customer service in a professional and efficient way, I do not recommend this product.
I was really hoping that this would be the answer to more poor bone health,but they just made me sick...sorry. I wanted them to work for me.
I ordered a month's supply to see if I would feel a change. I'm in my late 50s and felt fatigued and noticed my exercising wasn't helping me to feel strong as it had in the past. Taking OsteoMD for a month now and I can feel a difference. I feel like my bones are healing. I'm not so fatigued, and feel stronger. It's important for me to be healthy. I believe by adding this to my daily supplement regiment, it has increased my overall wellness. I will continue using this to continue on my path of becoming stronger as I age.
I can't rate as good or bad. I really don't notice any difference in how I feel but not sure I have been taking long enough to tell. I was hoping it would help accelerate healing of my broken elbow but it continues to knit slowly back together. The size is easy to swallow and I like that it is a capsule and not a large tablet.
Write a Review
Frequently Asked Questions
How is OsteoMD® different from other bone health supplements?
OsteoMD® is an advanced bone health supplement using a blend of 4 potent, all-natural ingredients backed by the best scientific research in the world.
What is Calzbone® made from?
Calzbone® is made from Cissus quadrangularis, a perennial plant of the grape family that has been traditionally used for thousands of years to support bone health. Ayurvedic physicians called it "Hadjod" or "Bone Builder".
How is MenaQ7® vitamin K2 as Menaquinone-7 different from other extracts of the same name?
MenaQ7®'s benefits to bone health, cardiovascular health, its optimal bioavailability, and more have been demonstrated and validated in over 20 clinical studies, published in peer-reviewed journals.
Additionally, both sources of MenaQ7® materials are given Novel Food status by the European Food Safety Authority (EFSA), is self-affirmed GRAS (generally recognized as safe) in the United States, and adheres to current Good Manufacturing Practices that are necessary for the processing, packing, or storage of food to ensure its safety and traceability.
What is the difference between vitamin D2 and vitamin D3?
Vitamin D2 is made by plants, whereas vitamin D3 is made by our skin when we are exposed to sunlight. Vitamin D3 is clinically proven to be a more effective, more bioavailable, more absorbable form of vitamin D.
Is calcium hydroxyapatite better than calcium carbonate or calcium citrate?
Calcium carbonate or calcium citrate are two very common dietary calcium variations. Both require lots of stomach acid to digest, so very little calcium is actually absorbed, which means it doesn't ever make it to your bones, where it's needed. Calcium hydroxyapatite is a naturally occurring mineral form of calcium apatite, which also contains an array of other minerals including phosphorus, magnesium, protein, and amino acids normally found in bone tissue.
Does OsteoMD® have side effects?/strong>
OsteoMD® is an all-natural supplement with no known side effects. Our product is manufactured in the USA in an FDA-regulated facility using cGMP standards. However, it is advisable that you consult your physician if you are concerned about any interactions with prescription medications you may be taking
*These statements have not been evaluated by the Food and Drug Administration. This product is not intended to diagnose, treat, cure or prevent any disease.