Hi, I am Dr. Brian Greenberg. I have spent almost 30 years helping patients of all ages maintain their respiratory and immune health, as an immunologist and allergist. After completing medical school, I first trained in Pediatrics and then Allergy and Clinical Immunology at UCLA before joining a private practice in Los Angeles.
It was during my time at medical school with long hours and intense stress that I noticed how many people struggled with cold sores and canker sores. It was a recurring problem for myself, too. Common, over-the-counter remedies just didn't work. My frustration with these ineffective prescription medications sent me on a path to find a simple and effective solution.
Spending days in the medical library extensively reading medical journals, I discovered mentions of the efficacy of probiotics, and then began experimenting with different probiotic strains, combined with other natural ingredients. After numerous attempts and countless hours of research, I found the perfect combination of probiotic strains and other specific natural ingredients that helped improve immune system function.
Years later, patients of mine that presented with the same persistent immunological conditions reminded me of the probiotics I had discovered. I decided to create a proprietary formula from the highest-quality ingredients whose efficacy would never diminish. I searched for years for a manufacturer that would be able to develop a quality formula and this search brought me to 1MD Nutrition™.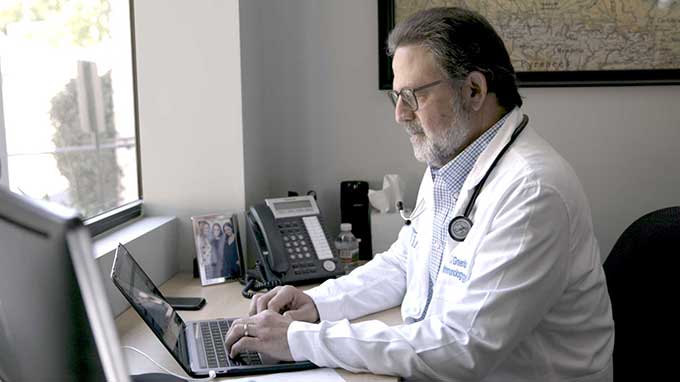 Working closely with 1MD Nutrition™ researchers and their reputable team of physician formulators, we sought to deliver more effective solutions for immune health. This led to development of ImmunityMD® Probiotic Formula and BreatheMD™ Lung & Respiratory Health formula, two proprietary solutions unlike any other on the market, which are manufactured at 1MD Nutrition's FDA-approved facility, here in the United States.
ImmunityMD® Probiotic Formula is the only immune system-supporting formula for lip, skin, and oral health that contains a proprietary blend of healing probiotics. The blend of prebiotics and probiotics boosts immune function by facilitating better absorption of nutrients in the gut. Nutraflora® Fiber, specifically, is a potent prebiotic that supports the growth of beneficial bacteria at the core of your immune system.
With respiratory diseases being leading causes of death in the United States, we developed a formula specifically to address this growing issue. BreatheMD™ is a unique immunity and respiratory formula containing clinically effective dosages of vitamins C, D, and E, elderberry, zinc, chromium, L-cysteine, and marshmallow root. These natural ingredients are added to African geranium, revolutionary herb that has been clinically proven to help support a healthy immune system and proper lung function, so you get whole body health.
In my quest to stay cutting-edge and to provide the best possible care for my patients, I helped introduce groundbreaking therapies. Using my clinical experience, nutrition science research and superfoods from around the world, I have championed the use of natural methods to improve the body's own immune system to promote health and healing. The safe and effective solutions we formulated are truly revolutionary immune and respiratory system supplements, free from chemicals, additives, and side effects.
My partnership with 1MD Nutrition™ led to the formulation of effective and lasting solutions for immune and respiratory health. Our supplements combine highly bioavailable, natural ingredients to stop harmful pathogens, help you boost protective antioxidant activity, and maintain respiratory and immune system functions. We go beyond other supplements and treat more than symptoms. We want to help you achieve optimal health and live a healthier and happier life.
Warmly,
Dr. Brian Greenberg
Immunologist & 1MD Nutrition™ Physician Formulator