Enjoy A Light And Heart-Healthy Lemon Rosemary Salmon Dish
2 minute read
---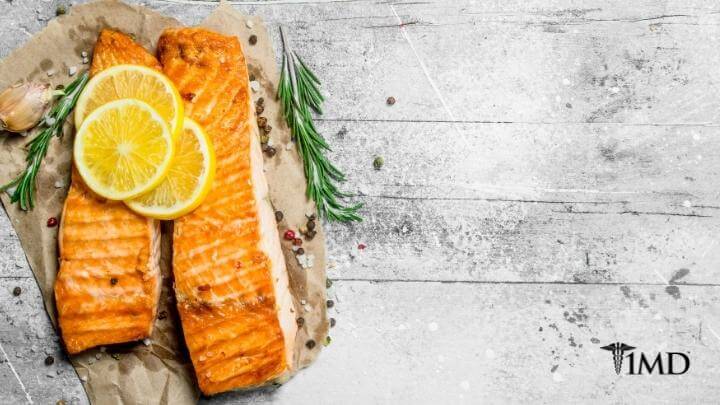 Nutrition
Lemon & Rosemary Salmon
Just in time for summer, enjoy this delicious dish of fish, perfect for heart health!
This fragrant, healthy salmon seafood dish contains rosemary, an excellent source of vitamin B6, calcium, and iron. Rosemary can help alleviate muscle soreness or pain, improve cognitive function and memory, and boost your immune system.

The lemon contains vitamin C, flavenoids, citric acid, and B-complex vitamins as well. Lemons are full of potassium, which is incredible for the health of your heart. Not to mention the actual salmon itself, full of heart-healthy omega-3 fatty acids.
Difficulty: Very Easy
Time: 30 Minutes
Serves: 2
Ingredients:
1 lemon, thinly sliced
4 sprigs fresh rosemary
2 salmon fillets, bones and skin removed
Coarse salt to taste
1 tablespoon olive oil, or as needed
Instructions:
Preheat oven to 400 degrees F (200 degrees C).
Arrange half the lemon slices in a single layer in a baking dish.
Layer with 2 sprigs of rosemary, and top with salmon fillets.
Sprinkle salmon with salt, layer with remaining rosemary sprigs, and top with remaining lemon slices.
Drizzle with olive oil.
Bake 20 minutes in preheated oven, or until fish flakes easily with a fork.
That's it! Easy and delicious! Enjoy!
Salmon contains a ton of antioxidant properties from the amino acid taurine, vitamin D, and selenium as well. It also contains phosphorus and vitamin B6. Any way you look at it, this healthy and delicious salmon dish is sure to become a family favorite, especially when you account for its incredible health benefits and flavors!
Photo / Recipe Credit: allrecipes.com | Cheddar97005 | Thank you for this dish!


---
http://allrecipes.com/recipe/80388/lemon-rosemary-salmon/