ImmunityMD Plus Is Now BreatheMD
---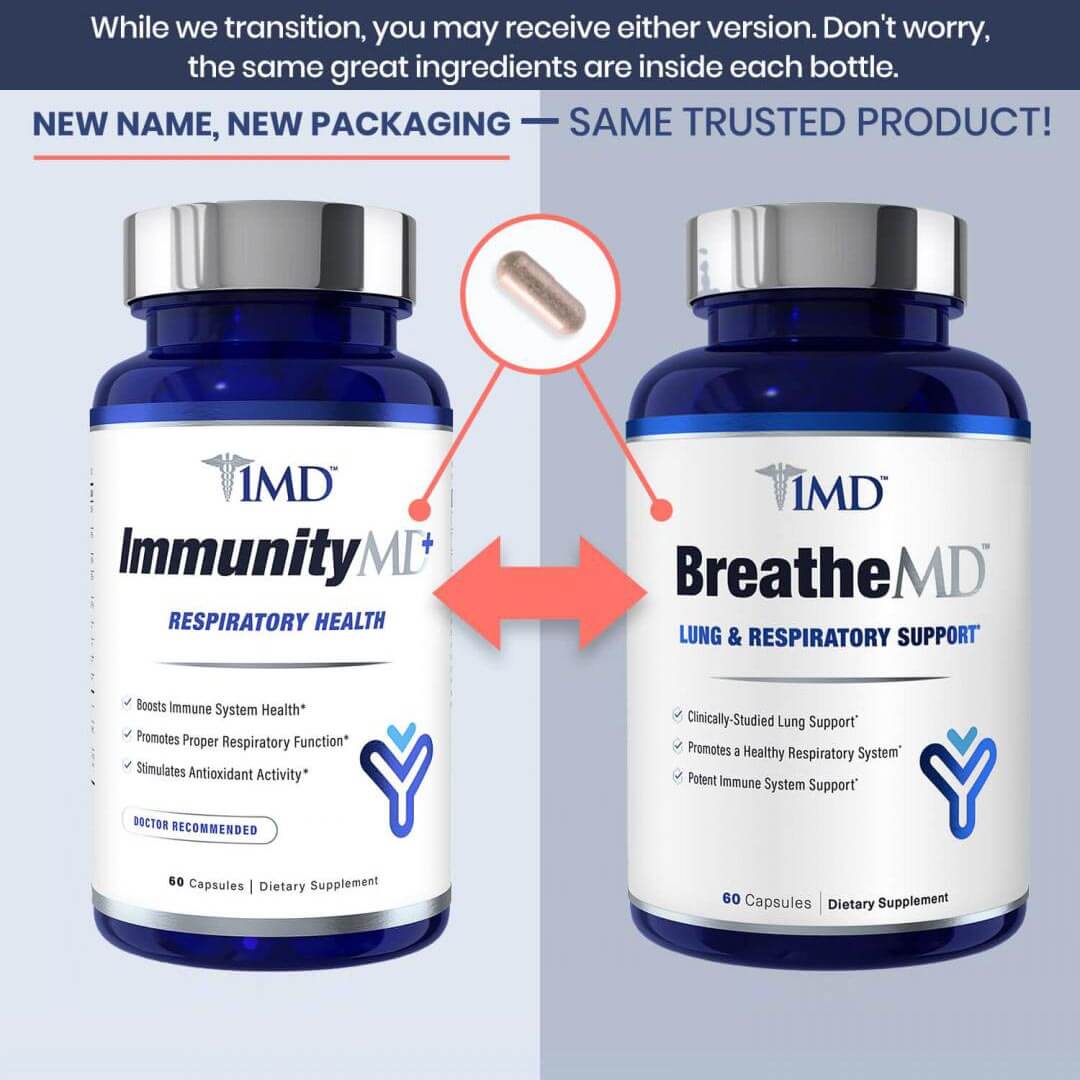 Immunity
ImmunityMD® Plus has a new name. We wanted to let all our valued customers know that 1MD's ImmunityMD® Plus will now be available as BreatheMD™.
The great benefits you've been experiencing with our scientifically-formulated lung, immune & respiratory system support supplement will be the same. The only change is the name.
Why The Name Change?
The #1 most asked question of 2020 by 1MD customers was, "What is the difference between ImmunityMD® and ImmunityMD® Plus Respiratory Health?" We decided that the best way to address this confusion was to clarify the difference with a new name!
ImmunityMD® Plus Respiratory Health is now BreatheMD™ to underscore its primary function of supporting your lung and respiratory health while still offering the same benefits to your immune system function.
Visit BreatheMD™ for potent lung and respiratory support as well as immune system benefits.
♦ Promote proper lung function
♦ Help normal mucous function
♦ Promote respiratory tract comfort
♦ Encourage antioxidant activity
♦ Promote immune system defenses
BreatheMD™
The formula has not changed. BreatheMD™ is the same scientifically-formulated supplement you know and trust. Support lung, respiratory, and immune system function with proper dosages of South African Geranium, elderberry, NAC, vitamin E, vitamin D, vitamin C and potent botanicals.
These powerful ingredients work synergistically to support the function of every single cell involved in the body's immune response system, particularly as it relates to lung function and respiratory health.
What To Expect From BreatheMD™
Within 1 Month
Further support lung, respiratory and immune health and maximize the benefits of your BreatheMD™ by incorporating good nutrition and regular exercise into your daily routine.*
Within 2 Months
Studies have shown that it takes an average of 66 days to develop a habit. By now taking your BreatheMD™ dose and keeping your nutrition and lifestyle changes will become more automatic.*
Within 3 Months & Beyond
Continuing to take the essential nutrients found in BreatheMD™ throughout your life will support a strong, healthy lung health, respiratory function, and immune system performance.*
Again, BreatheMD™ is the exact same powerful immunity, lung, and respiratory supplement you have been taking, with nutrients that will continue to work synergistically to support immune system function and respiratory health.
*Individual results may vary. This timeline may not reflect the typical purchaser's experience, and is not intended to represent or guarantee that anyone will achieve the same or similar results.
---