Plant-Based Chickpea and Vegetable Coconut Curry
8 minute read
---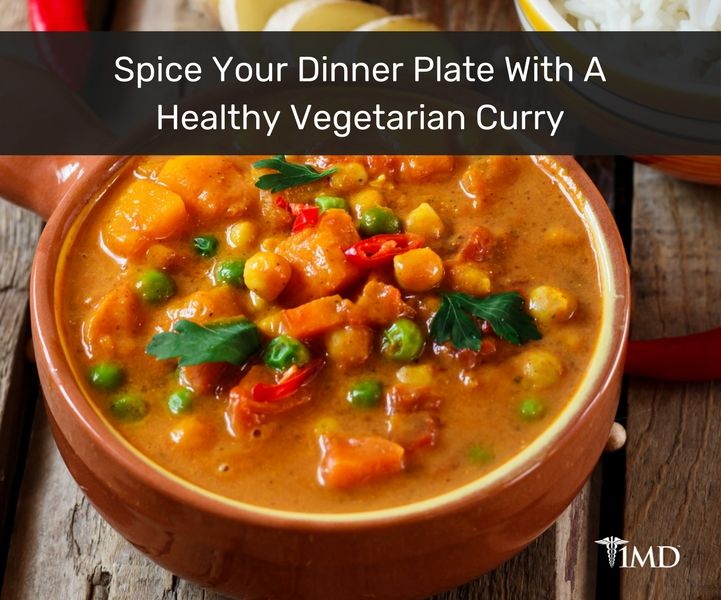 Nutrition
We often think of curry as an essential component of Indian cuisine but curries are also prominent in Thai cuisine. The history of Thailand is one of a crossroads between East to West as part of the Silk Road trade route.
Thai cuisine integrates components of Persian and Arabic cuisines, as well as China and India, along with elements from Portuguese, French, Dutch, and Japanese culinary styles. However, the cuisine of this Southeast Asian country is distinctive, incorporating all five tastes, sweet, sour, bitter, salty, and spicy.
| Related: How Turmeric Helps Heal the Gut and Your Body |
Chiles were introduced to Thailand in the 17th century by Portuguese missionaries who had discovered the spicy ingredient in South America. Thai cooks were inventive, adapting recipes with local ingredients, replacing ghee used in Indian cooking with coconut oil and coconut milk, still used today.
According to folklore, Buddhists monks from India brought curry to Thailand; Indian curry and Muslim dishes were said to have been featured at a palace feast honoring King Rama I in the early 1700s.
The British East India Company, which was the most powerful trading company of Asian goods, anglicized the term kari when trading spices with merchants in India. The company began marketing a mix of preground spices known as "curry powder," which is used in curries throughout the world.
In contrast to Indian curries, Thai curries often use curry paste and are a soup-like mix of vegetables, chicken or seafood, fresh herbs, and coconut milk or water. Thai curry paste typically includes ingredients such as fresh chiles, lemongrass, ginger, garlic, kaffir lime leaves, cilantro roots, and shrimp paste, as well as spices like turmeric, coriander and cumin leaves. Red curry paste includes dried red chilies.
Curries typically feature ingredients that provide numerous health benefits.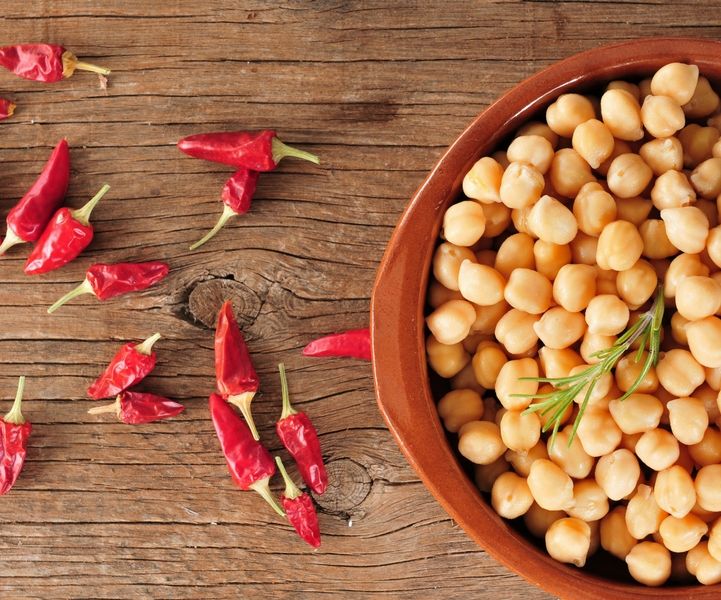 Chickpeas
Also known as garbanzo beans, these legumes come from plants that produce a pod with a seed inside. Elements of chickpeas mix with nitrogen from the environment to create amino acids, making these a good source of plant protein. These beans are rich in both resistant starch and soluble fibers, both of which are prebiotics, feeding healthy gut bacteria. In addition, these fibers control both hunger and blood glucose levels.
| Related: Studies Prove Turmeric is Good for High Cholesterol |
Studies have demonstrated that legumes may lower LDL cholesterol and triglycerides, as well as blood pressure, risk factors for cardiovascular disease. The nutritional profile of these powerful beans includes polyunsaturated fatty acids, vitamins A, E, C, folate, magnesium, potassium, and iron, as well as phytic acid, sterols, tannins, carotenoids, and isoflavones.
According to the National Health and Nutrition Examination Survey (NHANES) 2003-2010 database, a program of the Center for Disease Control that assesses the health and nutritional status in the United States, people who regularly consumed chickpeas/hummus were 53 percent less likely to be obese and 51 percent less likely to have elevated blood glucose levels. The subjects also had lower BMIs and waist circumference, associated with metabolic syndrome, cardiovascular and Type 2 diabetes risk.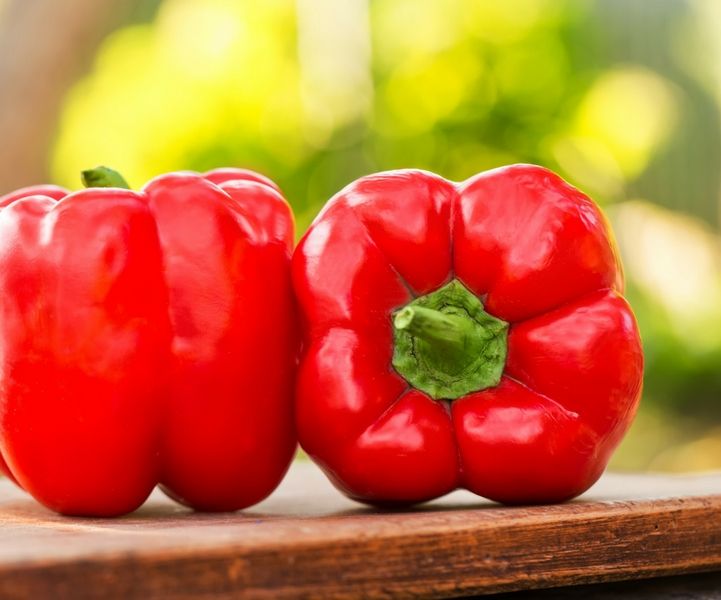 ---
Chickpea and Vegetable Coconut Curry
Serves: 4
Ingredients
1 tablespoon extra-virgin olive oil
1 red onion, thinly sliced
1 red bell pepper, thinly sliced
1 tablespoon fresh ginger, minced
3 garlic cloves, minced
1 small head cauliflower, cut into bite-size florets
2 teaspoons chile powder
1 teaspoon ground coriander
3 tablespoons red curry paste
One 14-ounce can coconut milk
1 lime, halved
One 28-ounce can cooked chickpeas
1½ cups frozen peas
Salt and freshly ground black pepper
Steamed rice, for serving (optional)
¼ cup chopped fresh cilantro
4 scallions, thinly sliced
Instructions
1. In a large pot, heat the olive oil over medium heat. Add the onion and bell pepper, and sauté until nearly tender, 4 to 5 minutes. Add the ginger and garlic, and sauté until fragrant, about 1 minute.
2. Add the cauliflower and toss well to combine. Stir in the chile powder, coriander and red curry paste, and cook until the whole mixture darkens slightly, 1 minute.
3. Stir in the coconut milk and bring the mixture to a simmer over medium-low heat. Cover the pot and continue to simmer until the cauliflower is tender, 8 to 10 minutes.
4. Remove the lid and squeeze lime juice into the curry, stirring well to combine. Add the chickpeas and peas, season with salt and pepper, and bring the mixture back to a simmer.
5. Serve with rice, if desired. Garnish each portion with 1 tablespoon cilantro and 1 tablespoon scallions.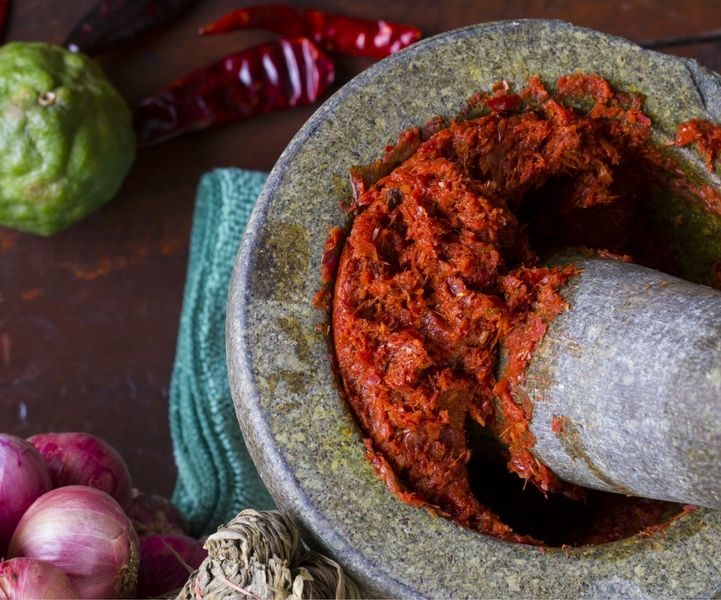 Healthy Ingredients
Red Curry Paste
This seasoning paste appearing in the cuisine of Central Thailand uses dried red chilies, crushed with garlic, ginger, turmeric, coriander, cumin, and other seasonings. Turmeric has potent antioxidant, anti-inflammatory, and antimicrobial properties. The body can access these properties when turmeric is complemented by piperene, the active ingredient in black pepper, and fat, such as found in coconut milk.
The chili peppers in red curry also have antioxidant properties and are a good source of vitamins A, D, and C. Their spicy heat provides more than flavor; red chili peppers are associated with a metabolism boost.
Garlic
The cloves of this member of the Allium family that contains onions, shallots, chives, leeks, and other flowering plants wards off more than vampires. According to one study, a high dose of garlic extract can shorten the duration of a cold or flu by up to 61 percent.
When garlic extract at doses of 600-1,500 mg was given to hypertensive patients over 24 weeks, the findings were that the extract was just as effective as the drug Atenolol at reducing blood pressure.
The fragrant bulb also contains antioxidant properties that may be effective in preventing Alzheimer's Disease and dementia, as well as oxidative damage from free radicals that contributes to the aging process.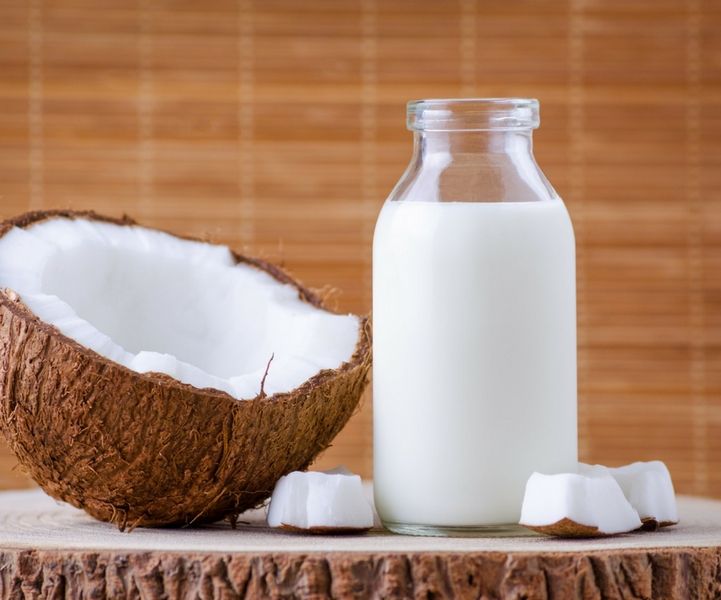 Coconut Milk
Although there has been some controversy as to the fat profile of coconut milk, this ingredient lends numerous health benefits, including B vitamins, iron, selenium, calcium, magnesium, and phosphorous.
The type of fat found in coconut has been questioned as a saturated fat but recent studies suggest that because the fat in coconuts is in the form of medium chain fatty acids (MCFAs), in particular, lauric acid, which converts in the body to monolaurin. This compound has antiviral, antifungal, and antibacterial properties.
MCFAs are quickly converted to energy in the liver and are less likely to be stored so they may not raise blood cholesterol levels.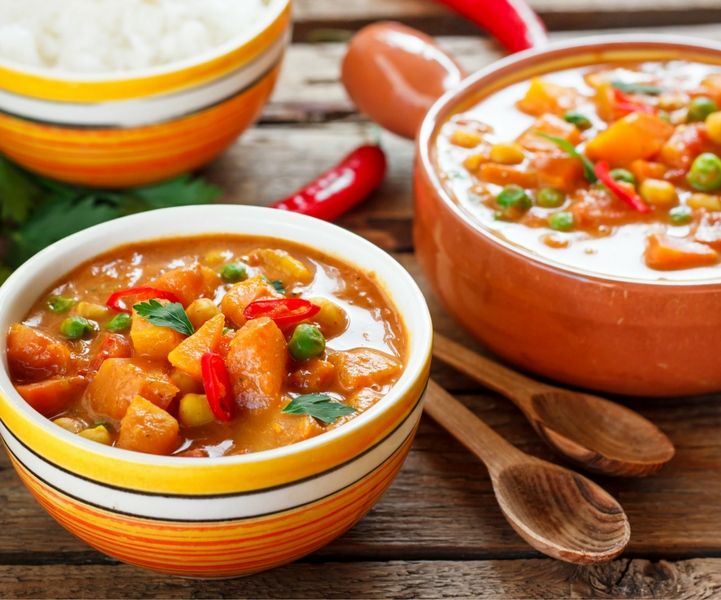 ---
https://www.purewow.com/recipes/chickpea-vegetable-coconut-curry

https://www.ncbi.nlm.nih.gov/pmc/articles/PMC5188421/

http://www.tasteofthailandfoodtours.org/the-history-of-thai-food/

https://www.bbcgoodfood.com/howto/guide/ingredient-focus-coconut-milk

https://www.healthline.com/nutrition/11-proven-health-benefits-of-garlic