3 Easy, Healthy Hanukkah Dishes You Can Enjoy Guilt-Free
8 minute read
---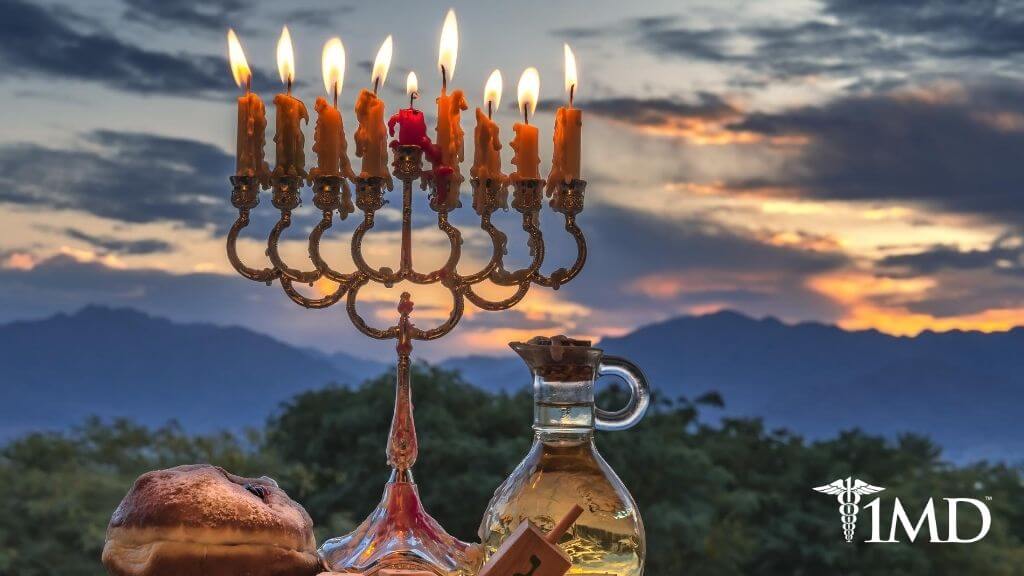 Nutrition
Save the oil for the menorah and keep it out of your cooking this holiday. There is no rule that delicious treats need to be full of fats and sugars.
The holidays may have traditionally been associated with overeating, but this year it's time for a change. Opting for nutritious recipes instead will keep you in good spirits and celebrating Hanukkah with healthy foods that can add to your longevity.
Turkey is the perfect meat to serve for the holidays because it is versatile and healthy. As a source of high-quality protein and essential amino acids, turkey is as healthy as it is delicious.
Turkey is also a great source of selenium, which is a mineral many people forget about. Selenium is a powerful antioxidant that is essential for healthy thyroid function and immune system support.
Ingredients:
♦ 4 medium fennel bulbs, cored and thickly sliced
♦ 5 teaspoons canola oil
♦ ½ teaspoon chopped fresh thyme
♦ 1 teaspoon kosher salt
♦ ¾ teaspoon freshly ground pepper
♦ 4 turkey cutlets, ¼ inch thick (1 pound)
♦ 1 cup pomegranate juice
♦ ¼ cup reduced-sodium chicken broth, or water
♦ 1 teaspoon cornstarch
Directions:
1. Preheat oven to 450°F. Toss fennel, 3 teaspoons oil, chopped thyme and ¼ teaspoon each salt and pepper in a medium bowl. Spread on a rimmed baking sheet. Roast for about 25 minutes, stirring twice, until tender and golden. Meanwhile, sprinkle both sides of turkey with the remaining ¾ teaspoon salt and ½ teaspoon pepper.
2. Heat the remaining 2 teaspoons oil in a large skillet over medium-high heat. Add the turkey and cook until browned, 1 to 3 minutes per side. Transfer to a plate and add pomegranate juice and thyme sprig to the pan. Bring to a boil, stirring often, until reduced to ¼ cup. Discard the thyme.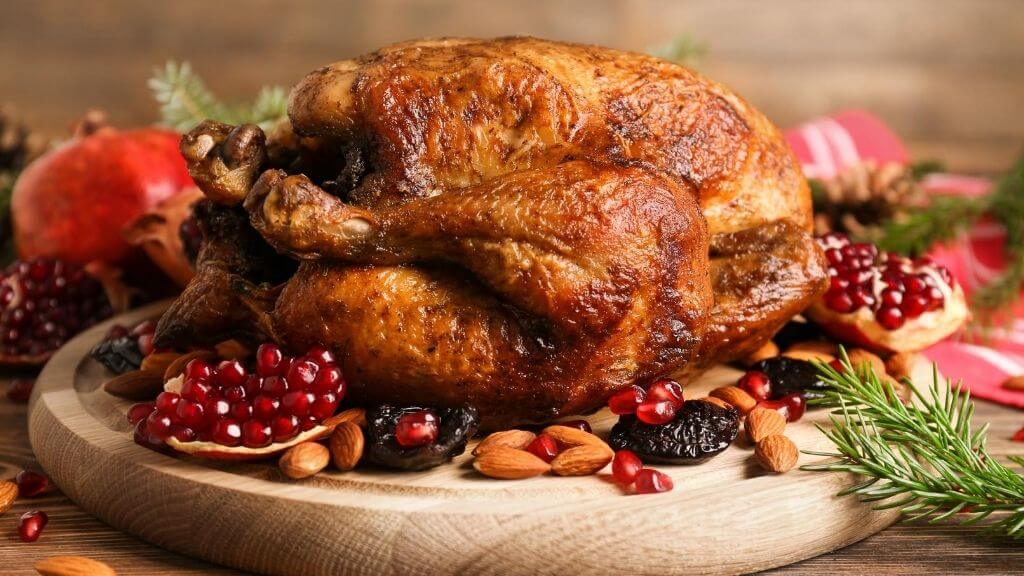 3. Whisk together broth (or water) and cornstarch then add to the pan and cook, stirring constantly, until thickened. Reduce heat to medium, return the turkey and any accumulated juices to the pan, turning to coat with sauce, and cook for 1 minute. To serve, top roasted fennel with turkey and sauce.
2. Squash, Chickpea, & Red Lentil Stew
Making a stew from a host of nutritional foods is a great way to celebrate the holiday and your health. This recipe with butternut squash, lentils, and chickpeas gives you more than a warm soul and full belly.
Butternut squash contains more potassium than the always-healthy banana, and this mineral is essential for heart health and protection from cardiovascular diseases.
Chickpeas offer the beneficial dietary fiber you need to promote healthy digestion. Healthy fiber also keeps you full, so you don't crave unhealthy snacks and at the same time promotes gut health and optimal nutrient absorption.
| Related: Plant-Based Chickpea and Vegetable Coconut Curry |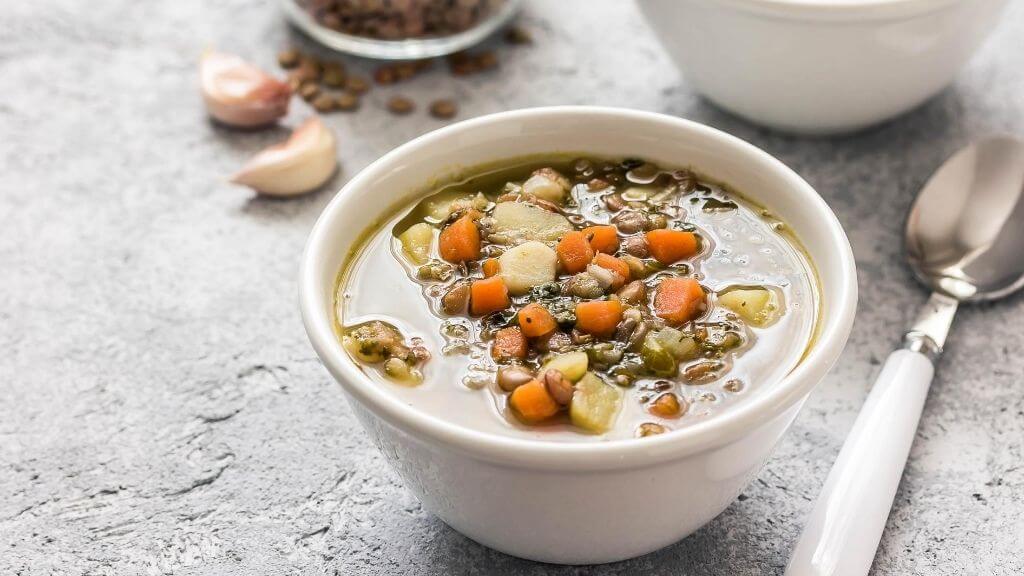 Lentils, an ideal ingredient for soup, are a great source of protein without empty calories or fat which makes them ideal for those wanting to lose weight. The combination of vegetables and legumes in this stew is guaranteed to keep you warm and healthy for the holiday.
Ingredients:
♦ ¾ cup dried chickpeas
♦ 2½ pounds butternut squash, peeled, seeded and cut into 1-inch cubes
♦ 2 large carrots, peeled and cut into ½-inch pieces
♦ 1 large onion, chopped
♦ 1 cup red lentils
♦ 4 cups vegetable broth
♦ 2 tablespoons tomato paste
♦ 1 tablespoon minced peeled fresh ginger
♦ 1½ teaspoons ground cumin
♦ 1 teaspoon salt
♦ ¼ teaspoon saffron
♦ ¼ teaspoon freshly ground pepper
♦ ¼ cup lime juice
♦ ½ cup chopped roasted unsalted peanuts
♦ ¼ cup packed fresh cilantro leaves, chopped
Directions:
Soak chickpeas in enough cold water to cover them by 2 inches for 6 hours or overnight. Drain when ready to use. Combine the soaked chickpeas, squash, carrots, onion, lentils, broth, tomato paste, ginger, cumin, salt, saffron and pepper in a 6-quart slow cooker. Put on the lid and cook on low until the chickpeas are tender and the lentils have begun to break down, 5 to 6½ hours. Stir in lime juice then sprinkle with peanuts and cilantro and serve.
3. Basque Vegetable Rice
There is a very good reason that your mom made you stay at the table until your vegetables were gone. Vegetables are full of nutritional value to promote optimal health and longevity.
| Related: Heart-Healthy Roasted Broccoli Pancetta Quiche |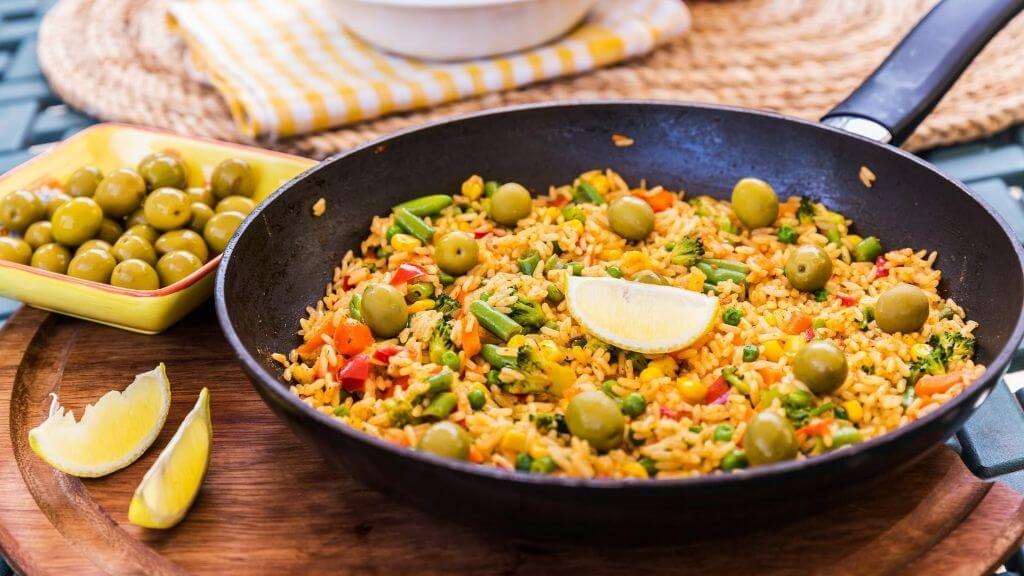 The more diverse the vegetables in your diet are, the more nutrients you gain access to. With polyphenols that serve to protect you from oxidative damage and cancer to a host of vitamins and minerals that reduce cholesterol and risk of heart disease, vegetables need to be incorporated into every holiday meal.
Ingredients:
♦ 2 tablespoons extra-virgin olive oil
♦ 1 small dried red chile pepper
♦ 1 medium onion, quartered and thinly sliced
♦ 2 cloves garlic, minced
♦ 2 large ripe tomatoes, seeded and diced
♦ 1 medium zucchini, diced
♦ 1 red bell pepper, diced
♦ 1 green bell pepper, thinly sliced
♦ 1 teaspoon paprika
♦ 1 teaspoon dried thyme
♦ ½ teaspoon salt
♦ â…› teaspoon freshly ground pepper
♦ 1¼ cups short-grain white rice
♦ 3 cups vegetable broth, or reduced-sodium chicken broth
♦ 2 tablespoons finely minced fresh flat-leaf parsley, for garnish
♦ 6 lemon wedges, for garnish
Directions:
1. Heat oil in a 12-inch cast-iron skillet over medium heat. Add chile pepper, onion and garlic and cook, stirring often, until the onion is soft but not browned. Add tomatoes, zucchini, bell peppers, paprika, thyme, salt and pepper, then cover and simmer, stirring occasionally, for 15 minutes.
2. Add rice and stir to coat well with the tomato mixture. Add broth and bring to a boil. Reduce heat to low, cover and simmer until the rice is tender, which is about 25 to 30 minutes. Serve hot directly from the pan, garnished with parsley and lemon wedges, if desired.
The Bottom Line
Hanukkah is a time to celebrate life but is often associated with fried foods. To promote health and celebrate life, friends, and family, trying new healthier recipes should be on your to-do list.
You can save your oil for the menorah and keep it out of the kitchen, opting for any of the nutritional dishes above instead. This year make the "festival of lights" also a festival of life, as you promote good health and longevity by eating healthier.
---