Complete Probiotics Platinum™ is doctor formulated for broad-spectrum digestive health.*
Non-Dairy
Non-GMO
Soy-Free
Gluten-free
Preservative-Free

Probiotics That Get Where They Need to Go
Each vegetarian capsule of Complete Probiotics Platinum™ is specially made to resist stomach acid and ensure safe delivery to the intestinal tract. Over time, these problems become the "new normal." But they are only normal in that they are so common. Taking probiotics helps bring you back to feeling good, which is how you should be feeling all the time.
An Effective, Natural Way to Improve Your Overall Health
Enhanced nutrient absorption*
Helps alleviate common gas, bloating, and indigestion*
No unhealthy fillers
Dairy-free formula perfect for vegans and lactose intolerant
Helps prevent toxins from escaping the gut and entering the bloodstream*
A Healthy Digestive System Benefits Whole-Body Health
Individual results may vary, but the key to healthy digestion is consistency.
Within Hours

Thanks to its prebiotic content and encapsulation technology, your first dose of probiotics will reach your gut alive and will enhance bacterial balance of the gut.*

1 Week

After 7 days of supplementation, common gas, bloating, and indigestion that often occur after eating usually begin to decrease. Stick with it! The benefits of a healthy digestive system only increase over time.*

1 Month

Studies have shown a significant decrease of harmful bacteria in the gut after 28 days of supplementation. By crowding out the bad bacteria, you create more room for the good.*

3 Months and Beyond

As the weeks go by, probiotics have been shown to help promote the body's natural microbiome balance, which also enhances the body's immune system.*
*Individual results may vary. This timeline may not reflect the typical purchaser's experience, and is not intended to represent or guarantee that anyone will achieve the same or similar results.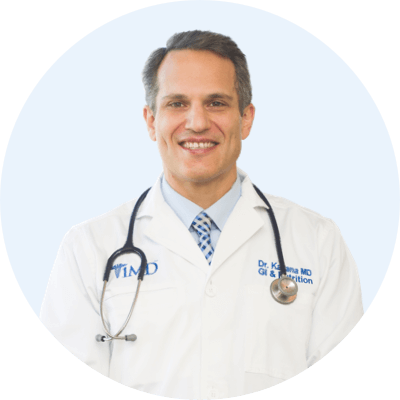 Doctor Formulated
Dr. David Kahana, MD
As a gastrointestinal doctor with years of experience under my belt I've seen my fair share of patients come in with intestinal issues. I most often recommend two things. These two things work time and time again and I have watched in amazement as they improve even the worst cases.
First, getting the proper nutrition can and will improve your health substantially. Most people already know this.
Second, using a good, solid probiotic can help improve your digestive, immune and overall health. This surprises a lot of my patients. I can't believe how small of a percentage of people dealing with occasional digestive upset use probiotics regularly.
When my patients ask me what probiotic is best, I recommend 1MD's Complete Probiotics Platinum™. Complete Probiotics Platinum™ has 11 different strains and guarantees 51 billion live cultures per capsule. It also contains an effective dosage of Nutraflora prebiotic fiber that will ensure these cultures get the fuel they need to really make a difference in your gut.
1MD's formula does not contain any unhealthy fillers. I consider this to be the most complete probiotic on the market today.
Clinically Proven to Benefit a Wide Range of Beneficial Gut Bacteria
When your digestive system works well, everything else improves too.
Complete Probiotic Blend

Doctor formulated with 11 clinically studied probiotic strains of bacteria, this powerful blend provides 51 billion colony-forming units of probiotics in every dose.

NutraFlora® Prebiotic Fiber

In simplest terms, prebiotics are food for probiotics. This prebiotic helps nourish bacteria in the capsule to ensure it is alive and well when it arrives in your gut.
You can rest assured knowing there are never any harmful fillers or additives
Complete Probiotics Platinum™

Supplement Facts

Serving Size: 1 Capsule | Servings Per Container: 30
| | Amount Per Serving | %DV |
| --- | --- | --- |
| Complete Probiotic Blend | | |
| Bifidobacterium lactis B42L | 15 bn | * |
| Lactobacillus acidophilus L61A | 15 bn | * |
| Bifidobacterium longum B12L | 4 bn | * |
| Bifidobacterium bifidum B66B | 4 bn | * |
| Lactobacillus casei L30C | 4 bn | * |
| Lactobacillus plantarum L23P | 4 bn | * |
| Lactobacillus gasseri L22G | 1 bn | * |
| Lactobacillus salivarius L1OS | 1 bn | * |
| Lactobacillus rhamnosus L08R | 1 bn | * |
| Lactobacillus bulgaricus L88B | 1 bn | * |
| Lactospore® (bacillus coagulans) | 1 bn | * |
| Total | 51 Billion CFU | * |
| NutraFlora® Prebiotic Fiber | 100 mg | * |
** Daily Value Not Established
Other Ingredients: Rice Flour, Vegetable Cellulose (Capsule)
* These statements have not been evaluated by the Food and Drug Administration. This product is not intended to diagnose, treat, cure, or prevent any disease.
Non-Dairy
Non-GMO
Soy-Free
Gluten-free
Preservative-Free
How to Take Complete Probiotics™

As a dietary supplement, take one (1) capsule daily on an empty stomach or between meals. Those with sensitivity concerns may prefer to take with a small meal.
Write a Review
What are people saying?
I have tried other probiotics in the past, and 1MD is the best! I get the it auto shipped so I never run out! Except when I give a bottle away for someone to try the product :) Which then I have to order an extra bottle, which I happily do, so that I don't miss a day. It has helped me with gas, bloating, and the stomach issues that I suffered from for years.
I LOVE this product! Been taking it for a few years now. It doesn't need to be refrigerated and really helps my immune/digestive system. This also has prebiotic. I order in bulk because it just makes sense since I take it every day AND it is greatly discounted this way. The BEST!
Been on them for a month now. The gas has been horrible. Don't feel any different.. Bought a 3 month supple.
The product is great I guess but I really hope they change the bottle. There is a terrible plastic smell that makes me don't want to buy the product..
I didn't see the small print where I was being sold three bottles, and was only wanting just one bottle.
When will the price be low enough for poor people
As a GI nurse I know your gut is your "second brain" I use it mostly as prophylaxis for my general health as I get older
Have used this product before and came back to re-order. I almost didn't get through the ordering process due to all of the up-sale attempts. An ordering process that doesn't require you to say no to 3 different up-sales and various offers for other products would make me more likely to not look for a different vendor.
Write a Review
Frequently Asked Questions
What are probiotics?
Probiotics actually means "for life". Probiotics are living microorganisms that, in sufficient numbers, provide numerous health benefits when ingested or applied locally. Some call them the "good" bacteria. You want to keep your microbiome at an 80/20 level, with 80 percent being probiotic or "good" bacteria and the other 20 percent being "bad" bacteria.
How often should I take Complete Probiotics Platinum™?
Once a day on an empty stomach or between meals.
Is this formula and capsule vegetarian?
Yes, even our capsules are made with vegetable cellulose.
Can I take this with a multivitamin?
Yes, but as always speak with your doctor before adding any new supplements to your routine.