Complete Probiotics™ Platinum is doctor-formulated for broad-spectrum digestive health.*
Peanut-free
Dairy-free
Wheat-free
Shellfish-Free
Non-GMO

Probiotics That Get Where They Need to Go
Each vegetarian capsule of Complete Probiotics™ Platinum is specially made to resist stomach acid and ensure safe delivery to the intestinal tract where your microbiome resides.* This complex system of bacteria is originally determined by your DNA at birth. Later on, environmental exposures and diet will change your microbiome. Taking probiotics helps bring beneficial bacteria to your gut to give you the support you need to feel good, which is how you deserve to feel all the time.*
An Effective, Proactive Way to Promote Your Overall Health*
Broad-spectrum digestive health*
Helps alleviate occasional gas, bloating, and indigestion*
No unnecessary fillers
Helps support nutrient digestion and absorption*
Helps promote the body's natural microbiome, which also aids the immune system.*
A Healthy Digestive System Benefits Whole-Body Health*
Individual results may vary, but the key to healthy digestion is consistency.
Within Hours

Thanks to its prebiotic content and encapsulation technology, your first dose of probiotics will reach your gut alive and will start supporting a healthy bacterial balance of the gut.*

1 Month

Maximize your health benefits by incorporating good nutrition and regular exercise into your routine.*

2 Months

Studies have shown that habits develop in about 66 days. By now, regular Complete Probiotics™ Platinum doses and your healthy lifestyle changes will feel more automatic.*

3 Months and Beyond

As the weeks go by, a healthy microbiome balance can support your overall health.*
*Individual results may vary. This timeline may not reflect the typical purchaser's experience, and is not intended to represent or guarantee that anyone will achieve the same or similar results.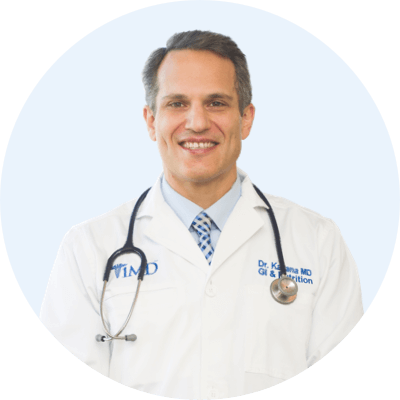 Doctor Formulated
Dr. David Kahana, MD
As a gastrointestinal doctor with years of experience under my belt I've seen my fair share of patients come in with common intestinal concerns. I most often recommend two things. These two things work time and time again and I have watched in amazement as they instill confidence in my patients.
First, getting the proper nutrition can and will improve your health substantially. Most people already know this.
Second, using a good, solid probiotic can help support your digestive, immune and overall health.* This surprises a lot of my patients. I can't believe how small of a percentage of people dealing with typical digestive upset use probiotics regularly.
When my patients ask me what probiotic is best, I recommend 1MD's Complete Probiotics™ Platinum. It has 11 different strains and guarantees 51 billion live cultures per capsule. It also contains an effective dosage of Nutraflora prebiotic fiber that will ensure these cultures get the fuel they need to really make a difference in your gut.*
1MD's formula does not contain any unnecessary fillers. I consider this to be the most complete probiotic on the market today.*
A Blend of Robust Strains to Benefit a Wide Range of Beneficial Gut Bacteria*
When your digestive system works well, everything else feels the benefit too.
Complete Probiotic Blend

Doctor-formulated with 11 robust probiotic strains of bacteria, this powerful blend provides 51 billion colony-forming units of probiotics in every dose.

NutraFlora® Prebiotic

In simplest terms, prebiotics are food for probiotics. This prebiotic helps nourish bacteria in the capsule to ensure it is alive and well when it arrives in your gut.*
You can rest assured knowing there are never any unnecessary additives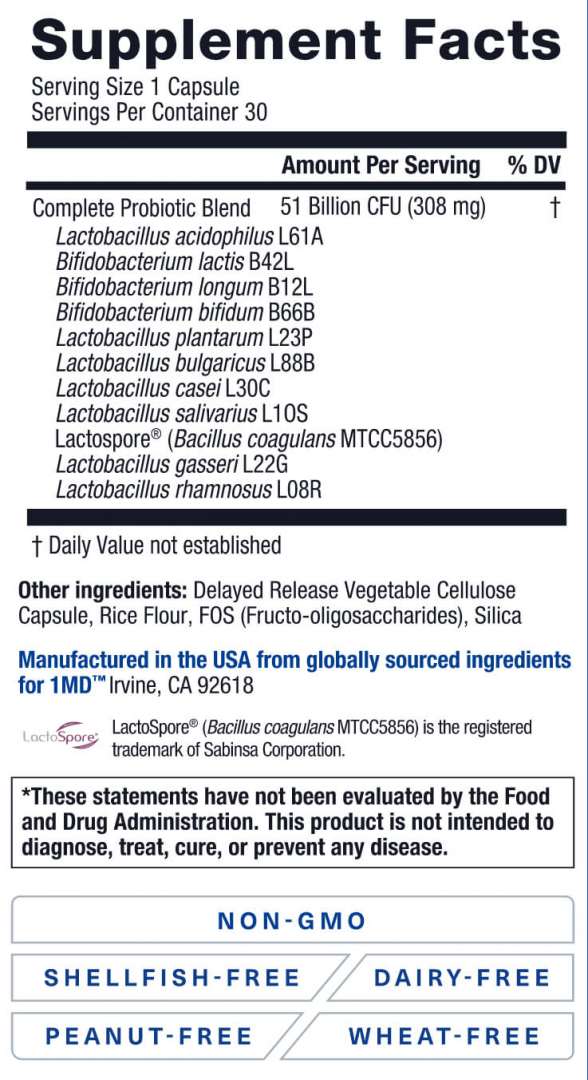 Peanut-free
Dairy-free
Wheat-free
Shellfish-Free
Non-GMO
How to Take Complete Probiotics™ Platinum

As a dietary supplement, take one (1) capsule daily on an empty stomach or between meals. Those with sensitivity concerns may prefer to take with a small meal.
Write a Review
What are people saying?
I really started to feel better once I started taken 1md probiotics
This is the only Probiotics that I now take. I have tried numerous other brands but this complete probiotics worked on my digestive problems. If you have issues with digestive you should try this product. One bottle and you will feel the difference.
I have tried other probiotics in the past, and 1MD is the best! I get the it auto shipped so I never run out! Except when I give a bottle away for someone to try the product :) Which then I have to order an extra bottle, which I happily do, so that I don't miss a day. It has helped me with gas, bloating, and the stomach issues that I suffered from for years.
I LOVE this product! Been taking it for a few years now. It doesn't need to be refrigerated and really helps my immune/digestive system. This also has prebiotic. I order in bulk because it just makes sense since I take it every day AND it is greatly discounted this way. The BEST!
The product is great I guess but I really hope they change the bottle. There is a terrible plastic smell that makes me don't want to buy the product..
As a GI nurse I know your gut is your "second brain" I use it mostly as prophylaxis for my general health as I get older
I started this on January 10 2021 so far i'm feeling better no hurting in my stomach i will be ordering more
Not enough data to know if it works, my ibs seems to be some what better, but i take other ibs supplements , you guess is as good as mine.
Write a Review
Frequently Asked Questions
What are probiotics?
Probiotics actually means "for life". Probiotics are living microorganisms that, in sufficient numbers, provide numerous health benefits when ingested or applied locally. Some call them the "good" bacteria. You want to keep your microbiome at an 85/15 level, with 85 percent being probiotic or "good" bacteria and the other 15 percent being "bad" bacteria.*
How often should I take Complete Probiotics™ Platinum?
Once a day on an empty stomach or between meals.
Is this formula and capsule vegetarian?
Yes, even our capsules are made with vegetable cellulose.
Can I take this with a multivitamin?
Yes, but as always speak with your doctor before adding any new supplements to your routine.