GlucoseMD®

is doctor recommended to offer targeted metabolic, immune, and cardiovascular system support.*
Sugar-Free
Non-GMO
Soy-Free
Gluten-free
Preservative-Free
Vegan

Help Improve Your Glucose Metabolism
GlucoseMD® is tailored to support normal blood sugar levels by slowing the breakdown of glucose in the gut, helping cells promote the absorption and efficient utilization of glucose.*
Promote Healthy Sugar Metabolism and Glucose Absorption
CinSulin® cassia cinnamon extract has been shown in clinical studies to promote proper sugar metabolism*
Berberine bark extract is clinically shown to help support normal blood sugar levels and enhance sugar uptake from the blood into the muscles*
Chromium picolinate is scientifically proven to enhance and support the activity of pancreatic cells that work to promote the absorption of glucose*
Gymnema sylvestre has been shown in clinical studies to support healthy fasting blood sugar levels*
Maintain Healthy Blood Sugar Levels, Daily
We formulated GlucoseMD® to support normal glucose metabolism, maintain healthy sugar levels, and enhance your body's metabolism.*
2 Weeks

In addition to berberine bark extract's outstanding clinical effectiveness on various aspects of health, especially blood sugar control, some may experience slight stomach upset in the first few weeks.*

Month 1

Studies have shown that a potentially significant improvement in glycemic control was seen in patients who received a daily dose of 500 mg of CinSulin® cassia cinnamon extract.*

Month 2

Near the 60-day mark, studies show that a significant reduction of fasting blood sugar levels may occur.*

3 Months and Beyond

Clinical studies show that the benefits of taking these scientifically proven ingredients for more than 90 days may include an increase in lean body mass and improved sugar metabolism.*
*Individual results may vary. This timeline may not reflect the typical purchaser's experience, and is not intended to represent or guarantee that anyone will achieve the same or similar results.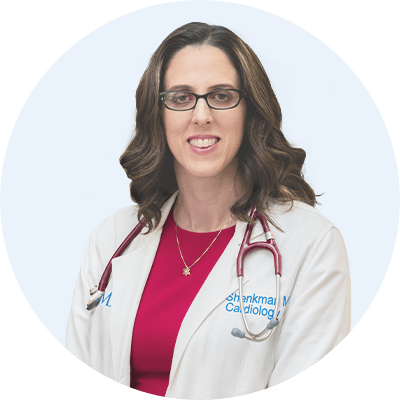 Doctor Recommended
Dr. Shenkman, MD
Your body requires energy to function, and this energy comes primarily from carbohydrates, which are ultimately broken down to glucose. If glucose is not processed efficiently, it accumulates in the bloodstream and can affect cardiovascular and metabolic health.
GlucoseMD® is tailored to slow the breakdown of glucose in the gut to support normal blood sugar levels, aid pancreatic activity, and promote the absorption and efficient utilization of glucose in the body. This formula combines 7 powerful ingredients that work synergistically to promote proper sugar metabolism.
This 100% vegan formula combines CinSulin®, a patented cassia cinnamon extract which helps maintain healthy blood sugar levels, and berberine bark, an extract which helps to enhance sugar uptake from the blood into the muscles. The addition of gymnema and chromium support pancreatic cell action to offer targeted metabolic and cardiovascular health.
This is why I stand behind 1MD's GlucoseMD®, a physician-formulated solution made from natural ingredients for improved absorption and utilization of glucose and overall heart health.
If you are one of millions of people concerned about maintaining healthy blood glucose levels, let GlucoseMD® help get your metabolic and cardiovascular health back on track.
A Potent Formula With Clinically Studied Ingredients
GlucoseMD® offers a formula with clinically studied ingredients, at their clinical dose, to ensure optimal health benefits.*
Cinsulin® (Cassia Cinnamon)

CinSulin® is a water extract of cassia cinnamon, clinically proven to promote sugar metabolism for healthy blood glucose levels.*

Berberine Bark Extract

Berberine is a bioactive compound that can be extracted from several different plants, including a group of shrubs called Berberis and has been clinically shown to benefit metabolic and cardiovascular function.*

Chromium

Chromium is one of the most common elements in the earth's crust and in seawater, and is a mineral that humans require in trace amounts to aid in improving the body's absorption of glucose.

Lion's Mane

Lion's mane mushrooms, white, globe-shaped fungi that have long, shaggy spines, are an edible and medicinal mushroom belonging to the tooth fungus group and contains bioactive substances that have beneficial effects on the body, particularly the brain, heart, and gut.*

Neem Leaf Extract

Neem (Azadirachta indica) is a type of evergreen tree native to India which has long been used for a variety of health-related purposes, including supporting healthy blood sugar levels already in the normal range.*

Capsicum Extract

Capsicum, extracted from cayenne pepper or other nightshade pepper, has numerous digestive, cardiovascular, and metabolic benefits.*

Gymnema

Gymnema sylvestre is a woody climbing shrub native to the tropical forests of India, Africa and Australia and has been used for thousands of years to aid in the improvement of favorable blood sugar and cholesterol levels.*
You can rest assured knowing there are never any harmful fillers or additives
GlucoseMD®

Supplement Facts

Serving Size: 2 Capsules | Servings Per Container: 30
Amount Per Serving
%DV

CinSulin®

(Cassia Cinnamon)

500 mg
**

Berberine Bark Extract

(Berberidaceae)

500 mg
**

Chromium

(as Picolinate)

600 mg
1714%

Lion's Mane

(Hericium erinaceus)

20 mg
**
Neem Leaf Extract
100 mg
**

Capsicum Extract 5:1

(Cayenne Pepper)

120 mg
**
Gymnema
100 mg
**
Percent Daily Value based on a 2000-calorie diet.
** Daily Value Not Established
Other Ingredients: Vegetable Cellulose Capsule, Vegetable Oil Powder, Silica, Maltodextrin
* These statements have not been evaluated by the Food and Drug Administration. This product is not intended to diagnose, treat, cure, or prevent any disease.
CinSulin® is a registered trademark of BJTA Nutrition & Healthcare Prods. Co. CinSulin® is distributed by AIDP, Inc.
Sugar-Free
Non-GMO
Soy-Free
Gluten-free
Preservative-Free
Vegan
How to Take GlucoseMD®

As a dietary supplement, adults take one (1) capsule twice (2x) daily, with food, or as recommended by a healthcare professional
Write a Review
What are people saying?
I like all the products from this line that I've tried. Trying to keep numbers down and I feel better.
Followed by a little lecture that we seemingly are squandering our money on cable, so we can easily just apply our cable bill money to her program.
Craving less junk food
I'm really skeptical but my neighbor had good results with this and recommended it to me. we'll see. i've taken so many pills that claim they can do all sorts of things. i've only been taking it for about a week now and am having no side effects, just craving less junk food, so i guess that's a start lol so far so good so we'll see
It lowered my blood sugars
After two months i did see it lowered my blood sugars. i just wish it wasn't so expensive. it's hard to afford, but i feel that it really did save my life. i'm gonna take it for another month and hope to get off my prescription which will save me some money to afford this glucose md!
Don't crave much sweets anymore
Since i started taking this about two weeks ago i have really seen that i don't crave much sweets anymore. it's literally feels like a miracle. i can't say what it has done for my actual blood levels but will report back after my doc check up, so giving 4 out of 5 for now!! thank you!
This glucose it has worked wonders
My body can't process carbs at all and i would always get so bloated, but since i'm on this glucose it has worked wonders.
Blood sugar is stable
Very happy with the results. My blood sugar is stable and I have more energy. Product is great.
Write a Review
Frequently Asked Questions
How does CinSulin® work?
CinSulin®, an extract derived from cassia cinnamon, slows the rate at which glucose enters the cells.*
Is Lion's Mane good for my pancreas?
Lion's mane mushroom forces open the channels of pancreatic beta-cells.*
Does Berberine Bark Extract help my blood sugar levels?
By inhibiting mitochondria and stimulating glycolysis, berberine makes the cell rapidly deplete its own stores of glucose which then allows the cell to take up glucose from the blood at a higher rate. This creates the hypoglycemic effect documented in clinical studies.*
How should I take GlucoseMD®?
As a dietary supplement, adults take one (1) capsule twice (2x) daily, with food, or as recommended by a healthcare professional.
Can I take GlucoseMD® with other products and/or prescription drugs
We recommend that you consult with your health care provider or physician, who is familiar with your medications and medical history.