BiomeMD® for Women is doctor formulated for unsurpassed female digestive and immune system care.*
Non-GMO
Soy-Free
Gluten-Free
Shellfish-Free

Bacterial Balance Means Healthier Women
BiomeMD® for Women is the first probiotic of its kind. With all the best-in-class benefits of BiomeMD®—including 62 billion CFUs of powerful probiotics matched with 4 potent, nourishing prebiotics—BiomeMD® for Women also contains specially selected probiotic strains for female health. Working in concert with each other, these powerful probiotics are able to restore and rebalance the digestive and vaginal microbiomes for long-term digestive and immune health.*
The Culmination of Years of Research in Digestive Health
By rebalancing the gut microbiome, you are better able to absorb nutrients—leading to more energy—as well as improve your immune system's ability to defend against pathogens and toxins*
Improving the health of the gut and vaginal microbiomes leads to better digestion and reduced risk of infections
Includes human identical oligosaccharides (HMOs), a revolutionary, patented prebiotic and gut-defender*
Specific, clinically researched strains are able to pass safely through the digestive system and into the vaginal microbiome, regulating vaginal pH levels and more*
Your Health Starts Improving With Your First Dose
Consistency is key. As you continue with your plan, the benefits will continue to grow.
Within Hours

You'll be helping your digestive and vaginal health as soon as you take your first capsule. Some bacteria remain in the gut while others go to the vaginal microbiome, helping restore health to both.*

Two Weeks

Stick with the routine. You need to stay consistent to give yourself optimal results. After as few as two weeks, the more obvious results of better digestive health should appear, such as less-frequent indigestion, reduced diarrhea, reduced constipation, and less overall gas.*

Month 1

By restoring the bacterial balance of the vagina, probiotics of the Lactobacillus group can help reduce the risk of yeast overwhelming the health of the vaginal microbiome.*

Month 3 and Beyond

The HMO and other powerful, proprietary prebiotics continue to nourish the "good" bacteria in your body while the probiotics maintain a healthy balance in the digestive system and work towards restoring a healthy vaginal pH level, improving your immune health.*
*Individual results may vary. This timeline may not reflect the typical purchaser's experience, and is not intended to represent or guarantee that anyone will achieve the same or similar results.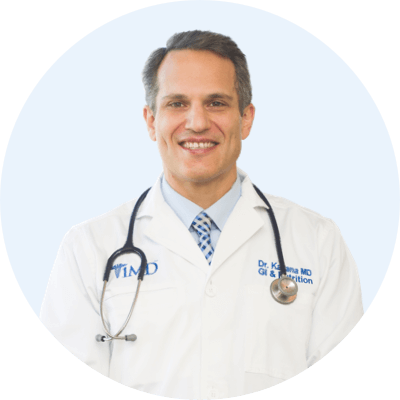 Doctor Formulated
Dr. David Kahana, MD
As a gastroenterologist with years of experience under my belt, I've seen my fair share of patients come in with digestive problems. Oftentimes, it is important to make a distinction between the need for a broad spectrum probiotic formula or more targeted support.
As clinicians, we must recognize the important role that a healthy microbiome plays in balancing hormones, feminine hygiene/health, and promoting a healthy urinary tract.
This is why I formulated 1MD's BiomeMD® for Women, which includes 4 of the most clinically-studied probiotic strains demonstrated to be specifically beneficial for women's genitourinary, digestive, metabolic, immune, and hormonal health. Combined with 12 additional potent probiotic strains for a total of 62 billion viable CFUs, and a revolutionary, clinically proven prebiotic, this formula is, without a doubt, one of the most targeted and effective women's probiotics on the market today.
Probiotic Strains Formulated by Doctors for Maximum Effectiveness
62 billion CFUs of strains proven to specifically help with the microbiome health of women.*
Bifidobacterium lactis HN019

This probiotic strain has been shown to help prevent toxins from escaping the digestive tract and causing problems in the rest of the body, as a result, it also helps provide and immune system boost.*

Lactobacillus acidophilus La-14

This probiotic has been shown to help prevent vaginal infections and works to rebalance the vaginal microbiome.*

Lactobacillus rhamnosus HN001

This probiotic can relieve gas, bloating, and other digestive concerns. It can also lead to mood boost, especially when combined with prebiotics.*

Lactobacillus reuteri 1E1

A probiotic shown to help to reduce the problems caused by oxidative damage to tissues and an overworked immune response.*

HMO CARE4U

Human identical oligosaccharides (HMOs) are synthesized from natural ingredients. They not only act as a potent prebiotic, but also "trick" the "bad" bacteria in to bonding with them and are subsequently flushed from your system.*
You can rest assured knowing there are never any harmful fillers or additives
BiomeMD® for Women Supplement Facts
Serving Size: 1 Capsule | Servings Per Container: 30
Amount Per Serving
%DV
Bifidobacterium lactis HN019
1 Billion CFU (9 mg)
**
Lactobacillus acidophilus La-14
4 Billion CFU (40 mg)
**
Lactobacillus rhamnosus HN001
2 Billion CFU (11 mg)
**
Lactobacillus reuteri 1E1
1 Billion CFU (25 mg)
**

BiomeMD® for Women Proprietary Blend

Lactobacillus acidophilus L61A

Bifidobacterium longum B12L

Bifidobacterium bifidum B66B

Bifidobacterium lactis B42L

Lactobacillus casei L30C

Lactobacillus plantarum L23P

Lactobacillus rhamnosus L08R

Lactobacillus bulgaricus L88B

LactoSpore®

(Bacillus coagulans MTCC 5856)

Lactobacillus plantarum Lp-115®

Lactobacillus gasseri L22G

Lactobacillus salivarius L1OS

54 Billion CFU (255 mg)
**

CARE4U®

(Human Milk Oligosaccharides)

25 mg
**
** Daily Value Not Established
Other Ingredients: Delayed Release Vegetable Cellulose Capsule, XOS (Xylo-oligosaccharides), FOS (Fructo-oligosaccharides), GOS (Galacto-oligosaccharides), Vegetable Oil Powder, Silica
Allergen Warnings: Contains Lactose (Milk)
* These statements have not been evaluated by the Food and Drug Administration. This product is not intended to diagnose, treat, cure, or prevent any disease.
LactoSpore® (Bacillus coagulans MTCC5856) is the registered trademark of Sabinsa Corporation.
®
, HOWARU, and FLORAFIT are registered trademarks of DuPont and its affiliates.
Non-GMO
Soy-free
Gluten-Free
Shellfish-Free
How to Take BiomeMD® for Women

As a dietary supplement, adults take one (1) capsule daily, preferably with a food containing fiber, or as recommended by a healthcare professional.
Write a Review
What are people saying?
BiomeMD for Women is truly a wonderful product. I take it every morning without fail...
Started using 1MD to increase digestive balance in my gut. It has appears to have promoted a less gassy environment in my stomach. I do not seem to be as bloated since I started using 1MD. I recommend to anyone who suffers from gas and bloating symptoms.
I normally take the Platinum Probiotics regularly. I decided to try the Biome MD since it was geared towards women. I personally could not tell the effects or lack their of. I preferred the probiotics. I feel and see the difference when I take one of them daily.
These have helped my digestion issues tremendously.
These probiotics really work
I wish I had a lot of great things to say about this product but unfortunately, I haven't noticed anything to even comment on and I have been taking this product daily for nearly 30 days. I am going to try one more month and if it still has not benefited me I'm going to stop taking them for good.
I have been using this for months and it is great,, highly recommended and this is the best price.
I am sorry to say this product did not work for me. Tried it for a month and did not ease my stomach problems. Not happy with that nor working, had my hopes built up and than took it regularly and nothing. Requested my money back, No response from company yet.
I've now been taking this for 2 months as recommend by my Dr. and I've noticed much less bloat after meals, less mood swings and I'm sleeping more soundly. I'll definitely continue to take them.
I cannot say enough good things about the products I have purchased from this company.The products are a little expensive but worth every penny.
Write a Review
Frequently Asked Questions
Why do gut bacteria matter?
Without the bacteria living within our digestive systems, we would be unable to properly digest the food we eat, or function properly at all for that matter. We are evolutionarily adapted to maintain a mutually beneficial relationship with bacteria—at least in ideal circumstances. When these bacteria are out of balance, the "bad" bacteria can cause tissue irritation throughout the body, poor digestion, gas, bloating, and many other issues. Your digestive system fuels the rest of the body, so any issues in your digestive system can lead to problems throughout the body.
What are probiotics?
Some gut bacteria are more beneficial than others. When these living bacteria are contained within food, drinks, or supplements, they are called probiotics. By digesting these probiotics, you are replenishing the balance of good bacteria in your gut.
What are prebiotics?
Prebiotics are not the bacteria themselves. Prebiotics are the nutrients gut bacteria require to thrive.
Is there any lactose in BiomeMD® for Women?
There are trace amounts of lactose in BiomeMD® for Women. While the HMOs are synthetic, small amounts of lactose are added to the formula to keep the probiotics live and active during production, ensuring delivery of the most effective supplement possible. If you have a lactose intolerance and are worried about taking a supplement containing a trace amount of it, please try 1MD's Complete Probiotics Platinum.
Who should be taking BiomeMD® for Women?
BiomeMD® for Women is designed for adult men and women. If you are looking to improve your digestive, immune, and overall health, then maintain that health, BiomeMD® is the choice for you. If you are primarily concerned about too many toxins escaping your digestive tract and entering the bloodstream, meaning you want to restore the gut barrier, then GutMD™ is the most effective choice.*
Can I take BiomeMD® for Women with other 1MD products?
Check with your doctor before taking any supplement, and especially if planning to take more than one concurrently. BiomeMD® is a selection of numerous probiotics and prebiotics, but another supplement may be desired to address different health issues, such as improving heart health.
*These statements have not been evaluated by the Food and Drug Administration. This product is not intended to diagnose, treat, cure or prevent any disease.