3 Tasty Taco Recipes You'll Love To Share With Your Family
5 minute read
---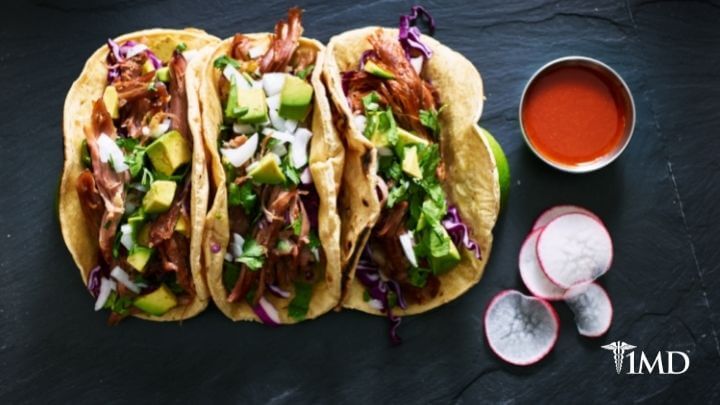 Nutrition
It's never a bad time to eat tacos! Give your taste buds a treat with these 3 recipes!
Beef Street Tacos
These healthy street tacos are made with fresh ingredients. Word of warning: you and your loved ones will want more than one! Thankfully, you can tweak the ingredient measurements in this recipe to serve large groups. (Phew...)
Serves: 5-6
Ingredients:
12 whole corn tortillas warmed
2 lbs beef chopped thin
1 tbsp salt & pepper
2 tbsp oil
2 tbsp garlic minced
1 cup cilantro chopped
1 cup onion finely diced
1 medium lime in wedges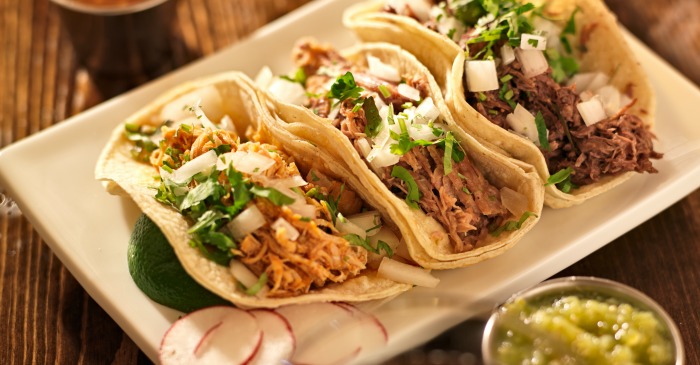 Instructions:
Heat oil in a large skillet.

Place thinly chopped beef into the oil and fry for 1-2 minutes, then flip.

Add garlic, salt, and pepper. Continue to cook until no longer pink.

Once the meat is cooked, set aside and serve on warm tortillas. (You can warm them one by one in a separate pan or in the microwave for about 1 minute stacked and wrapped in a paper towel.)

Spoon the cooked beef into each tortilla and top with onion and cilantro.

Squeeze with lime juice and Enjoy!
Photo and Recipe Credit: cookingwithmelissa.com | nerdymamma.com | Thanks!
---
Turkey Taco Lettuce Wraps
If you're looking to go carb-free this year, you'll truly love these tasty turkey wraps!
Serves: 3-4
Ingredients:
1.3 lbs 99% lean ground turkey
1 tsp garlic powder
1 tsp cumin
1 tsp salt
1 tsp chili powder
1 tsp paprika
1/2 tsp oregano
1/2 small onion, minced
2 tbsp bell pepper, minced
3/4 cup water
4 oz can tomato sauce
8 large lettuce leaves from Iceberg lettuce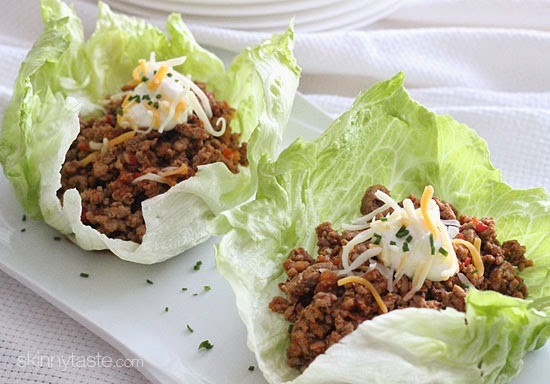 Directions:
Brown turkey in a large skillet, breaking it into smaller pieces as it cooks.

When no longer pink, add dry seasoning and mix well.

Add the onion, pepper, water, tomato sauce, and then cover.

Simmer on low for about 20 minutes.

Wash and dry the lettuce.

Divide the meat equally between the 8 leaves and place in the center of each leaf.

Top with your favorite taco fixings.
Photo and Recipe Credit: skinnytaste.com | Thank you for these delicious tacos! :)
---
Roasted Cauliflower Street Tacos
The roasted cauliflower gives these tasty tacos a unique –– and textured –– twist.
Serves: 4
Ingredients:

Slaw:
¼ of a large red cabbage 2 cups, 220g, thinly sliced
3 Tbsp apple cider vinegar 45 mL
Juice of 1 lime
1 tsp honey or sugar for vegan alternative
¼ tsp salt

Cauli-Filling:
½ of a large cauliflower 2 1/2 cups, 312 g, chopped
1 15- oz can chickpeas 425g, strained and patted slightly dry
2 Tbsp olive oil 30 mL
1 Tbsp chili powder
2 tsp paprika
½ tsp salt
¼ tsp cumin

Sauce:
1 ripe avocado
1 clove garlic minced
¼ cup good olive oil 60 mL
Juice of ½ lime
2 Tbsp chopped parsley
Salt and pepper to taste
To serve
8 medium tortillas or GF alternative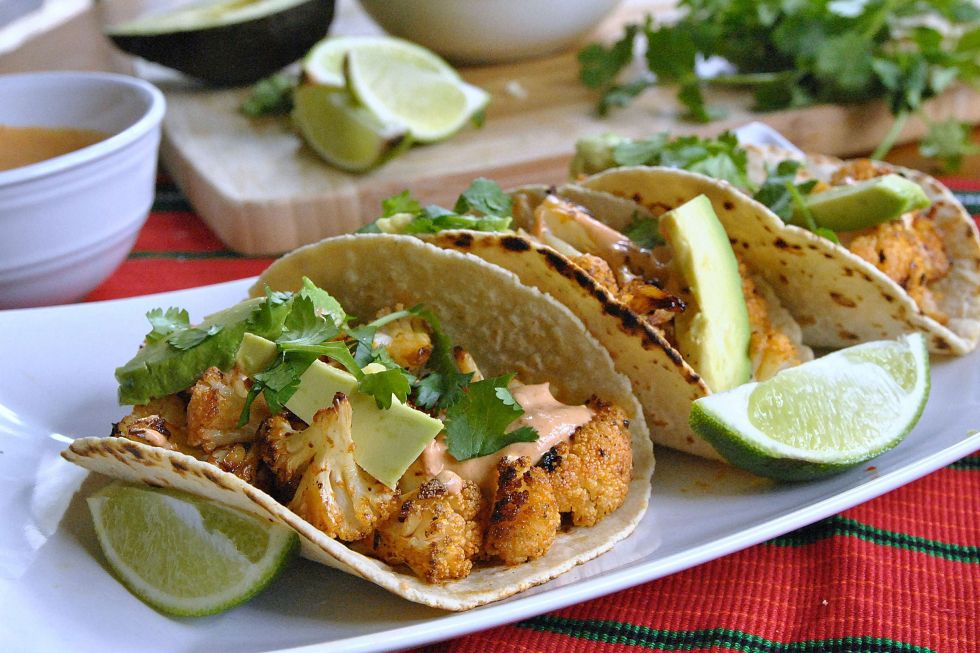 Directions:
Combine all of the Slaw ingredients in a non-metal bowl and set aside.
Stir every once in a while.
Gently combine all of the Cauli-Filling ingredients.
Lay onto a parchment paper-lined baking sheet and bake at 400 degrees F (204 C) for 30 minutes, or until slightly browned and crisp.
While filling bakes, combine all Sauce ingredients in a food processor until smooth.
To serve, spoon Cauli-Filling evenly onto 8 tortillas.
Top with a heaping spoonful of slaw and avocado sauce.
Serve immediately or store fillings separately until ready to eat. Enjoy!
Photo and Recipe Credit: Pittsburgh Post Gazette | liveeatlearn.com | Try them out!
---