Ohio State Sets Precedent, Sues Big Pharma For Creating Opioid Epidemic
7 minute read
---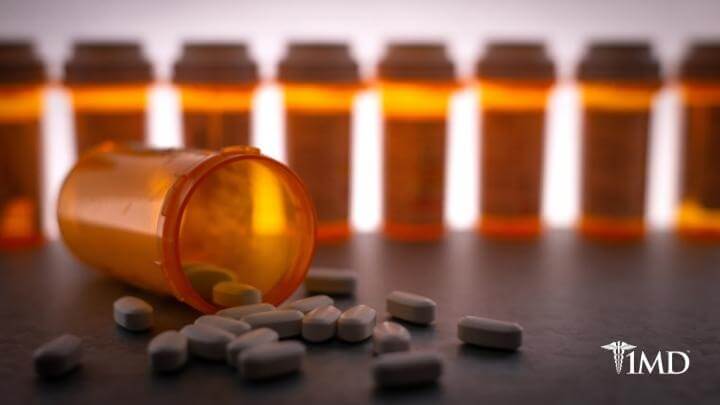 Breaking Medical News
A major issue Ohio has been facing for some time now is the problem of rampant drugs. One particular issue that people are faced with there is an opioid epidemic.
There have been a ton of drugs released to people, and this whole drug problem has quickly grown out of control in Ohio. The state has looked into the problem in order to find the largest players in the epidemic and try to do something about it.
What they found were five major drug companies that have been linked to the drugs that have been running wild in Ohio communities. According to Attorney General Mike Dewine, these five companies have unleashed a major drug issue in the state that has brought forth devastating consequences for the population.
In a wild precedent set by the state, Ohio decided to sue those five companies.
The Companies In Question
The five companies that are being sued are Johnson & Johnson, Endo Health Solutions, Purdue Pharma, Allergan and Teva Pharmaceutical Industries.
While this is a large lawsuit, it is actually the second lawsuit filed by the state. One of the main reasons that these five companies are facing lawsuits is that they are believed to have engaged in false advertising to bring about an epidemic in opioids.
A lot of evidence shows that these pharmaceutical companies have purposely misled doctors to believe that these opioids were safer than they really were. As a result, there has been an epidemic that has ruined and even claimed some lives.
The History Of The Problem At Hand
For those that are wondering why pharmaceutical companies would present false information to doctors, it is simply because they wanted to increase their sales.
One thing they have achieved was gaining a ton of sales from doctors and others. While the pharmaceutical companies have made money, it has cost citizens in many different ways. By creating an opioid epidemic, Ohio itself is endangered.
Therefore, the state of Ohio has decided to file lawsuits to not only get them to pay restitution, but at the same time, attempt to expose the pharmaceutical companies so that people know what has happened to them and what they can do about it.

One thing that the experts have seen is that this has been an ongoing issue since the 1990s. A lot of effort was made in order to make sure that they are able to talk people into trying out their drugs. This effort has sadly proven to be successful.
For one thing, it has gone on for years without the knowledge of many citizens. However, they were eventually caught in their schemes. As a result, they are going to have to pay for the damages that they have caused. However, there are definite defenses from the drug companies in how they are trying to fight this big lawsuit.

One thing that one of the companies has stated is that the lawsuit that is being filed is unfounded. According to a spokeswoman for Janssen, there is no legal or factual basis for the lawsuit. That would mostly be because it has set a precedent.
Another company, Purdue Pharma, has stated that it was actually one of the companies that had been fighting against opioid addiction. One thing that could be said about this crisis is that it is a very widespread and out of control issue in Ohio.
Therefore, the state is looking to take every action that they can to put it all under control again so that its people can live safer, more productive and healthier lives.
Other Factors Make An Impact
Another thing that has brought forth this lawsuit is that there have been tons of complaints about the drug issue. The state pays attention to each and every complaint. This is a good thing in that this causes the state to focus on the issue and look for where it can take action.
Once they have gathered enough information, then they can move forward with action that they can take in order to bring about a solution to the issue. Of course, the lawsuit is most likely to be one of the beginning steps to the ultimate solution.

One thing that Ohio has revealed is that they are talking with the Attorney General about what they describe to be a national epidemic. The new facts that they have gained so far have been very staggering.
In 2015 alone, overdoses of drugs such as oxycodone, hydrocodone, fentanyl and other opioids claimed the lives of more than 25,000 people. As of right now, these opioids are more dangerous than homicide. They are also getting ready to rival traffic accidents as a leading cause of death in Ohio and other states in the U.S.

One of the factors to look at with opioid abuse is their original uses. For one thing, people have used these for short term and acute pain relief. This has historically been a very effective treatment for pain. However, doctors have now started prescribing them for more unsuitable uses, leading to a rise in prescriptions.
They have begun to be used for treatment of chronic pain. Patients have been found to use these for long stretches of many months at a time. This change has been promoted by the makers of the drugs. They did not think about the long term effects that the drug could have when they were pushed for such an expanded use of the drug. They have also gotten involved in other means to press their initiative.
An Unscrupulous Connection
Another thing these companies have done was provide funding to doctors so that they could help endorse the initiative. Many of the prominent doctors involved were offered additional funding so that the drug makers could have their full support.
This is not a good sign because it shows that the companies that are supposed to care about the patients are actually looking for ways to profit. It is unsettling to think that an industry that is meant to help people has proven itself to be rather thoughtless, even dangerous, toward the people that it is supposed to be helping.
The Bottom Line
These days, a lot of industries and companies are held in suspicion. One of the reasons is that a lot of hidden dirt is constantly being revealed to people so that they can see the exact types of companies and industries that they really are.
However, there are efforts being made to make sure that the perpetrators are made to pay for their mistakes and be held accountable to their actions. After all, it is not just the companies and the drug pushers that are suffering for their missteps, it is the industry as a whole. This is an industry that people need so that they can live healthy and productive lives. With any luck, this lawsuit will help end the epidemic so that the people of Ohio can get back to doing exact that - living out their lives.
---
http://www.npr.org/sections/thetwo-way/2017/05/31/530929307/ohio-sues-5-major-drug-companies-for-fueling-opioid-epidemic

https://www.nytimes.com/2017/05/31/us/ohio-sues-pharmaceutical-drug-opioid-epidemic-mike-dewine.html