3 (More) Fast and Healthy Snacks That Little Kids Will Love
4 minute read
---
Nutrition
Keep the little ones happy and healthy with these 3 kid-friendly (delicious) recipes:




Farmer's Market Vegetarian Quesadillas
Little kids will love the cheesy fun of this recipe, while parents love all the veggies!
Ingredients
1/2 cup chopped red bell pepper
1/2 cup chopped zucchini
1/2 cup chopped yellow squash
1/2 cup chopped red onion
1/2 cup chopped mushrooms
1 tablespoon olive oil
cooking spray
6 (9 inch) whole wheat tortillas
1 1/4 cups shredded reduced-fat sharp Cheddar cheese
Instructions
In a large nonstick pan, cook red pepper, zucchini, yellow squash, onion, and mushrooms in olive oil over medium to medium-high heat for about 7 minutes, or until just tender.
Remove vegetables from pan.
Coat the same pan with cooking spray, and place one tortilla in pan.
Sprinkle 1/4 cup of cheese evenly over tortilla, and layer 3/4 cup of the vegetable mixture over the cheese.
Sprinkle another 1/8 cup of cheese on the vegetables, and top with a second tortilla.
Cook until golden on both sides, for approximately 2 to 3 minutes per side.
Remove quesadilla from pan, and repeat with remaining ingredients.
Cut each quesadilla into 8 triangles with a pizza cutter. Serve hot.

Photo and Recipe Credit: allrecipes.com | Jennifer Baker (Kids will love this recipe!)
---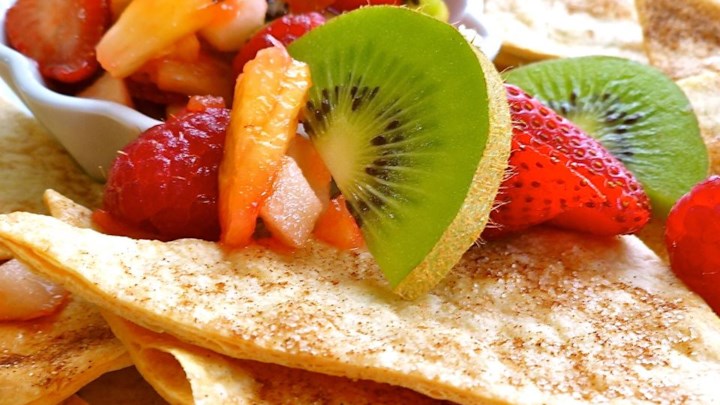 Annie's Fruit Salsa & Cinnamon Chips
As healthy as a little kid's snack gets, this naturally sweet dish is a hit with children!
Ingredients
2 kiwis, peeled and diced
2 Golden Delicious apples - peeled, cored and diced
8 ounces raspberries
1 pound strawberries
2 tablespoons white sugar
1 tablespoon brown sugar
3 tablespoons fruit preserves, any flavor
10 (10 inch) flour tortillas
butter flavored cooking spray
2 tablespoons cinnamon sugar
Instructions
In a large bowl, thoroughly mix kiwis, Golden Delicious apples, raspberries, strawberries, white sugar, brown sugar and fruit preserves.
Cover and chill in the refrigerator at least 15 minutes.
Preheat oven to 350 degrees F (175 degrees C).
Coat one side of each flour tortilla with butter flavored cooking spray.
Cut into wedges and arrange in a single layer on a large baking sheet.
Sprinkle wedges with desired amount of cinnamon sugar.
Spray again with cooking spray.
Bake in the preheated oven 8 to 10 minutes.
Repeat with any remaining tortilla wedges.
Allow to cool approximately 15 minutes.
Serve with chilled fruit mixture.
Photo and Recipe Credit: allrecipes.com | Ann Page (It's healthy, fun, and delicious!)
---




Baked Honey Mustard Chicken
Chicken is always a popular choice, and this recipe will help put a fresh spin on it!
Ingredients
6 skinless, boneless chicken breast halves
salt and pepper to taste
1/2 cup honey
1/2 cup prepared mustard
1 teaspoon dried basil
1 teaspoon paprika
1/2 teaspoon dried parsley
Instructions
Preheat oven to 350 degrees F (175 degrees C).
Sprinkle chicken breasts with salt and pepper to taste, and place in a lightly greased 9x13 inch baking dish.
In a small bowl, combine the honey, mustard, basil, paprika, and parsley.
Mix well. Pour 1/2 of this mixture over the chicken, and brush to cover.
Bake in the preheated oven for 30 minutes.
Turn chicken pieces over and brush with the remaining 1/2 of the honey mustard mixture.
Bake for an additional 10 to 15 minutes, or until chicken is no longer pink and juices run clear.
Let cool 10 minutes before serving.
Watch your kids enjoy! :)

Photo and Recipe Credit: allrecipes.com | Mary Bane (Thank you for this big winner!)


---