Italian Family-Style Meatballs and Why You Can Still Eat Red Meat
7 minute read
---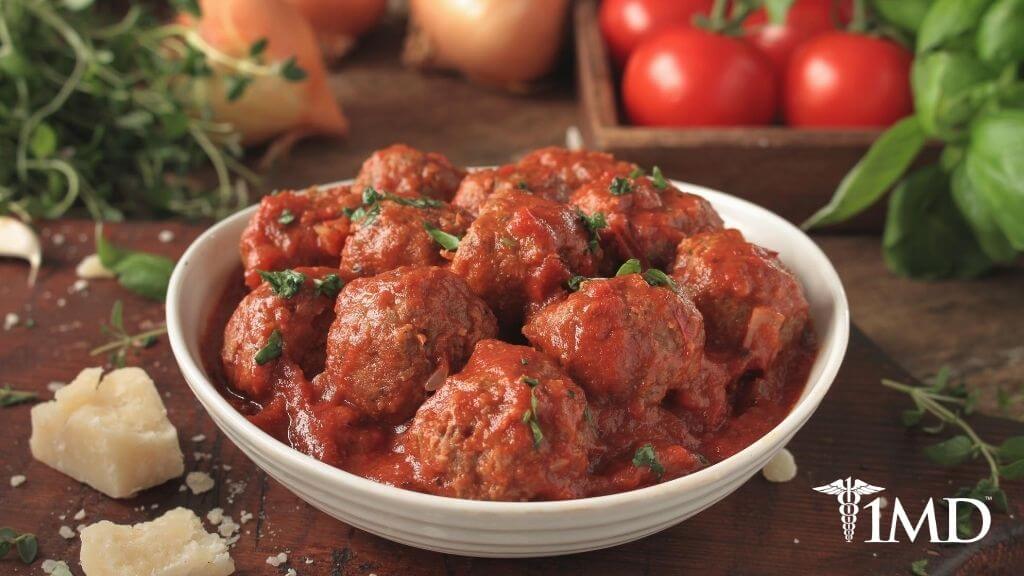 Nutrition
The staple to any good Italian meal are meatballs. They seem simple, but there is an art to making the perfect meatball and the sauce to go with them.
A common mistake with making meatballs is to fry them, but you can bake them and get the same great flavor without the need for unhealthy oils for frying. These meatballs will be the talk of your dinner table and are a healthy dish the whole family can enjoy, even those with gluten allergies.
The Healthy Part of Good Taste
The best part of these meatballs apart from their authentic Italian flavor is that you can make them gluten-free. With so many people having allergies to gluten and the link between gluten and digestive disorders, the move away from gluten is a big one.
By simply removing the bread or using gluten-free breadcrumbs, you get the same delicious meatballs without the upset stomach.
Outside of gluten many people avoid red meat because it has long been associated with more health concerns than leaner meats such as poultry. The truth is that, so long as it is consumed within moderation, red meat like pork or beef is perfectly fine for your health.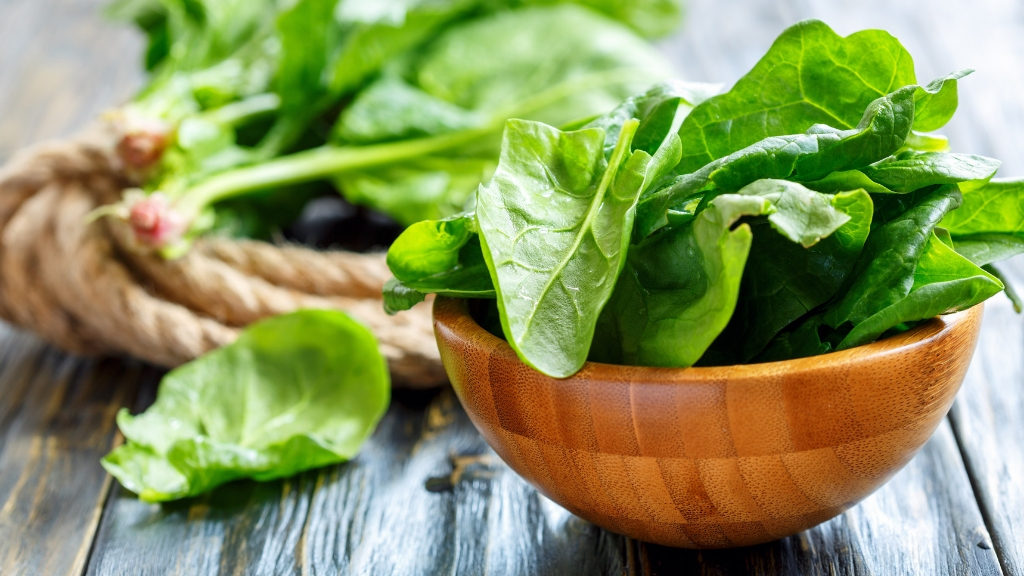 Red meat gives you plenty of protein and when consumed alongside fresh vegetables, you end up with a hearty and nutritious meal.
The recipe in this article, for example, can be made healthier by serving it with a fresh spinach salad that includes your favorite veggies. And don't forget that the tomato sauce for your meatballs is also full of nutrients too.
The key to eating red meat is to keep portions small and to limit them through the week. But you certainly do not need to cut them out completely, unless advised to by your physician.
It is the fat content of red meat that is to blame for its association with heart disease. However, recent studies have found that these saturated fats do not actually contribute to heart disease, but they do increase your cholesterol levels.
By trimming the fats from your red meat before cooking or consuming, you can eliminate most of the problem. Red meat can also cause inflammation, so it may be best to really cut down portions for those with inflammatory-related conditions.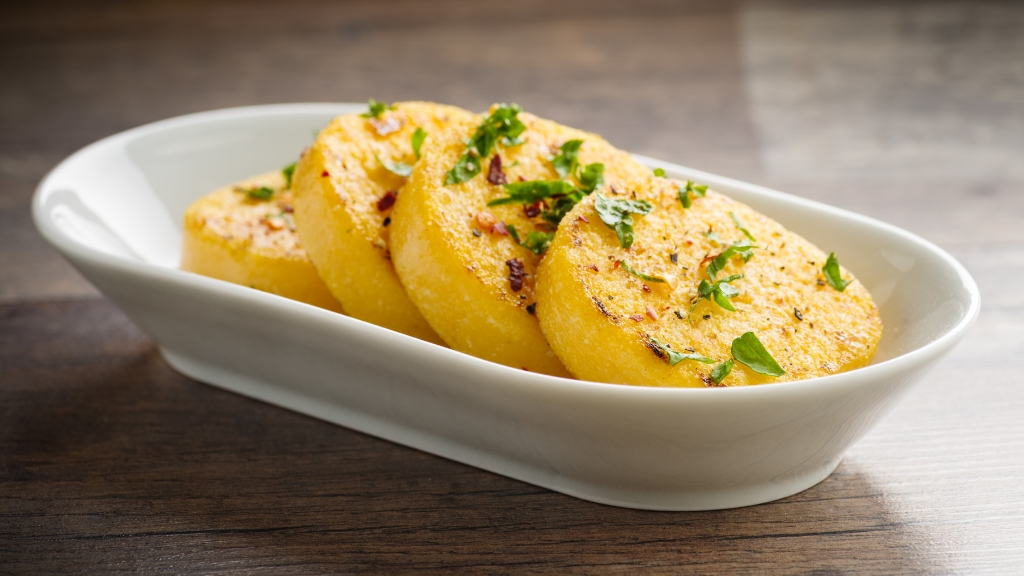 So how much red meat should you be eating? As long as portions are small, there is no reason you cannot eat red meat a few times each week.
Along with smaller portions, you can counteract any potential bad effect of red meat by pairing them with fresh vegetables. Vegetables are high in antioxidants and anti-inflammatory compounds, which essentially put a stop to any of the problems red meat can cause.
| Related: Why This Beef Bourguignon Is Red Meat You Should Eat |
The benefit to adding vegetables or grains, like rice or quinoa, to the meal is that you don't need to eat much meat. These food items contain fiber which fills you up, so you can eat smaller portions of red meat and still get a fully satisfying meal with all food groups covered.
In the case of meatballs, a serving of two or three over gluten-free pasta or polenta, and a side salad will keep your gut and taste buds happy.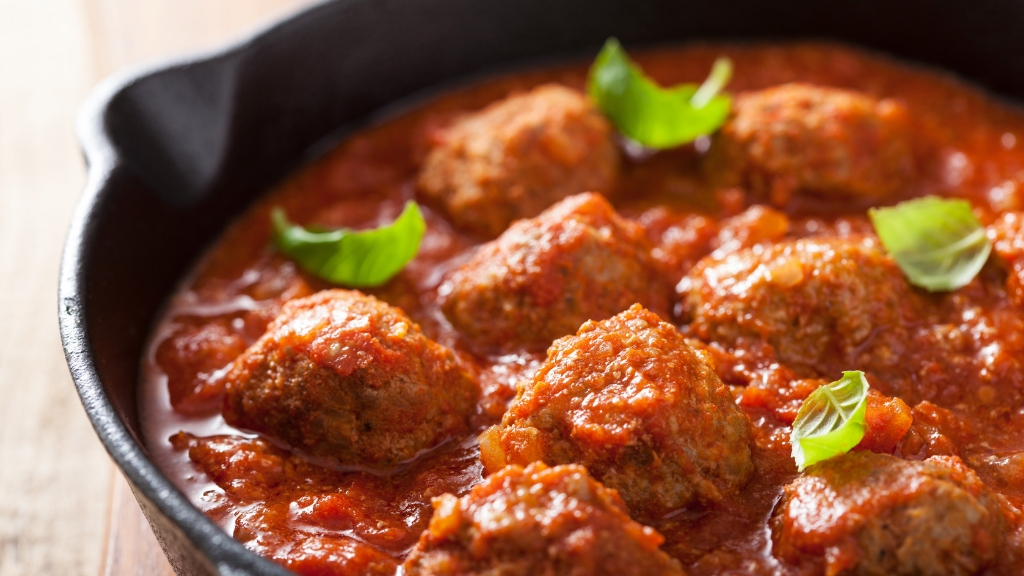 ---
Ingredients:
Extra Virgin Olive Oil
1 small onion
2 garlic cloves
1 6-oz. can tomato paste or 1 16 oz. can diced tomatoes if you like textured sauce
1 29-oz. can tomato puree
1 slice of soft Italian bread
1 cup of Italian breadcrumbs
1 lb. of ground beef
1 lb. of ground pork
1 lb. mild Italian Sausage (optional)
2 eggs
1/2 cup of grated Romano cheese
Salt and pepper to taste
Handful of chopped Italian parsley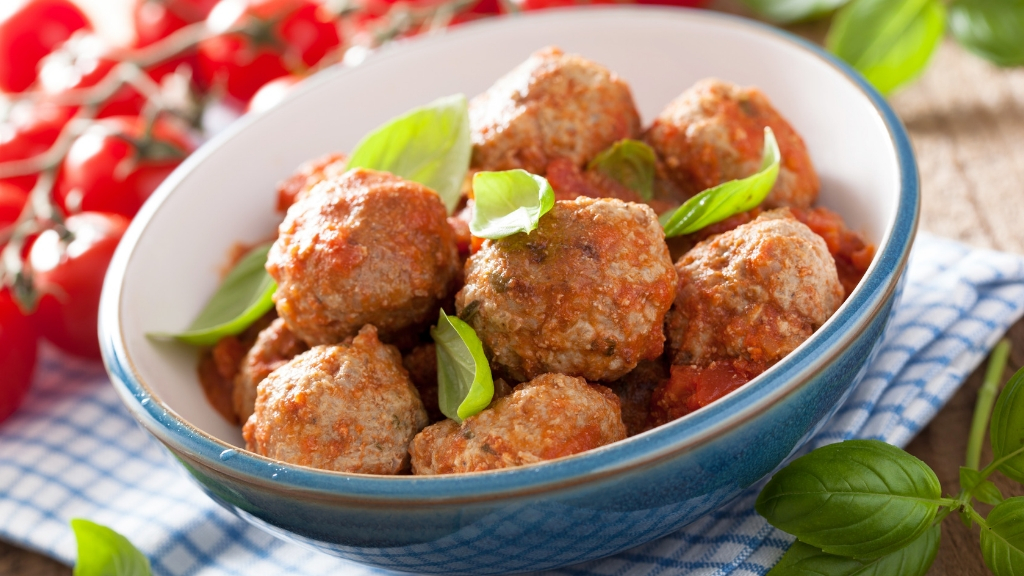 Directions:
1. Soften the slice of Italian bread with water, squeezing the excess. In a large bowl, mix the ground beef and ground pork with the moistened bread, breadcrumbs, eggs, grated cheese and salt and pepper to taste. Once everything is blended together, form the meatballs (about 1 and 1/2 to 2-inch diameter) and place them in a baking dish about 1/2 inch apart. Once the baking dish is fully lined with meatballs, cover it with foil.
2. To make the sauce, you first heat one quarter-inch of oil in a pan on medium heat. Cut up the onion and add it to the warm oil. Toss in two whole garlic cloves with the onion and add pepper. Let the onions and garlic simmer over medium heat for 5 minutes, stirring occasionally. Add the tomato paste or the diced tomatoes and then add the Tomato Puree. If the sauce seems too thick, throw in a little water, then add salt to taste.
3. Put the lid on your pot and turn the heat to medium-high. Let the sauce simmer to a boil. Once boiling, turn the heat back down to medium-low and cook for 3 hours, stirring every 15 minutes or so. The longer you cook the sauce, the thicker it will get. If you don't want it thick, then add some more water. While the sauce cooks, preheat your oven to 350 degrees.
4. Bake the covered dish of meatballs for 25 minutes. Then, turn over each meatball and bake them again (covered) for another 25 minutes. Remove the dish from the oven and remove the foil. Add your sauce to the dish, leaving all the drippings in the dish with the meatballs. Switch the oven to low broil and place the meatballs and sauce back in. Let it simmer in the oven for 10-15 minutes. Sprinkle with chopped Italian parsley and serve over pasta of your choice.
The Bottom Line
No Italian meal is complete without authentic meatballs. With many versions either fried or containing bread, there can be some concerns over just how good meatballs are for you. There may also be concerns regarding risk factors of red meat.
Science shows that as long as portions are small, you can enjoy your meat three times a week. This delicious recipe proves that you can eat healthy without skimping on authenticity or flavor.
---