Illuminating Ways to Enjoy A Healthy Retirement
3 minute read
---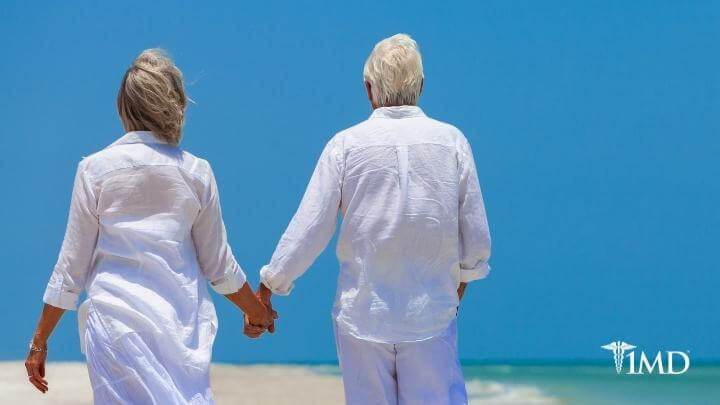 Anti-Aging
When most of us think about retirement, we imagine sitting at home with a good book, enjoying a relaxing vacation, and taking up new hobbies. What we sometimes forget to consider during this new phase in our lives is the importance of health maintenance and how it directly affects quality of life in these magical years.
Listed below are some key activities to keep in mind during your first few months as a new retiree. We promise that if you give them a fair shake, you'll come away from the experience a better person, with stronger will, and greater happiness.
Create an exercise schedule
Now that you have more free time, you can begin scheduling some regular exercise days. For new retirees who have just spent the past few decades at a desk, we suggest starting with a brisk half-hour walk every day. After a few months, you
can amp up to a jog, or try riding a bike. You're never too old to go on a nice hike.
The key here is to keep to your schedule. Whether you prefer working out in the mornings or evenings, try not to let other plans get in the way. It's critical to keep your body in shape, so to help support your joints during your workout, we highly recommend trying a high quality turmeric supplement to support your body.
Try cooking at home
Gone are the days of the rushed fast food run. To help cleanse your body, try adding two chopped carrots, a handful of spinach, a sliced apple, and a splash of lemon juice to a food processor and blend for about a minute. This nutritional juice is packed with vitamins and minerals. It's a tonic you can enjoy again and again.
For regular meals, try researching new recipes that include whole grains, leafy greens, and healthy proteins. You'll be surprised the delicious food you'll find!
Meet new people
Research shows that one of the most important supporters of continued cognitive health is maintaining good relationships. Some studies even suggest that having a healthy social life may in fact boost your general health even more than exercise.1
If possible, try joining –– or creating –– a weekly meetup at your local coffee shop or restaurant. The extra social activity will do your body and mind a lot of good.
Learn something new
In the same vein as socializing, learning a new language or taking an online class can help boost both your overall health and your cognition. It's never too late to learn something new and fascinating. Studies show that keeping your brain active through learning helps support its reserves of brain cells and neural connections.2

A great way to supplement your cognitive health while you learn is to consume as many brain-boosting omega-3's as you can. The EPA and DHA are good for you.
Retirement isn't just about relaxing. To stay healthy and happy, try to get out there and meet new people, exercise, and experience new things. If you keep active, you'll be able to enjoy your retirement to its fullest for many years to come.


---
http://healthland.time.com/2011/05/02/friends-with-benefits-being-highly-social-cuts-dementia-risk-by-70/

http://www.alz.org/we_can_help_stay_mentally_active.asp