4 Delicious Vegan Meals and Snacks Perfect for Your New Instant Pot
8 minute read
---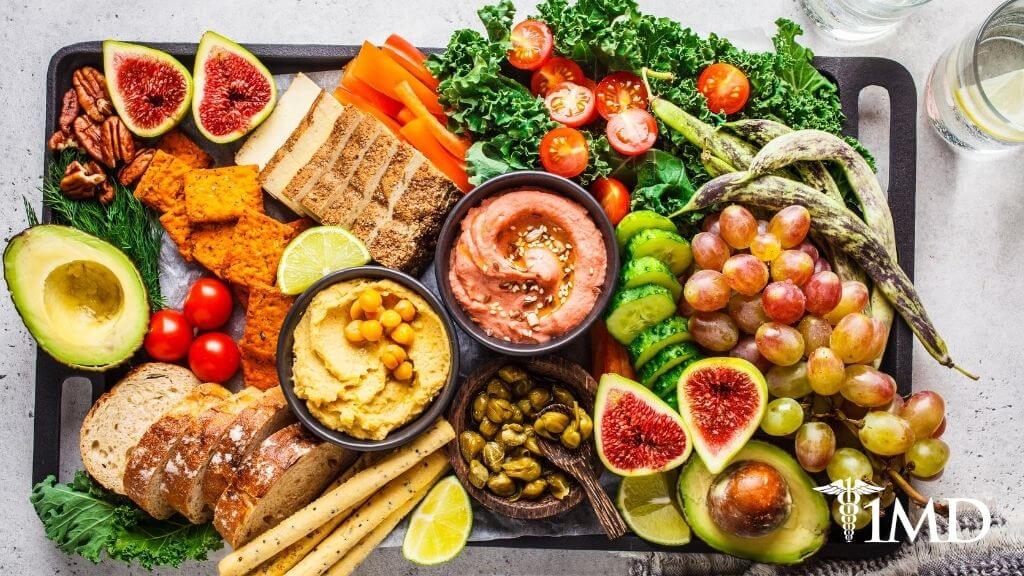 Nutrition
It's no secret that vegetables are good for you. That would mean that a vegan diet would be full of nutrition and health benefits. This is very true.
While still in need of various nutrients, like protein, vegans reap the benefits of eating mostly fruits and vegetables as well as whole grains. Despite the lack of meat and animal products that are known to be tasty and have their own set of nutrients, vegan meals can be delicious as well as nutritious.
Acorn Squash Breakfast Bowls
This taste breakfast if not only vegan but is gluten-free and ideal for diabetics. High sugar levels and gluten are both known to trigger inflammation, which can cause serious damage to your health.
By switching to this vegan breakfast, you not only get a nutritious start to your day, but you can protect your body from the damages of chronic inflammation.
Ingredients:
1 whole acorn squash, cut in half lengthwise (seeds removed)
1 container vanilla yogurt
1/2 cup granola
1-2 tablespoons raw almond butter (or any nut or seed butter)
2 teaspoons maple syrup
1/4 teaspoon ground cinnamon
Sprinkle of hemp seeds or chia seeds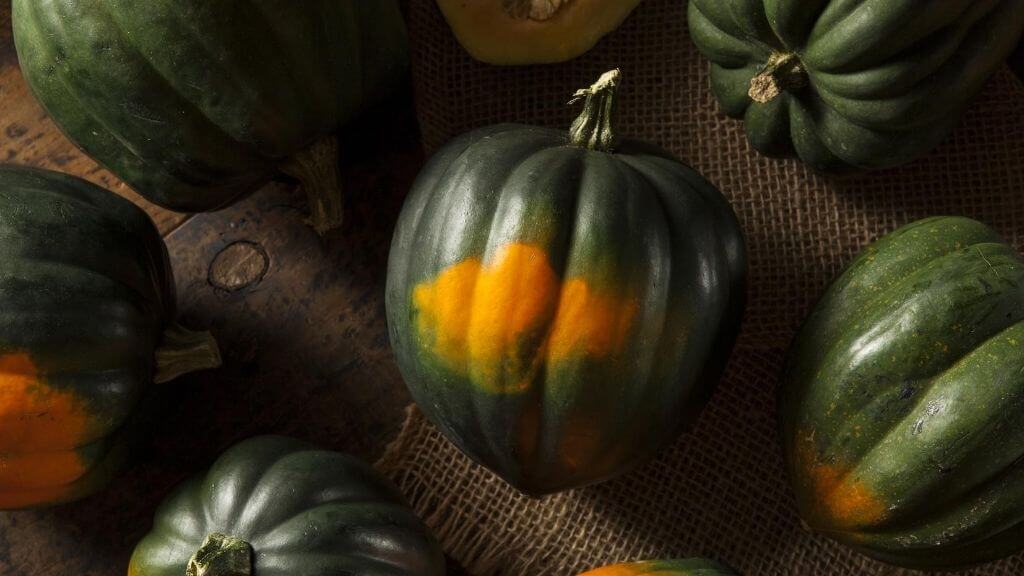 Directions:
1. Add 1/2 cup water to your Instant Pot and place the steamer basket inside. Place the acorn squash flesh side up in the Instant Pot. Secure the lid and make sure the pressure valve is set to sealing. Set to Manual (high pressure) for 5 minutes. Allow time to cool before handling.
3. To serve, divide the yogurt container between the two cooked halves in the "well" of the acorn squash. Then place ¼ cup granola on each half and drizzle almond butter and maple syrup on top. Sprinkle with cinnamon and hemp seeds or chia seeds and enjoy.
Golden Lentil Spinach Soup
This soup is golden because it is a treasure trove of nutrition and because of the turmeric which gives it the vibrant color. Turmeric is more than a spice in this soup, as it also brings you antioxidant and anti-inflammatory benefits.
Ingredients:
2 teaspoons olive oil
1/2 medium yellow onion, diced
2 medium carrots, peeled and diced
1 medium stalk celery, diced
4 medium cloves garlic, minced
2 teaspoons ground cumin
1 teaspoon ground turmeric
1 teaspoon dried thyme
1 teaspoon kosher salt or more to taste
1/4 teaspoon freshly ground black pepper or more to taste
1 cup dry brown lentils, rinsed well in cold water
4 cups low-sodium vegetable broth
8 ounces (about 6 cups) baby spinach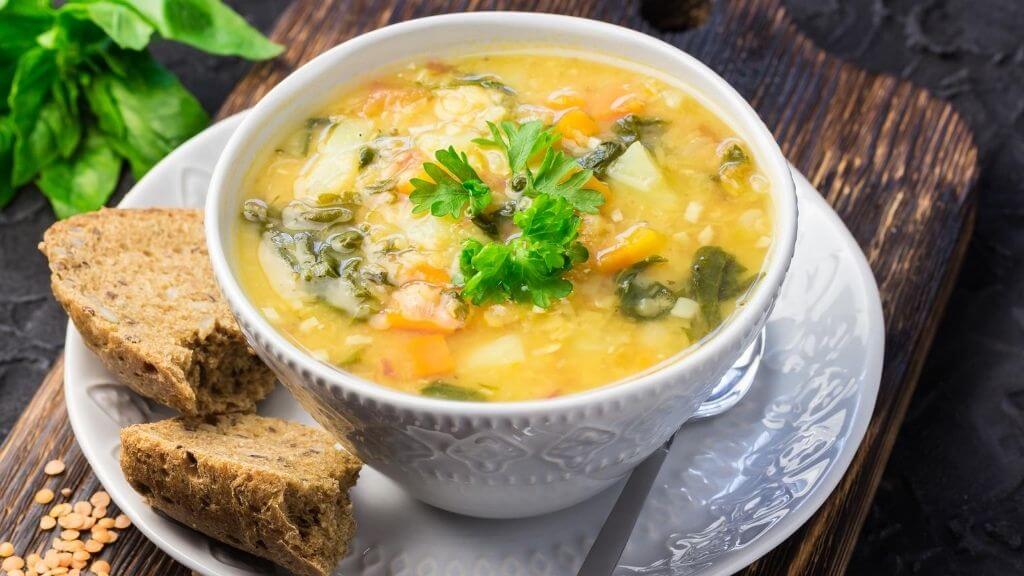 Directions:
1. Hit the Sauté button on Instant Pot. Add oil and when hot, add the onions, carrots, and celery. Sauté, stirring occasionally, until tender, then add the garlic, cumin, turmeric, thyme, 1 teaspoon salt, and 1/4 teaspoon pepper and cook, stirring constantly, for one minute.
2. Add the lentils and pour in the broth and stir. Place the lid on the Instant Pot and make sure the release valve is in the "sealing" position. Press the "Manual" button and set the timer at 12 minutes. Once venting is complete, remove the lid of the Instant Pot, stir in the spinach and serve warm.
Risotto With Peas and Artichokes
Risotto not only warms you up, but this vegan version will fill you up with nutrients. Artichokes and rice are full of dietary fiber that enhance your digestive system and support the health of your natural gut bacterial community.
Ingredients:
2 tablespoons extra virgin olive oil
1 small yellow onion, peeled and diced
3 cloves garlic, minced
1.5 cups arborio, carnaroli, or vialone rice
4 cups vegetable stock,
1.5 cups frozen peas, thawed
1 (12 oz.) jar artichoke hearts, drained
Salt and freshly ground pepper, to taste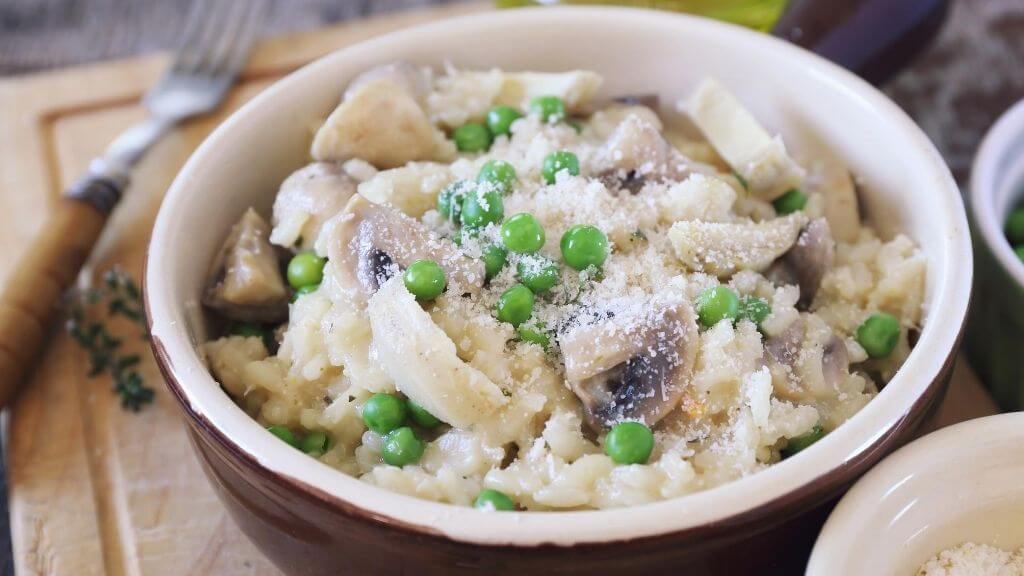 Directions:
1. Heat the olive oil in the Instant Pot with the sauté mode. Add the onion and sauté until tender and golden brown. Add the garlic and sauté another minute longer, then add the rice and stir to toast for about one minute. Add the vegetable stock, then place the lid on the Instant Pot and make sure the valve is set to sealing. Cook on manual for 5 minutes.
2. Quick release the pressure and carefully remove the lid away from you. Stir the risotto and add more broth if needed to loosen it up. Stir in the peas and artichokes and season with salt and pepper. Lock the lid back on for a few minutes to heat up the peas and artichokes. Stir again and serve.
Apples make the best desserts because they provide essential dietary fiber for your digestion and are great for diabetics. When you have to manage your blood sugar levels closely, you end up missing out on many sweet treats.
| Related: Homemade 3-Ingredient Vegan, Paleo Snack Bars |
Apple crumbles like this cure those sweet cravings and gives you nutrition instead of sugar spikes.
Ingredients:
3/4 cup quick oats use certified gluten free for allergies
1/4 cup spelt flour
1/4 cup coconut sugar
1/2 tsp. salt
1/4 cup coconut oil liquefied
5 medium honeycrisp apples peeled and cut into chunks
2 tsp. cinnamon
1/2 cup water
1 tbsp. maple syrup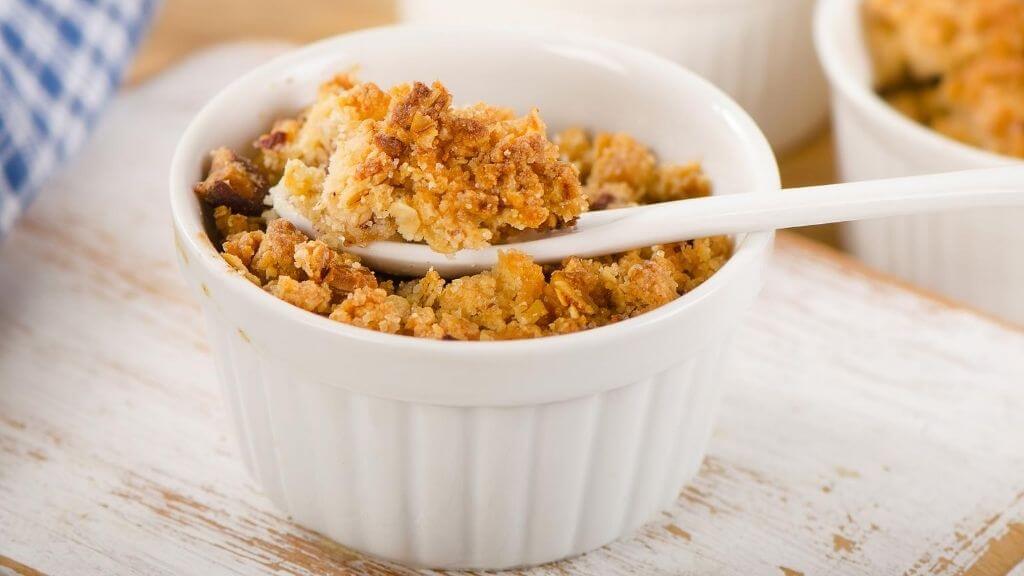 Directions:
1. In a small mixing bowl, stir together the oats, spelt flour, coconut sugar and salt. Pour the coconut oil over and stir well, coating the oats. Set aside. Place peeled & chopped apples in the liner pot. Sprinkle them with the cinnamon and pour the maple syrup over top. Cover with the water.
2. Drop the oat mixture evenly over top. Lock the lid in place and seal the valve. Press manual and cook on high pressure for 8 minutes. Allow the pressure to fully release naturally. Serve warm with vanilla ice cream of your choice (you can opt for coconut milk ice cream if you are vegan).
The Bottom Line
You may choose to follow a vegan diet for ethical or religious reasons, or just because it is healthy. As great as animal products taste, some do have disadvantages when it comes to health.
The good news is that your palate doesn't have to suffer by removing animal products. The Instant Pot recipes above are perfect for everyone. Full of nutrients and flavor so good, you won't even miss the meat.
---