4 Delicious, Heart-Healthy Recipes Perfect for Valentine's Day
8 minute read
---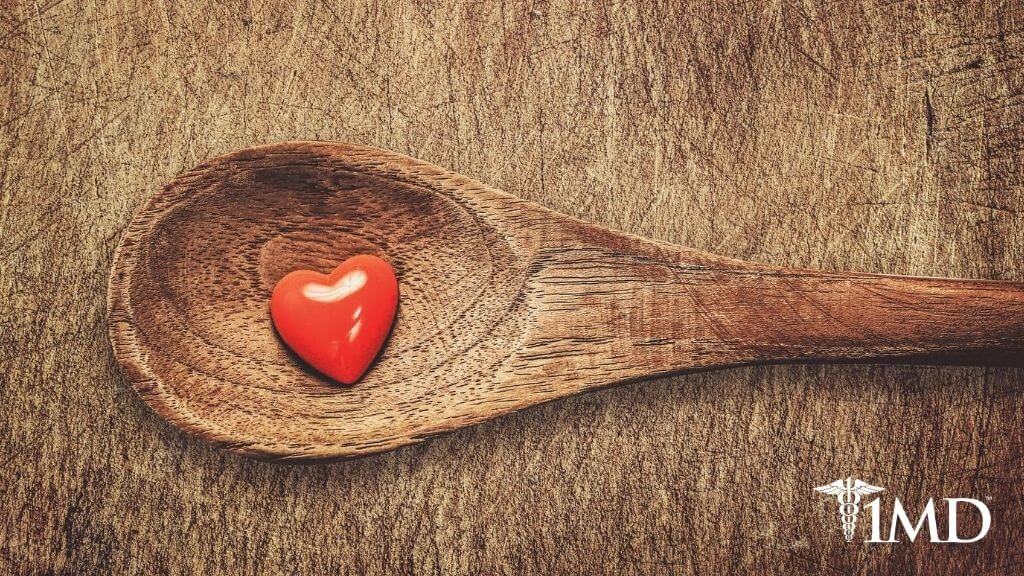 Nutrition
Valentine's Day may be marketed as a day to lavish gifts and affection upon your loved one, but it can be the perfect opportunity to show some love for yourself too. The symbol of Valentine's Day is a heart, so what better day than that to start showing your heart some much-needed affection.
Promoting heart health can be easy with lifestyle changes, like getting regular exercise and quitting smoking. Because your diet has such an impact on the health of your heart, what you eat on Valentine's Day and every other day is important.
The best way to your heart is through food, and these heart-healthy recipes show your heart all the love it needs.
Chickpeas are full of vitamins, minerals, and fiber, all of which help prevent diseases, including heart disease. The high protein and fiber content promotes fullness, thereby preventing you from eating unhealthy foods and helping you to control weight.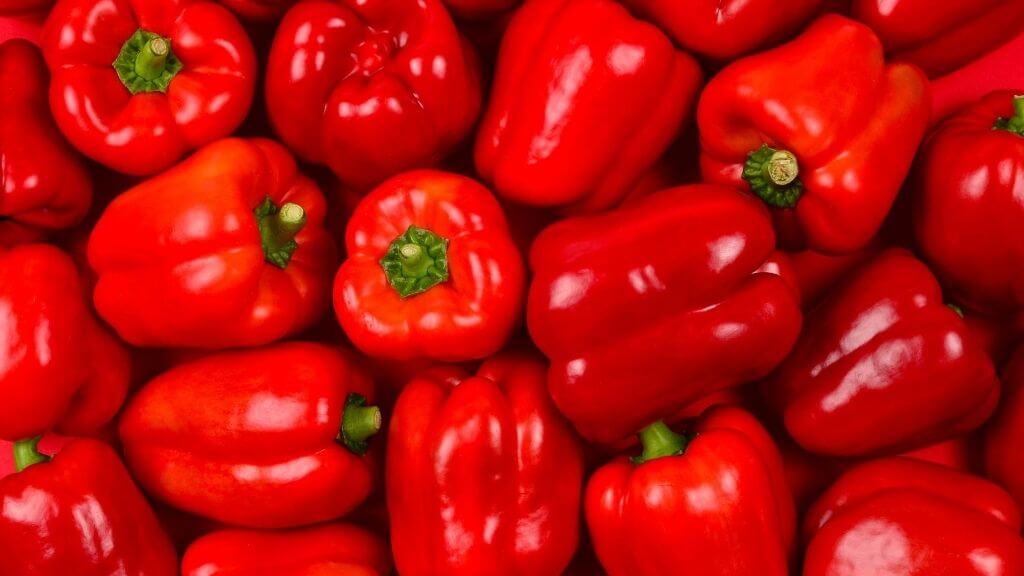 Excess weight is a key contributor to heart disease, but recipes like this keep you full and lean, and keep your heart clean.
Ingredients:
1/2 c. quinoa
2 tbsp. olive oil
1 medium onion
1 carrot
2 stalk celery
3 clove garlic
1 tbsp. smoked paprika
Kosher salt
Pepper
1 yellow pepper
1 red pepper
2 can low-sodium chickpeas
2 c. low-sodium vegetable broth
2 tbsp. red wine vinegar
Chopped fresh parsley
Directions:
1. Cook the quinoa according to package directions. Meanwhile, heat the oil in a Dutch oven or large heavy-bottomed pot. Add the onion, carrot, and celery and cook, covered, stirring occasionally, for 6 minutes. Add the garlic, paprika, and 1/4 teaspoon each salt and pepper and cook, stirring, for 1 minute. Add the peppers and cook, stirring occasionally, for 5 minutes.
2. Add the chickpeas, broth, and 1 cup water and bring to a boil. Reduce heat and simmer until the vegetables are tender, 5 to 8 minutes. Stir in the vinegar and cooked quinoa. Serve topped with parsley, if desired.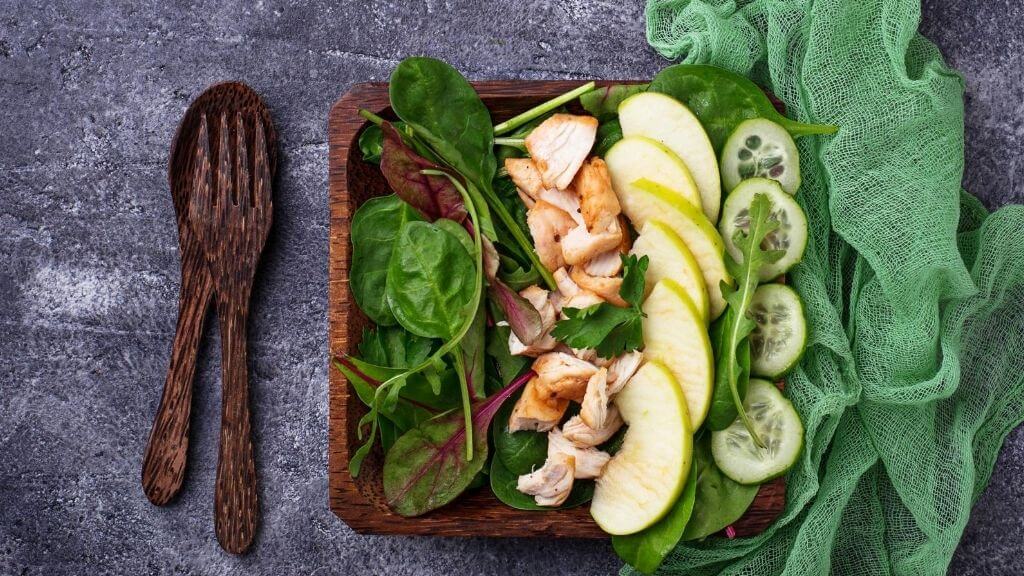 2. Balsamic Chicken With Apple, Lentil, and Spinach Salad
Very low or very high levels of potassium can increase your risk for heart disease, specifically cardiac arrest. Spinach is a high-potassium food that helps to maintain balance and regulate blood pressure, preventing any distress or heart disease.
The apples in this recipe are full of flavonoids that work to control blood glucose levels. Since diabetes is a major risk factor for heart disease, regulating blood sugar is essential to heart health.
Ingredients:
3 tbsp. olive oil
Boneless, skinless chicken breasts
Kosher salt and pepper
2 tbsp. balsamic vinegar
2 scallions
1 green apple
1 stalk celery
2 tbsp. fresh lemon juice
Can lentils
2 c. baby spinach
Directions:
Heat 1 tablespoon oil in a large skillet over medium heat. Season the chicken with 1/2 teaspoon each salt and pepper and cook until golden brown and cooked through, 8 to 10 minutes per side. Remove from heat and add the vinegar. Turn the chicken to coat. In a large bowl, toss the scallions, apple, and celery, lemon juice, remaining 2 oil, 1/2 teaspoon salt and 1/4 teaspoon pepper. Fold in the lentils and spinach and then serve with the chicken.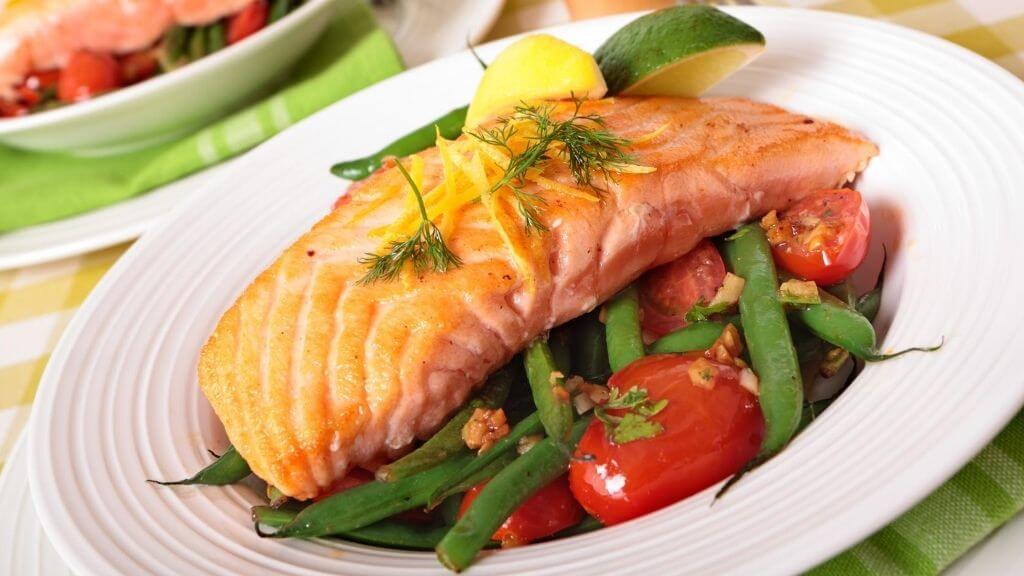 3. Roasted Salmon, Green Beans, and Tomatoes
Salmon is loaded with beneficial omega-3 fatty acids known to boost brain and heart health. Omega-3s possess both anti-inflammatory and antioxidant properties and can protect your heart tissues from damage.
Regularly eating fatty fish like salmon (at least three times a week) has been shown to reduce cholesterol and blood pressure, thereby promoting optimal heart health and function.
Ingredients:
6 clove garlic
1 lb. green beans
1 pt. grape tomatoes
1/2 c. pitted kalamata olives
2 tbsp. olive oil
Kosher salt
Pepper
1 skinless salmon fillet
Directions:
Heat oven to 425 degrees F. On a large rimmed baking sheet, toss together the garlic, beans, tomatoes, olives, with 1 tablespoon oil and 1/4 teaspoon pepper. Roast until the vegetables are tender and beginning to brown, 12 to 15 minutes. Meanwhile, heat the remaining tablespoon oil in a large skillet over medium heat. Season the salmon with 1/4 teaspoon each salt and pepper and cook until golden brown and opaque throughout, 4 to 5 minutes per side. Serve with the vegetables.
4. Fusilli With Broccoli Pesto
Compounds in broccoli serve as anti-inflammatory agents that protect your blood vessels from damage. When the lining of your blood vessels becomes damaged, blood pressure increases, as does the strain placed on your heart.
| Related: 9 Heart-Friendly Valentine's Day Exercises You Can Try Right Now |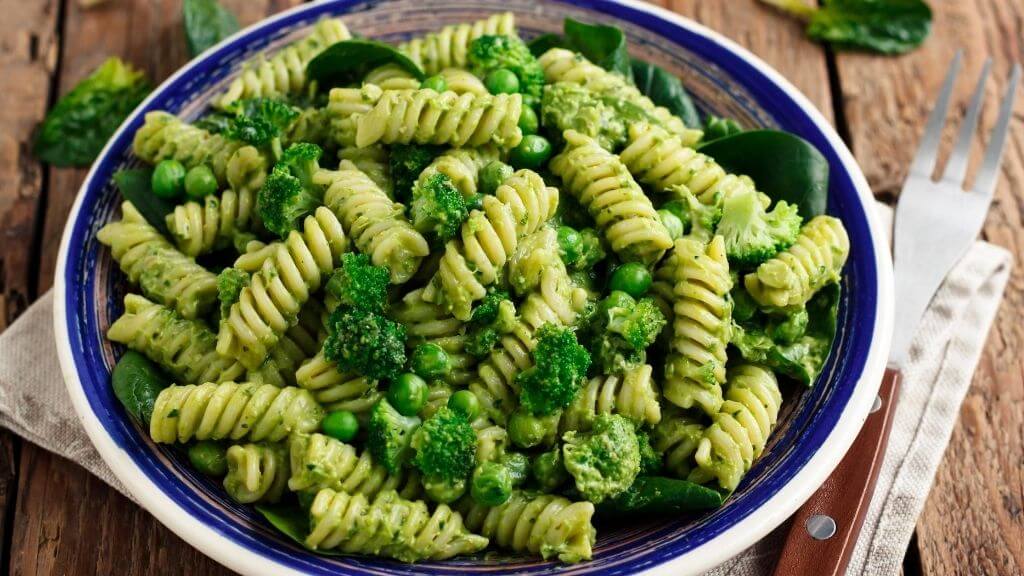 In addition to this, broccoli and other cruciferous vegetables help to lower cholesterol and protect your heart.
Ingredients:
12 oz. fusilli pasta
12 oz. frozen broccoli florets
2 clove garlic
1/2 c. fresh basil leaves
3 tbsp. olive oil
1 tbsp. grated lemon zest
Kosher salt
Toasted sliced almonds
Grated Parmesan cheese
Directions:
Cook the pasta according to package directions. Reserve 1/2 cup of the cooking liquid, drain the pasta, and return it to the pot. In a microwave-safe bowl, combine the broccoli, garlic, and 1/2 cup water. Cover and cook on high, stirring once halfway through, until the broccoli is tender. Transfer the mixture to a food processor. Add the basil, oil, zest, and 3/4 teaspoon salt, and purée until smooth. Toss the pasta with the pesto and 1/4 cup of the reserved liquid (adding more liquid if the pasta seems dry). Sprinkle with almonds and Parmesan, if desired.
The Bottom Line
With heart disease being the leading cause of death for Americans, it is more important than ever to start taking care of yours. A balanced and nutritious diet full of heart-healthy foods will promote heart health and protect you from cardiovascular issues.
Just remember that Valentine's Day will come and go, but if you want your heart to stick around for a while, you need to practice heart-healthy eating on February 14th and every day thereafter.
---