These 13 Healthy Halloween Snacks Are All Treats, No Tricks
7 minute read
---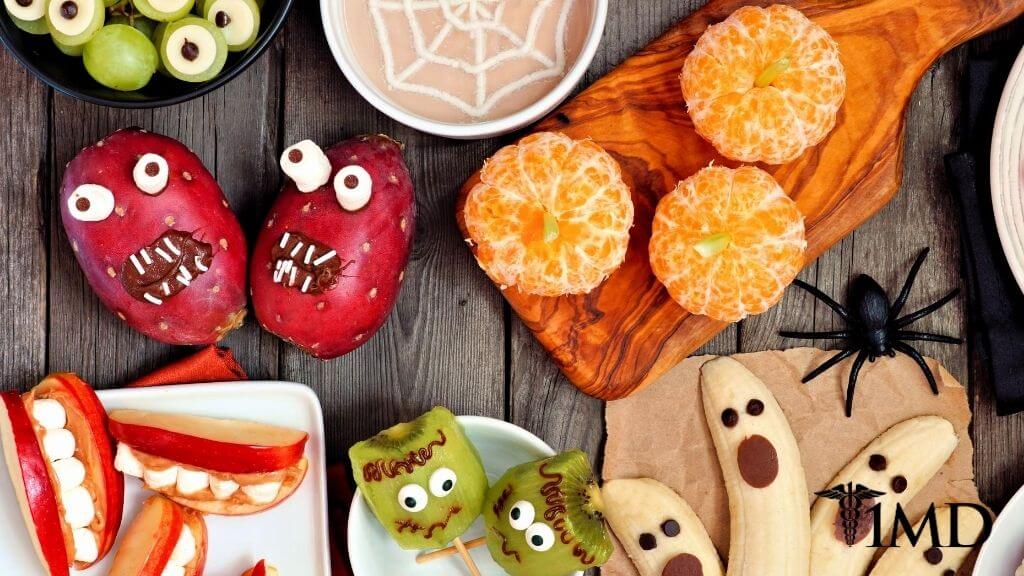 Breaking Medical News
With Halloween quickly approaching, you cannot go to a store without seeing shelves and aisles packed full of Halloween candy. It can give you a toothache just thinking about Halloween candy and all the treats at the parties, but it doesn't have to be that way.
As you plan your snacks and treats for the Halloween season, whether it's for a work function or a party, you don't have to compromise your health. There are several heath-supporting treats you can try instead.
Healthy Treats for Halloween
The season may be famous for candy corn, caramel apples, and chocolate bars galore, but your home doesn't have to be a house of nutritional horrors.
| Related: Why the Scariest Part of Halloween Is Sugar |
Below are 13 delicious and nutritious Halloween-themed treats that adults and kids will love. They're perfect for any party and for your health.
1. Jack-O'-Lantern Fruit Cups
Slice the tops off some oranges and scoop out the pulp, just like you would for a pumpkin, (only save the juicy insides for the next recipe). Carve a face of your choosing on the side and fill it with small fruits such as grapes and berries.
What you get is a smiling jack-o'-lantern full of nutritional goodness rather than empty calories. Even though fruits do contain sugars, these are not as bad for you as sugars added to foods and are offset by the fiber in fruit.
2. Candy Corn Popsicles
Better for you than the sugar-laden candy corn in stores, these popsicles will take care of any sweet craving you have. Made with pineapple juice, orange juice, and yogurt, you get naturally-sourced sweetness and nutrients.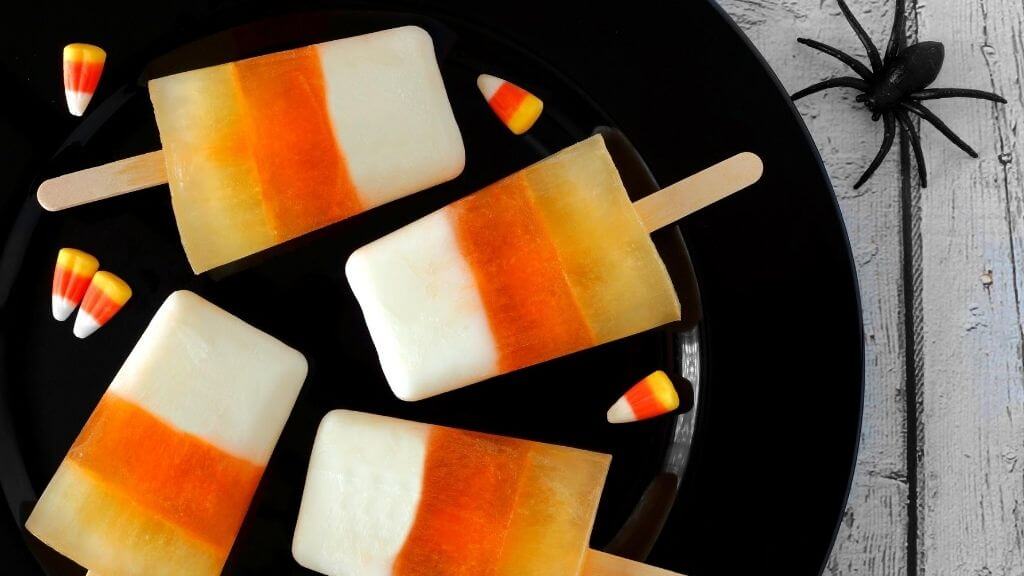 | Related: Your "Healthy" Yogurt May Be Loaded With Sugar, Not Probiotics |
The chills you get from these frozen delights will be the kind you like this Halloween and you won't have to worry about cavities or high blood sugar levels.
3. Mummified Apples
Buy some candy eyes and gauze to make your own mummified apples. Wrap the gauze around green apples, add the eyes, and display them around the house.
Not only do you get cute Halloween decorations and a healthy treat is available anytime you or the kids need a snack. Apples are full of nutrition and dietary fiber which also fills you up, so there won't be any room for any unhealthy Halloween candy.
4. Spooky Spider Eggs
Devilled eggs are a popular choice for parties. Instead of sprinkling with paprika, decorate the eggs to look like spiders and they become perfect treats for any Halloween event.
| Related: An Easy Plan on How to Stop Sugar Cravings |
Cut olives in half, placing one on top of each of the devilled egg halves. Slice the remaining olives into thin leg-like shapes and add to the spider bodies.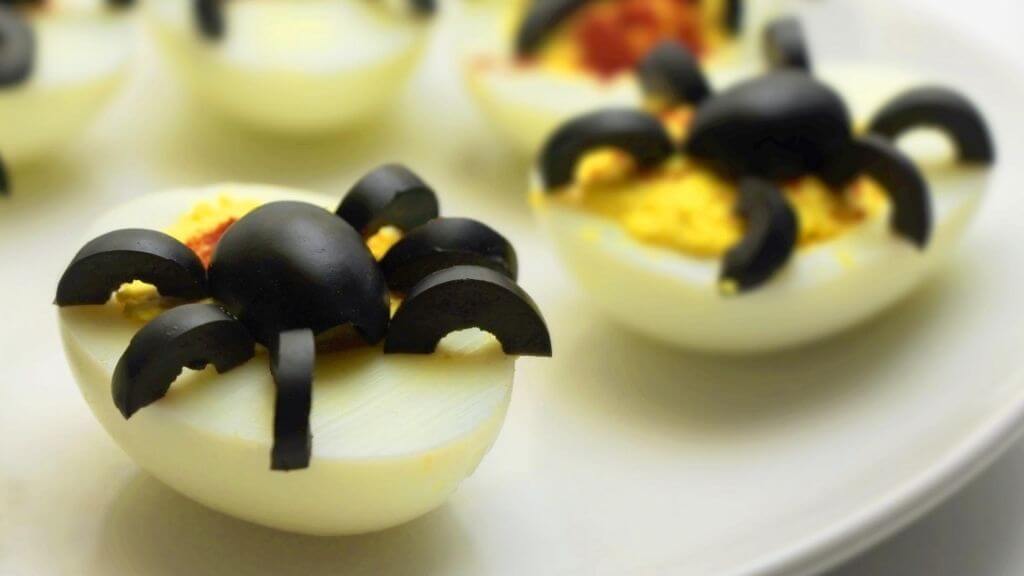 5. Monster Pie
Pie may not seem like the healthy treats, but that depends on what goes into it. When you make a filling from avocado, banana, and almond milk, you get nutrition without too much sugar.
Using kiwi and banana slices, as well as raisins, you can decorate the top of the pie to look like a monster, so the healthy ingredients won't scare the kids away.
6. Eyeball Pasta
Before you send the kids out trick-or-treating, serve a nutritious dinner to make sure there is not a lot of room for candy afterward. Spinach pasta and sauce can be easily transformed into a ghoulish dish by adding in eyes made from string cheese and olives.
7. Banana Ghosts
Using chocolate chips for eyes, and chocolate-covered raisins for the mouth, you can transform bananas into ghostly snacks. Peel and cut your bananas in half and stand them up to look like ghosts.
| Related: Green, Yellow, and Brown: The Benefits of Banana Colors |
If you can decorate your cutting board to look like a cemetery, you can give your family and friends a healthy and creepy snack.
8. Slithering Snake Dip
Forget dipping apples in caramel and consider dipping olives in hummus instead. Add a slithering treat to your table by carefully placing black olives in a snake-like shape across a bed of hummus.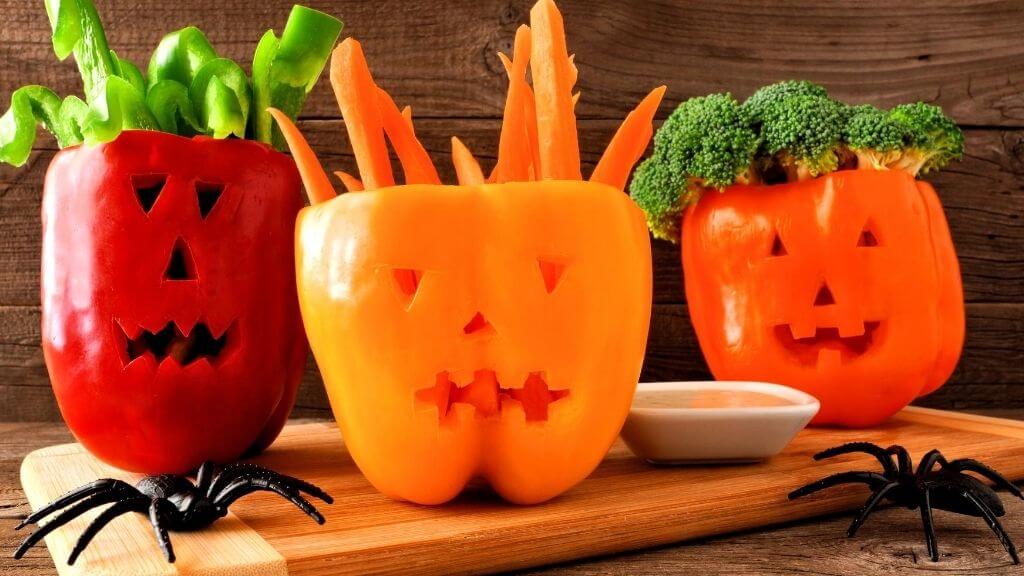 You can even slice a forked tongue from a carrot to add to the head.
9. Pumpkin Veggie Tray
Adding the Halloween vibe to your veggie tray is easy. Set out baby carrots and olives into the face of any jack-o-lantern, and you have the perfect holiday treat. Make sure the dip next to it has some googly eyes thrown in for that extra scare.
10. Hard-Boiled Ghouls
These are the easiest snacks to make and are perfect for kids. After hard-boiling a dozen eggs, use black food-safe ink pens to draw scary faces on the shells.
The best part about this healthy egg treat is that you can be creative, it doubles as a fun project for the kids, and you get a mouthful of protein instead of sugar.
11. Frankenstein Veggie Tray
For the first time in your life, it will be okay to play with your food. Arrange snap peas and olives on a tray to look like a face with hair. Sliced cucumbers make great eyes, and you can throw in any other vegetables to create whatever monster you like.
To get even more beneficial health benefits, make several vegetable monsters.
12. Jack-O'-Lantern Tangerines
Easy and fun to make, these fruity treats transform ordinary tangerines into cute jack-o-lanterns with a food-safe black pen. These will add a Halloween feel to your fruit bowl and keep healthy snacks on hand all season long.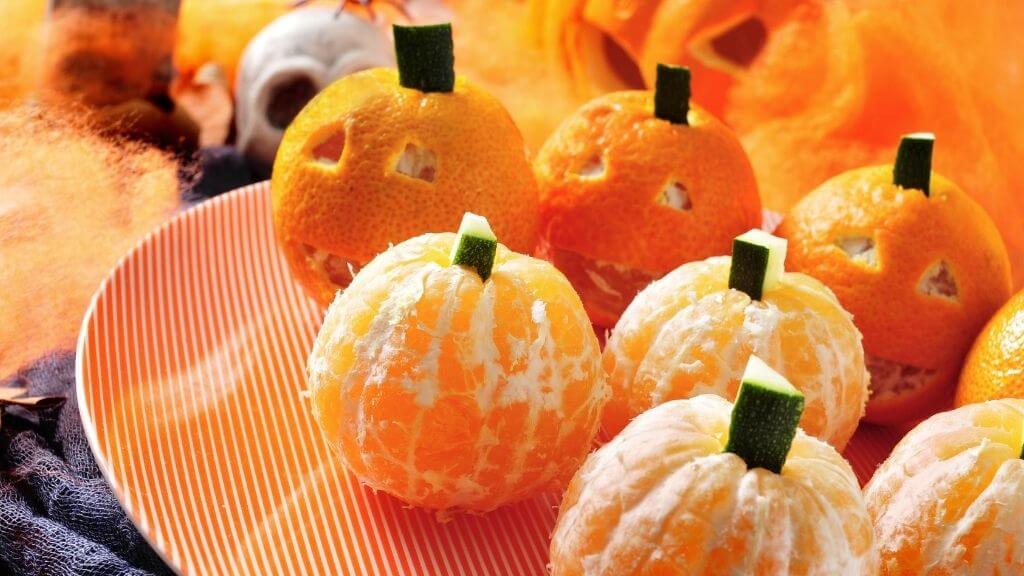 13. Pumpkin Oranges
Rather than decorate the peel of your oranges or tangerines, serve them already peeled. To get that Halloween flare, all you need to do is stick a small sprig of celery in the top.
The Bottom Line
Whether you are having your own Halloween party or just want to keep themed treats around the house for your family, these ideas will ensure you don't overdo it on the sugar this year.
The candy may be falling off the shelves, but you don't have to get sucked into the trap. Make and share your own healthy Halloween treats without any unhealthy tricks.
---