PrebioMD® is doctor formulated to help restore gut health and improve digestion.*
Gluten-Free
Shellfish-Free
Soy-Free
Non-GMO

Feel Energized After Eating, Not Weighed Down
PrebioMD® is specially formulated to restore and maintain a healthy digestive system. There are a wide variety of bacterial strains in your gut: Some help you, and some don't. By encouraging the growth of the good bacterial strains and crowding out the bad ones, you enjoy the benefits of good digestion, including more energy, better weight control, and making feeling good the new normal.*
A Broad-Spectrum Approach to Digestive Health
There is more than one strain of bacteria living in your gut. PrebioMD® is formulated to improve all the strains you want while combating the ones you don't*
Beneficial effects usually felt in just 7 days—sometimes even faster. Prebiotics have been shown to increase calcium and magnesium absorption, consequently enhancing bone and heart health*
Prebiotics have been shown to increase calcium and magnesium absorption consequently enhancing bone and heart health*
Helps combat the chronic oxidative damage caused by toxins "leaking" out of a too-porous digestive tract*
A balanced gut microbiome can lead to full-body benefits, such as improved immunity*
Stick to a Consistent Routine to Take Back Control of Your Gut Health
Enjoy the numerous health benefits that result from a healthier digestive tract.
24 Hours

After only 24 hours, the prebiotics in PrebioMD® can increase the levels of some of the healthy gut bacteria by as much as 1000%. You're well on your way to taking back control of your digestive health.*

Week 1

After 7 days of supplementation, gas, bloating, and other digestive problems that can occur right after eating will begin to decrease. Stick with it! The benefits of a healthy digestive system only increase over time.*

Month 1

Studies have shown a significant decrease of harmful bacteria in the gut, such as E. coli, after 28 days. By crowding out the bad bacteria, you create more room for the good, leading to systemic benefits.*

Month 3 and Beyond

After 3 months, your digestive system will be restored to its proper balance. As you continue to take PrebioMD®, this balance relieves pressure off other systems in your body. Thanks to improved mineral absorption, your body is now better able to absorb the calcium and magnesium you need for better cardiovascular and bone health.*
*Individual results may vary. This timeline may not reflect the typical purchaser's experience, and is not intended to represent or guarantee that anyone will achieve the same or similar results.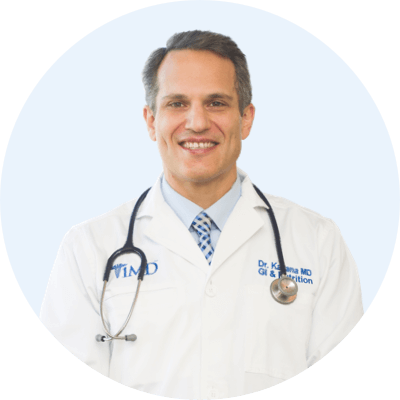 Physician Backed
Dr. David Kahana, MD
As a gastroenterologist with years of experience under my belt, I've seen my fair share of patients come in with digestive issues. One digestive aid, which we have found provides tremendous benefit to those suffering from intestinal problems is a healthy dose of daily prebiotics.
Prebiotics work synergistically with daily probiotics to support a healthy microbiome and can dramatically improve digestive, immune, and overall health.
This is why I formulated 1MD's PrebioMD®, one of the most advanced, restorative prebiotic supplements on the market today, offering a clinical dose of a patented prebiotic, scientifically shown to promote a balanced microflora, aid nutrient digestion and absorption, and boost the immune system.
Clinically Proven to Benefit a Wide Range of Beneficial Gut Bacteria
When your gut is happy, you're happy.
PreforPro®

A perfect food for your gut bacteria, specially designed to benefit numerous beneficial bacterial strains.*

Xylo-oligosaccharides (XOS)

A prebiotic derived from plant fiber for better regularity and immunity.*

Galacto-oligosaccharides (GOS)

A prebiotic that reaches the gut undigested for maximum benefits.*
You can rest assured knowing there are never any harmful fillers or additives
PrebioMD®

Supplement Facts

Serving Size: 1 Capsule | Servings Per Container: 30
Amount Per Serving
%DV

PreforPro® Prebiotic

LHO1 - Myoviridae

LL5 - Siphoviridae

T4D - Myoviridae

LL12 - Myoviridae

15 mg
**
Xylo-oligosaccharides (XOS)
157.5 mg
**
Galacto-oligosaccharides (GOS)
157.5 mg
**
Other Ingredients:
Vegetable Oil Powder, Silica, Vegetable Cellulose Capsule
ALLERGEN WARNING: Contains Lactose (Milk).
* These statements have not been evaluated by the Food and Drug Administration. This product is not intended to diagnose, treat, cure, or prevent any disease.
** Daily Value Not Established
PreforPro® is a trademark of Deerland Enzymes, Inc.
Gluten-Free
Shellfish-Free
Soy-Free
Non-GMO
How to Take PrebioMD®

As a dietary supplement, adults take one (1) capsule daily, preferably with a food containing fiber, or as recommended by a healthcare professional.
Write a Review
What are people saying?
My husband had always had stomach issues. Never wanted to go far. After 1 mo of probiotics he is a complete different person.
I have tried other products in the last yea...and the other products did not help. The big problem for me is gas and bloating and so far this product and vastly improved that issue.
Fantastic product. I hadn't taken a pre/probiotic in months and within a week of taking this, I was back on track and feeling great!
I'm so happy that someone told me about PreBioMD. I have less stomach issues now! Thanks 1MD!!
Bloating went away am I cramping went away
As soon as I started taking the three biotic my bloating went away am I cramping went away
Take them for 2 or 3 months. You'll notice a difference
The pre bios help the pro bios grow. Do yourself a favor and take them for 2 or 3 months. You'll notice a difference in how you feel and your energy. Good for your immune system too
Products really seem to be changing things for me
I just added this product to my routine and I'm hoping to order the probiotic in the next few weeks...These products really seem to be changing things for me.
Great quality for the price.
High quality ingredients at a great price. Arrived super fast. Customer service was fantastic
This has definitely helped out my probiotics!
This has definitely helped out my probiotics! I wasn't sure it was really doing anything for me until I stopped taking it. All my symptoms returned. Once I started it again I noticed changes. Will definitely consider a subscription.
Great product, though only a compliment to a good probiotic.
Very high-quality and effective when taken with probiotic.
Write a Review
Frequently Asked Questions
Should I take PrebioMD® with other 1MD products?
Since PrebioMD® contains powerful prebiotics, it is a natural pair with 1MD supplements containing probiotics, like BiomeMD®, or ones designed to specifically help with gut health (GutMD®) or digestive enzyme issues (EnzymeMD®). Beyond that, a healthy gut can impact other systems in the body, improving immune and even joint health. To that end, PrebioMD® can be an effective complement to MoveMD® and ImmuneMD®. However, before starting any supplement regimen, and especially when planning to use more than one at the same time, you should consult with your doctor.*
Who should take prebiotics?
Since PrebioMD® bolsters and fortifies the gut bacteria already present, prebiotics can have beneficial effects on everyone, even those without obvious digestive issues. This is because improving gut health also improves overall health and well-being. PrebioMD® can be a great way of maintaining the health you already have. If you do have any digestive disorders, PrebioMD® can be even more beneficial. For frequent inconveniences, like indigestion, bloating, and gas, PrebioMD® can have a fast effect. Its long-term benefits can also help with more serious digestive issues.*