MoveMD® is a doctor-recommended formula to aid stiff, sore joints.*
Gluten-Free
Preservative-free
Soy-Free

Get Up and Get Moving Again
MoveMD® is a special combination of the latest in joint health science to help you wake up each morning and hit the ground running. Whether you are a long-time athlete or just getting on in years, joint pain and various forms of damage created by free radicals can make you lose your natural get up and go. MoveMD® works to help you take back control and enjoy your day without the worry of creaky joints.*
Promote Relief of Back, Knee, and Other Joint Health Problems
Clinically proven to reduce joint discomfort in as few as 7 to 14 days. This fast-acting formula is designed to start strong as well as help maintain long-term joint health*
AprèsFlex® Boswellia Serrata, clinically proven to both support joint health and aid joint discomfort*
Zanthin®​ Natural Astaxanthin is a powerful antioxidant clinically shown to outperform Glucosamine + Chondroitin*
Type X.I.V. Eggshell Membrane Collagen and Type II Chicken Collagen clinically shown to increase range of motion and address connective tissue ailments*
Hyaluronic Acid allows targeted discomfort relief directly to crucial synovial joint fluid*
The Benefits of MoveMD® Start Soon and Increase Over Time
Sticking to a routine helps more the longer you do it. What starts at a walk only grows faster, just like you.
7 Days

While individual results will vary from person to person, studies have found that the Types II and X.I.V. collagens in MoveMD® may significantly reduce joint discomfort in as few as 7 days.*

Month 1

Astaxanthin, one of the most active of all antioxidants, works to reduce the damage caused by free radicals in your joints while the hyaluronic acid begins restoring the fluid surrounding the joint itself.*

Month 2

Relieving joint discomfort takes time to help chronic issues. Boswellia serrata extract can greatly reduce knee discomfort and increase walking distance after two months.*

Month 3 and Beyond

As each aspect of joint health returns, it helps improve the benefits of all the others. When moving around is easier for you, you tend to move around more, which can snowball into further joint health improvements.
*Individual results may vary. This timeline may not reflect the typical purchaser's experience, and is not intended to represent or guarantee that anyone will achieve the same or similar results.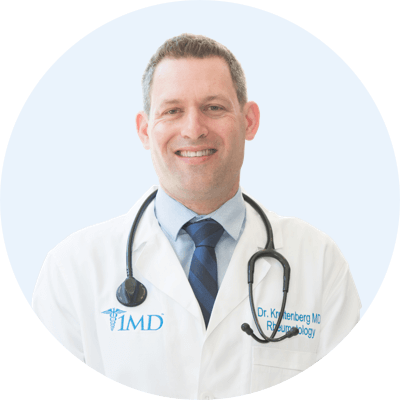 Doctor Recommended
Dr. Adam Kreitenberg, MD
As a board-certified rheumatologist, and a son who watched his mother suffer on a daily basis from disabling psoriatic arthritis, I have a strong interest in treating patients with severe and debilitating joint ailments. My holistic approach marries cutting-edge immune therapies with nutrition, bowel health, and physical therapy. Through my practice, I have witnessed dramatic improvements in my patients' quality of life.
This is why I stand behind 1MD's MoveMD®, a revolutionary joint health solution developed to precisely target joint function from the inside.
This formula combines AprèsFlex®, a patented and bio-enhanced form of boswellic acid clinically proven to boost joint health and aid joint discomfort, with Zanthin® Natural Astaxanthin, a patented antioxidant clinically proven to outperform Glucosamine and Chondroitin at relieving joint discomfort and restoring joint mobility.
In my opinion, 1MD has created the best joint health supplement on the market and I recommend MoveMD® to anyone looking to improve joint health, aid joint discomfort, elevate brain health, and boost energy levels and overall systemic relief in the body.
Groundbreaking new formulas and proven standards
By taking clinically studied ingredients, MoveMD® offers the best joint health formula available.*
AprèsFlex® Boswellia Serrata Extract

Promotes better joint function and mobility while helping those suffering from joint distress.*

Zanthin® Natural Astaxanthin

Contains 200 times more astaxanthin than standard krill oil, providing powerful antioxidant benefits.*

Type X.I.V. Collagen

A combination of types, I, V, and X collagen. Contains joint compounds and proteins that are essential for the maintenance of healthy joint and connective tissues.*

Type II Collagen

Found naturally in cartilage and has been shown to help restore and maintain healthy joints.*

Hyaluronic Acid

HLA has been found to help lubricate joints and ease joint discomfort.*
You can rest assured knowing there are never any harmful fillers or additives
MoveMD®

Supplement Facts

Serving Size: 1 Capsule | Servings Per Container: 30
| | Amount Per Serving | %DV |
| --- | --- | --- |
| AprèsFlex® Boswellia Serrata Extract | 100 mg | ** |
| Zanthin® Natural Astaxanthin | 2 mg | ** |
| Type X.I.V. Eggshell Membrane Collagen | 100 mg | ** |
| Type II Chicken Collagen | 280 mg | ** |
| Hyaluronic Acid | 25 mg | ** |
** Daily Value Not Established
Other Ingredients: Organic Vegetable Oil Powder, Silica, Whey Protein Isolate, Vegetable Cellulose Capsule
* These statements have not been evaluated by the Food and Drug Administration. This product is not intended to diagnose, treat, cure, or prevent any disease.
Allergen Warnings: Contains Eggs and Whey (Milk).

Not manufactured with wheat, gluten, fish or shellfish ingredients. Produced in a GMP facility that processes other ingredients containing these allergens.
Zanthin® is a registered trademark of Valensa International.
ApresFlex® is a registered trademark of Laila Nutraceuticals.
Gluten-Free
Preservative-free
Soy-Free
How to Take MoveMD®

As a dietary supplement, adults take one (1) capsule daily, with or without food, or as recommended by a healthcare professional.
Write a Review
What are people saying?
My husband noticed a positive difference in his knees and elbows in a few days of use.
I have rheumatoid arthritis have been taking this for 2 weeks and haven't noticed any changes, will continue to take it until the bottle is gone
This helped me move far easier and when I dont take it I noticed a difference. It is almost immediate in how it works. But it works and WELL!
On week 2 and I can definitely feel the difference!
I could feel a difference in my ability to move. Really helpful.
I liked the decreased joint pain that I experienced after approximately 7-10 days. It's a little pricey however.
This works..dont know how...but it works
It's a Great supplement for the joints.I've noticed a decrease of joint pain.
Write a Review
Frequently Asked Questions
Should I take MoveMD® with a meal or on an empty stomach?
It is preferable to take this supplement on an empty stomach with a full glass of water in the morning. But, those with sensitivity concerns may prefer to take with a small meal.
What Is astaxanthin?
Astaxanthin is a naturally occurring carotenoid, discovered in 1972 by London Basil Weedon, and is found in shrimp, krill, salmon and the microalgae Haematococcus pluvialis (a cultured microalgae that is a rich natural source of Astaxanthin approved for use in human dietary supplements in the US, the EU, Japan, Korea and many other areas in the world). Zanthin® Natural Astaxanthin begins with the microalgae Haematococcus pluvialis which is grown in a remote, pristine Chilean environment. The microalgae is extracted at an organic certified facility in Eustis, Florida using a proprietary Deep Extract® supercritical CO2 extraction process.
Can I take this with a multivitamin?
Yes, but as always speak with your doctor before adding any new supplements to your routine.
*These statements have not been evaluated by the Food and Drug Administration. This product is not intended to diagnose, treat, cure or prevent any disease.