LiverMD® is doctor formulated, resulting in a comprehensive approach to liver health and wellness.*
Gluten-Free
Soy-Free
Preservative-free
Sugar-Free
Vegan

Take Better Care of Your Largest Internal Organ
LiverMD® combines the power of EVNolMax® patented and bioenhanced, full-spectrum tocotrienol vitamin E extract and Siliphos® Bioavailable silybin, milk thistle extract, both clinically studied to help protect the liver and kidneys, while supporting the production of new liver cells.* This powerful formula works to promote antioxidant capacity, relieve occasional oxidative stress, and aids in the liver's detoxification process.*
Support Healthy Liver Enzyme Function, Energy, and Focus
Supporting your liver health can help with your weight management and even promote energy levels*
Everything you consume gets filtered through the liver, so treating your body to a healthy diet alongside LiverMD® can lead to your best liver health.*
LiverMD® contains EVNolMax® a super-charged vitamin E shown to promote proper cell division in the liver. It also has been shown to help cleanse your liver*
Siliphos® Bioavailable silybin is derived from the main bioactive ingredient in milk thistle. However, Siliphos® has been shown to be a whopping 10 times more absorbable than generic milk thistle extract*
LiverMD® contains numerous antioxidants, including selenium, zinc, and alpha lipoic acid, to maximize the benefits to your liver health, support healthy liver enzyme levels, and promote focus and clarity*
LiverMD® Can Support You in Your Liver Health Journey
With time, consistency, and taking steps towards a healthier lifestyle, your liver can see some truly great improvements.
7 Days

The fast-acting antioxidant effects of silybin and vitamin E begin to support healthy liver enzyme levels.*

Month 1

Improving your liver health can take time and individual results may vary, but you may feel more support in energy levels, better focus, and gastrointestinal comfort.*

Month 2

Other ingredients in LiverMD®, like selenium, also have big benefits. Selenium has been shown to help promote healthy weight and thyroid gland function.*

Month 3 & Beyond

As you continue on your path to both liver and kidney health, the greatest benefits really begin to take hold. Healthy detoxification and other benefits can lead to proper weight management and much more.*
*Individual results may vary. This timeline may not reflect the typical purchaser's experience, and is not intended to represent or guarantee that anyone will achieve the same or similar results.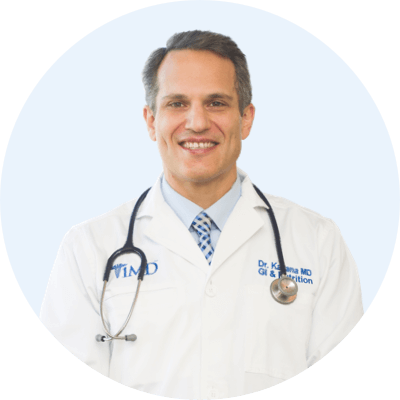 Dr. Kahana's LiverMD Report.Watch
Doctor Formulated
Dr. David Kahana
The liver undergoes 30,000 enzymatic reactions per second. And the liver is important not just for metabolic activity, but also as a digestive organ. Everything we ingest has to be detoxified and processed in the liver before it reaches the rest of our body. So the liver gets exerted, and then it regenerates and it repairs.
LiverMD® includes select ingredients at their clinically effective doses including Siliphos®, a more bioavailable, patented form of silymarin (milk thistle), which is commonly used throughout the world to promote liver health, as well as EVNolMax®, a patented and clinically studied natural form of vitamin E replete with both tocotrienols and tocopherols containing all eight isoforms of vitamin E.
The addition of NAC and selenium, which has powerful benefits in maintaining strong livers, makes LiverMD® one of the most potent and effective supplements for liver health.
Patented New Ingredients and Proven Standards
Patented ingredients are included in their clinically studied dose for effectiveness.*
EVNolMax®

A "supercharged" vitamin E, EVNolMax® contains every form of the powerful antioxidant vitamin E for max benefit.*

Siliphos® Bioavailable Silybin®

An enhanced form of milk thistle extract, this botanical has been shown to support liver and gallbladder health.*

Alpha Lipoic Acid (ALA)

ALA is great for its antioxidant effects as well as helping enzymes create energy from the nutrients you ingest, promoting energy.*

Zinc

An essential element for your health, zinc also helps with your body's detoxification process to support the digestive tract and your liver.*

Selenium Amino Acid Chelate

Another health essential, selenium is a key detoxifying aid and can help with both liver and kidney health.*
You can rest assured knowing there are never any harmful fillers or additives
Gluten-Free
Soy-Free
Preservative-free
Sugar-Free
Vegan
How to Take LiverMD®

As a dietary supplement, adults take one (1) capsule, twice (2x) daily, with a meal and a full glass of water, or as recommended by a healthcare professional.
Write a Review
What are people saying?
Product helps me when I need to give my liver a little extra love
A lot of time, we forget about how much work our liver does for us in our bodies. in the modern world, our diet and life choices can overload the liver, leaving us feeling sluggish and even tired. this particular product helps me when I need to give my liver a little extra love. especially if you take an prescription medications. it helps your liver restore balance and all around optimal health. definitely worth a try.
Seeing a difference
Great Product, seeing a difference in my body, highly recommend!!
After just one week of use I have already felt a difference
Love 1 MD products, after just one week of use I have already felt a difference. It's also a big plus knowing that actual doctors are involved with the making of their products.
I wanted to do for my well being
The Liver MD product is something I wanted to do for my well being. The liver is such an integral organ that can be neglected if not treated properly.
Seem to be helping
impressed about the list of ingredients used. easy to swallow and seem to be helping. I am seeing a real benefit from my last check up with my doctor
Great product.
Great product. Does as described.
Good product
My wife uses this as needed and she likes it. good product
Write a Review
Frequently Asked Questions
Why is the liver so important?
The liver is the cleanser and filter of the bloodstream and is of vital importance. It is the largest organ in the body and has an enormous amount of blood flowing through it every minute of our lives.
Among its main functions, the liver:
Produces bile, which is stored in the gallbladder and released when required for the digestion of fats
Stores glucose in the form of glycogen, which is converted back to glucose again when needed for energy
Stores vitamins A, D, K, B12 and Folate, and synthesizes blood clotting factors
Breaks down or transforms substances like ammonia, metabolic waste, drugs, alcohol and chemicals
What are tocotrienols?
Tocotrienols are part of the vitamin E family. Tocotrienols have similar structure to tocopherols (alpha-tocopherol is the most common vitamin E on the market), but contain three double bonds in the carbon side chain of the molecule. Tocotrienols are more effective than tocopherols and are better absorbed by around 250%. The vitamin E family comprises eight different compounds, as both tocotrienols and tocopherols appear in alpha, beta, gamma, and delta forms.
Where do tocotrienols come from?
Tocotrienols are scarce in nature. They are found most abundantly in crude palm oil extracted from palm fruits. Other sources are rice bran, wheat germ, oat, and barley.
Why is Siliphos® better than generic milk thistle extract?
The fruit of the milk thistle (Silybum marianum) contains complex flavonoids, which have been used for centuries to address liver health. Silymarin, the active ingredient of the plant, is a mixture of at least seven flavonolignans and one flavonoid. The most abundant and potent active components in silymarin are two diastereoisomeric compounds (silybin A and silybin B) known as silybin (also called silibinin). Unfortunately, silymarin, and even more silybin, have poor intestinal absorption, which limits their benefits. Siliphos® is formulated using Phytosome®, a non-GMO phospholipid technology that overcomes and optimizes the poor bioavailability of naturally occurring silybin in milk thistle.*
What makes alpha-lipoic acid such a powerful antioxidant support?
Alpha-lipoic acid (ALA) is both water- and fat-soluble, which allows it to work in every cell or tissue in the body and has also been scientifically shown to boost the potency of other antioxidants within the body.*
Why is selenium amino acid chelate necessary?
It is best to take Selenium Amino Acid Chelate (ACC) and vitamin E tocotrienols together, as they facilitate each other's absorption.*
I know what selenium is, but what does amino acid chelate mean?
Minerals, like selenium and zinc, are metal ions that prefer to attach to other compounds. An amino acid chelated-mineral is one in which a mineral has been paired with an amino acid, which has been shown to increase its absorption.*
Why do I need zinc?
Zinc is crucial for the body to produce proteins and DNA and it fuels over a hundred enzymatic reactions. Additionally, zinc resides in all your bodily tissues, acting as an antioxidant to help keep you healthy.*
Should I take LiverMD® on an empty stomach or with a meal?
For optimal absorption, it is recommended to take LiverMD® with a meal and a full glass of water.*
Can I take LiverMD® with other medications?
Please consult with your doctor before introducing any new supplement to your system.
*These statements have not been evaluated by the Food and Drug Administration. This product is not intended to diagnose, treat, cure or prevent any disease.