KrillMD™ is an advanced omega-3 formula providing optimal heart, joint, and brain health.*
Dairy-free
Peanut-free
Wheat-free
Non-GMO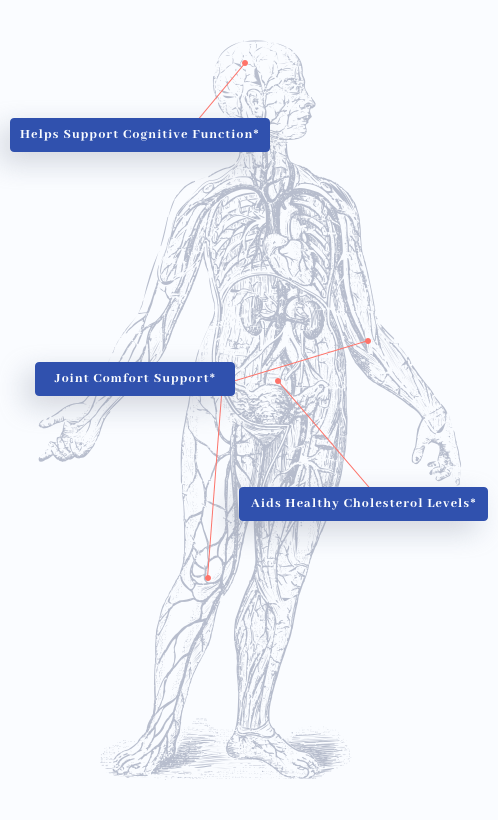 A Pure, Powerful Source of Omega-3s*
The KrillMD™ formula uses exclusive krill oil, shown to be twice as effective as fish oil. This combination of omega-3s, bonded to krill phospholipids, with the powerful antioxidant astaxanthin, makes for a superior product unlike any other on the market today.*
Support Cognitive, Heart, and Joint Health*
By reducing common forms of oxidative stress, your body enjoys health benefits all over*
Improved mobility thanks to more flexible joints. As you feel an easier time moving around, you are more likely to move that much more*
Excellent source of the omega-3 fatty acids you need to promote mental, joint, and overall health*
Helps keep your healthy cholesterol levels where they need to be*
Krill oil, sourced from Antarctic waters, is more sustainable than fish oil*
A Convenient Way to Always Have the Benefits of Omega-3s*
KrillMD™ is a breakthrough supplement to help you get healthy and stay that way.*
Two Weeks

While everyone has varying results based on their individual health status, studies have found that krill oil can help reduce joint stiffness and soreness as soon as two weeks after starting supplementation.*

Month 1

When dealing with typical oxidative stress, results won't occur overnight. After 4 weeks of regular supplementation, studies have found that related markers in patients were reduced by as much as 30%, meaning improvements to joint, heart, and cognitive health.*

Month 2

As the oxidative stress continues to decrease, morning joint soreness should as well, improving overall flexibility. The EPA and DHA in krill oil also help maintain healthy cholesterol levels.*

Month 3 and Beyond

The true benefits of krill oil need time to grow. Studies have found krill oil is able to help promote memory, mood, and cognitive function. Small improvements lead to big benefits over time.*
*Individual results may vary. This timeline may not reflect the typical purchaser's experience, and is not intended to represent or guarantee that anyone will achieve the same or similar results.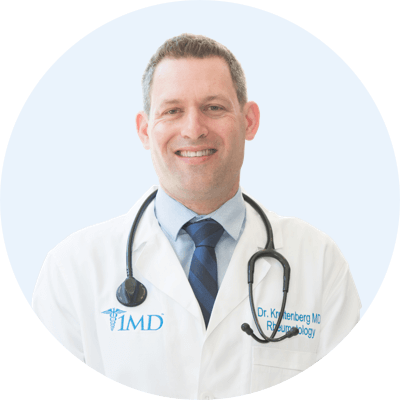 Recommended by Our 1MD Joint Specialist
Dr. Adam Kreitenberg
Watching my own mother struggle with the reality of aging joints inspired me to become a board-certified rheumatologist and it is my passion to help people support their joint health. My partnership with 1MD allows for a holistic approach in enriching the lives of both the 1MD customers and my personal patients. Through the combination of cutting-edge technology and understanding the role nutrition plays in sustaining the body, KrillMD™ is the solution for all your joint health needs.
This is why I proudly stand behind the whole-body support of joint, heart, and brain health that KrillMD™ delivers. Using science and nature, we formulated KrillMD™ with pure, sustainable, Antarctic krill oil with its potent omega-3 fatty acids, bonded to krill phospholipids, and the powerful antioxidant astaxanthin, to deliver our most complete and effective omega-3 formula.*
This combination will not only promote joint mobility and flexibility, but will also help support healthy cholesterol levels and cognitive health. Through the use of naturally-derived ingredients and by promoting balanced nutrition, fitness and mental well being, your joints will feel the lasting benefits of the 1MD formula and lifestyle.*
This is why I endorse 1MD's KrillMD™; a potent and comprehensive omega-3 supplement formulated for optimal joint, heart, and brain health support.*
This Sustainable Source of Omega-3s Helps Now and Later*
KrillMD™ features the pure krill oil you want in a formula that increases its benefits over time.
Pure Krill Oil

Sustainable, clinically-studied krill oil is derived from Antarctic krill, using responsible fishing practices to support healthier oceans.*
You can rest assured knowing there are never any unnecessary fillers or additives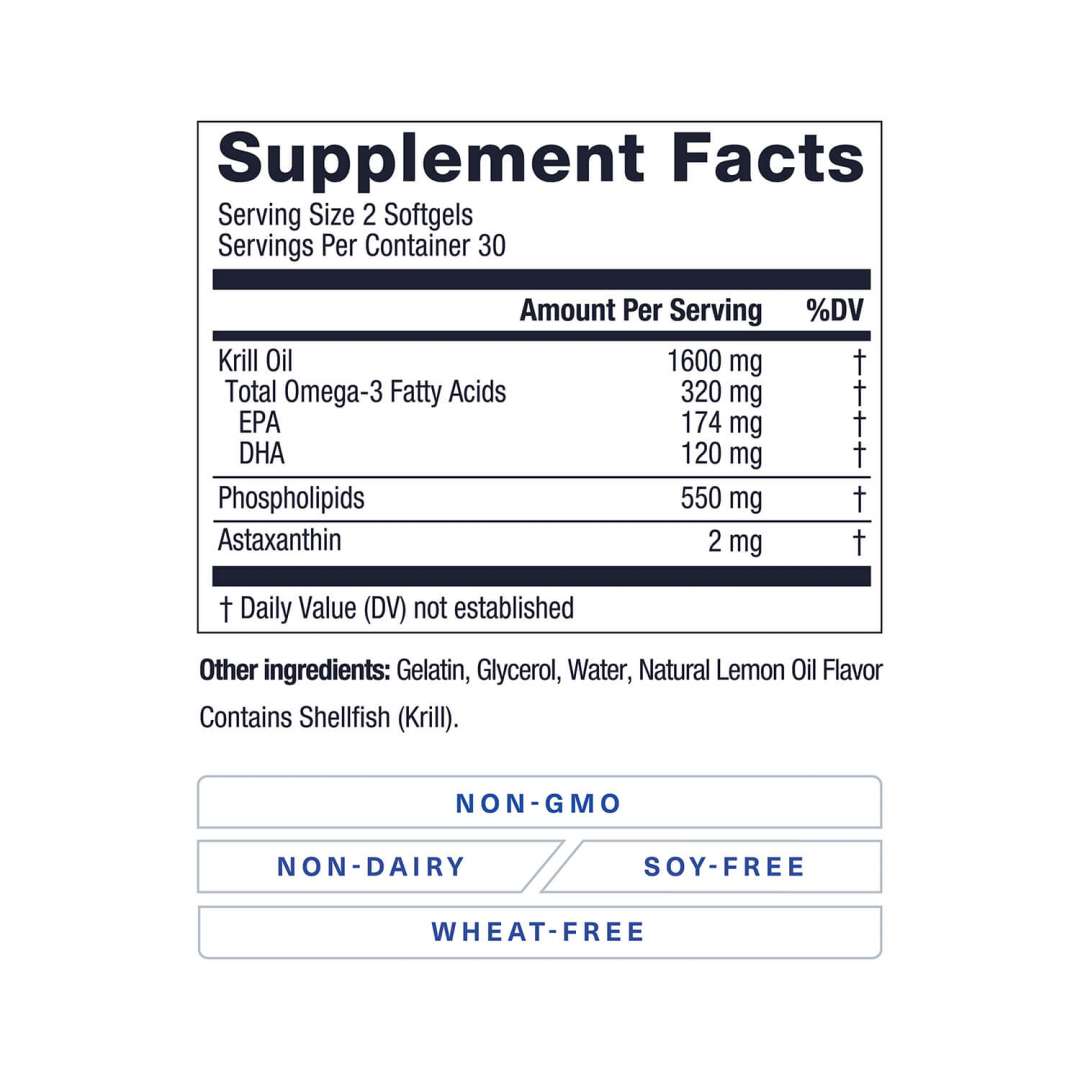 Dairy-free
Peanut-free
Wheat-free
Non-GMO
How to Take KrillMD™

As a dietary supplement, adults take two (2) softgels daily with an eight-ounce glass of water, or as recommended by a healthcare professional.
Write a Review
What are people saying?
There is a strong fishy smell when you open the bottle.
I've been using this for years. I order during the cooler or winter months so that the heat doesn't affect the product. The company has replaced the bottles of Krill that leaked or had broken capsules. I am on the last bottle of my 6 bottle order that was ordered months ago. The bottle again had oily capsules stuck together. This has been common and I will no longer order.
This is the turmeric that for me works well! For the price it is worth every penny. Really helps my joint pain.
I use the Krill Oil for cholesterol lowering
Please give the common senior citizen a break
Great! I'm on my my third bottle and cholesterol is improving
They are easy to swallow and have no fishy taste, but I have not been taken them long enough to know if it's effective.The only I have is the size of the capsule.
Smells very strong when you first open the bottle.
These have no taste toMe so very easy to take no after taste.
I ordered accidently when meant order probiotic i am very interested in trying these soon tho
Write a Review
Frequently Asked Questions
What is krill oil?
Krill oil is the oil from tiny, shrimp-like animals. Larger sea animals such as whales, manatees and whale sharks eat mostly krill. The word "krill" actually means "whale food" in Norwegian.
Where is krill oil from?
Our krill oil is harvested from the Antarctic Ocean, it is considered one of the best sources of omega-3 for our body. Antarctic Krill is less exposed to dangerous chemicals in the pristine water of the Antarctic.
What's the mercury content of krill?
Unlike fish oil, which is notorious for high mercury and PCB levels, krill is not susceptible to these toxins since it is harvested from the Antarctic Ocean, where these dangerous chemicals are essentially non-existent.
Should I take KrillMD™ on an empty stomach or with a meal?
Krill is best absorbed when taken with a meal.
Can I take KrillMD™ with my other medications?
Be cautious when taken with other blood thinners. As with all supplements, please consult your physician when starting a new supplement.
What if I miss a dose?
Try to avoid missing any but if you do. Take the dose as soon as you remember or if it's close to your next dose just take that one. You'll be fine.