ImmunityMD® Is Doctor-Formulated for Lip, Skin, and Oral Health*
Dairy-free
Peanut-free
Wheat-free
Shellfish-Free
Non-GMO

Regain Confidence in Your Daily Appearance
ImmunityMD® is a unique, probiotics-based supplement formulated by an allergist and immunologist for the specific purpose of helping avoid the unsightly and uncomfortable problems of a compromised immune system on the health of skin and tissues in and around the mouth.*
Improving Your Immune System Is Only One Part of the Formula
The probiotic and prebiotic blend improves immune system by improving the gut's ability to absorb nutrients and block toxins*
The inclusion of L-Lysine assists in helping you reduce everyday worry and anxiety*
Nutraflora® Fiber is a prebiotic that helps ensure the growth of the beneficial gut bacteria at the root of immune system strength*
The powerful effects of zinc improve both immune cell function and its ability to respond to problems*
Zinc also boosts the body's ability to heal, making any skin issues that do arise more quickly overcome*
The Benefits of ImmunityMD® Start Fast and Continue Growing
A consistent supplement routine is the key to preventing lip, mouth, and skin issues.
7 Days

A zinc deficiency can cause a host of immune-system problems. Supplementing with zinc will immediately begin helping prevent them. After one week, any zinc deficiency should be long gone.*

Month 1

By sticking to your routine, the probiotics begin to restore the balance of gut bacteria to beneficial levels, reducing immune system stress and even leading to better nutrient absorption and more energy.*

Month 2

L. rhamnosus, part of the probiotic blend, works to restore strength to the cells lining the gut. A strong gut lining will result in fewer toxins adding stress to the immune system.*

Month 3 & Beyond

Over time, both the probiotics and other ingredients, like L-lysine, will promote reduced overall stress, improved immune system strength, and fewer unsightly and uncomfortable skin or mouth issues.*
*Individual results may vary. This timeline may not reflect the typical purchaser's experience, and is not intended to represent or guarantee that anyone will achieve the same or similar results.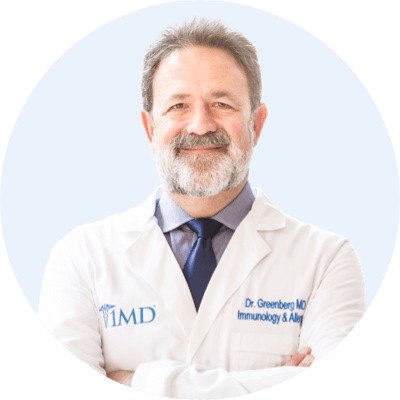 Doctor Formulated
Dr. Brian Greenberg, MD
Over thirty years ago, while still a medical student, the long hours and intense stress had many of us struggling with maintaining the integrity of our lip, skin and mouth. It quickly became a recurring issue, and for some friends of mine, a very visible issue too. We tried many of the common, over-the-counter remedies but they were simply ineffective and just didn't work. Even our professors couldn't really help. Nothing helped.
I set out to find a simple and effective solution, and ended up spending days in the medical library extensively reading medical journals. I quickly found dozens of mentions of the efficacy of probiotics, and then began experimenting with different probiotic strains, combined with other natural ingredients. Finally, after numerous attempts and countless hours of research, I found the perfect combination of probiotic strains, minerals, and amino acids that helped immensely with appearance of the lips, mouth, and skin.
After completing medical school, I first trained in Pediatrics and then Allergy and Clinical Immunology at UCLA before joining a busy, private practice in Los Angeles. When patients showed similar concerns about their lips, mouth, and skin—in particular, the visible appearance of those areas—I recommended using the combination of natural ingredients—paired with probiotics—that I now knew had worked before. My patients could not believe the incredible results they experienced. After hundreds of successful cases, I knew I was on to something.
I decided to create a proprietary formula from the highest-quality ingredients whose efficacy would never diminish. I searched for years for a manufacturer and supplier who could compound this formula to the highest specifications, and that's when I found 1MD. The result is ImmunityMD® Probiotic Formula—a proprietary solution unlike any other on the market, and made right here in the USA, at FDA-approved facilities.
If you are one of millions of people concerned about the health and appearance of your lips, mouth, or skin, let ImmunityMD® help. It can bring your confidence back, and empower you to look and feel your best again.
A Unique Formula & All-Natural Ingredients
Thanks to our doctor formulation, you can enjoy pure, effective ingredients.
Lactobacillus Acidophilus

A probiotic strain clinically shown to improve digestive and immune system health.*

Lactobacillus Rhamnosus

A probiotic strain shown to be particularly helpful in restoring gut health and boosting the body's natural defenses.*

L-Lysine

An essential amino acid shown to block arginine and reduce stress and anxiety.*

Zinc Sulfate

A common form of zinc for supplements, Zinc sulfate prevents a zinc deficiency, boosting immune system strength and more.*

Nutraflora® Prebiotics

A prebiotic fiber designed to nourish probiotic bacteria to ensure strength and viability both before and after taking ImmuneMD™.*
You can rest assured knowing there are never any harmful fillers or additives
ImmunityMD®

Supplement Facts

Serving Size: 2 Capsules | Servings Per Container: 30
| | Amount Per Serving | %DV |
| --- | --- | --- |
| Lactobacillus acidophilus | 8 Billion CFU | ** |
| Lactobacillus rhamnosus | 4 Billion CFU | ** |
| L-Lysine | 1000 mg | ** |
| Zinc (as Zinc Sulfate) | 30 mg | 272.23% |
| Nutraflora® Prebiotic Fiber | 50 mcg | ** |
Percent Daily Value based on a 2,000 calorie diet.
** Daily Value Not Established
Other Ingredients: Vegetable Cellulose Capsule, Vegetable Oil Powder, Silica
*These statements have not been evaluated by the Food and Drug Administration. This product is not intended to diagnose, treat, cure, or prevent any disease.
Gluten-Free
Preservative-free
Non-Dairy
Non-GMO
Vegan
How to Take ImmunityMD®

As a dietary supplement, take two (2) capsules daily with food. During stressful periods, you may increase the serving size to two (2) capsules, twice (2x) daily with food. Do not exceed daily serving limit of four (4) capsules.
Write a Review
What are people saying?
Our family uses it every day
This product didn't work for me...
I can use these continuously (unlike other pills).
Nice product, but would like to see the price come down closer to other Probiotics.
This is the best product I have ever tried for canker sores in the mouth.
Seems to be helping my digestive system as well as reoccurring cold sores.
I have been using this since January and has definitely improved my immune response.
No adverse reaction. Seems to be as advertised.
Write a Review
Frequently Asked Questions
What makes ImmunityMD® the most effective option for lips and mouth (oral skin health)?
ImmunityMD® is the first daily supplement designed specifically for immune system support in all areas of the mouth, lips, and gums, that also contains a proprietary probiotic blend to enhance its healthful properties when used regularly. At 1MD, we teamed up with a board-certified MD specializing in allergy and immunology to use the latest scientific research in the study of oral health and immune system support for the lips, skin, and inner mouth. Together, we created a revolutionary new supplement that utilizes the many health-promoting powers of probiotics.*
Combining the healing and supportive properties of L-Lysine and Zinc, ImmunityMD® is a total immune system booster supplement that promotes oral health for the lips and mouth, while maintaining and enhancing immune system responses that target stress and anxiety too. In this way, ImmunityMD® promotes oral and physical health on two, bold, new fronts. By using a blend that is 100% all-natural, with no additives or synthetic fillers, you get the best natural formula available, with the added bonus of a probiotic blend that supports.*
What are probiotics and why are they important?
"Probiotics" actually means "for life." Probiotics are living microorganisms that—in sufficient numbers—provide innumerable health benefits when ingested regularly. Probiotics are often called "the good bacteria", and for good reason. You always want to keep your own microbiome at an 80/20 level, with 80% composed of probiotic or "good" bacteria, and the other 20% composed of "bad" bacteria. Probiotics provide the balance.*
Should I also take ImmunityMD® when I feel well?
Yes. ImmunityMD® is a supplement that is intended to be taken regularly to continuously maintain immune system support, promote lip, mouth, and oral health, and provide the boost you need for those areas to look and feel healthy, 24/7. By taking ImmunityMD® on a daily basis, you can rest assured that you're doing everything you can to feel your best, and encourage optimal health results for your entire body—not just your lips and mouth.*
What do I do if I miss a serving?
While you do want to try to keep your serving sizes and frequency as consistent as possible, if you miss a serving, just continue with your next scheduled serving. There's no need to double up. The effects of ImmunityMD® will continue even if you miss a serving.
Is ImmunityMD® gluten-free? Dairy-free? Soy-free?
Yes, to all of the above. ImmunityMD® is also 100% all-natural, non-GMO, preservative-free, vegan, and contains NO artificial ingredients, additives, or synthetic fillers whatsoever.
Is ImmunityMD® tested on animals?
No, our products are never tested on animals. We never use cheap fillers, binders, additives, artificial colors or flavors, or animal byproducts. It's part of what sets us apart.
Is ImmunityMD® made in America?
Yes, our supplements are always made in America. Every 1MD product is proudly made and distributed in the U.S.A. We believe in keeping our production right here at home.
*These statements have not been evaluated by the Food and Drug Administration. This product is not intended to diagnose, treat, cure or prevent any disease.