ImmunityMD® Plus is clinically proven to promote proper immunity & lung function.*
Gluten-Free
Soy-Free
Preservative-free
Sugar-Free
Non-Dairy
Non-GMO

Shellfish-Free

Helps Relieve Cough & Mucus Build Up*
ImmunityMD® Plus formula stimulates lung tissue function and helps alleviate excess mucus accumulation, aiding respiratory health.* This first-of-its-kind, scientifically proven supplement includes clinically effective dosages of South African Geranium, elderberry, NAC, vitamin E, vitamin D, and vitamin C, working synergistically to support the function of every single cell involved in the body's immune response system, particularly as it relates to lung health. *
Stimulates Immune System Response & Promotes Respiratory Tract Relief*
South African Geranium also known as wild geranium, is traditionally used to soothe the upper respiratory tract.* This powerful botanical is clinically proven to help increase the body's natural healing rate and has been scientifically shown to help relieve common headache, fatigue, cough, and nasal drippage, making it extremely effective at stimulating the immune system. *
NAC, an essential compound due to its powerful ability to help improve glutathione production. Glutathione is one of the most important antioxidant enzymes in the body that helps clean and fix damaged tissues. NAC helps thin out overly thick mucus, allowing for it to be coughed up and removed from obstructing the respiratory pathways. *
Vitamin E is essential for maintaining immune health. As we age, our ability to retain vitamin E diminishes and with it our ability to promote immune system function. Multiple clinical studies show the key benefit of vitamin E is its ability to improve t-cell production in the thymus. T-cells are a broad class of immune cells responsible for identifying and taking out non-host cells. When the body's T-cell populations are healthy, our immune response is properly maintained. *
Vitamin C amplifies the effects of vitamin E by helping recycle spent vitamin E while also positively influencing the adaptive and innate immune system by strengthening epithelial tissue as well as improving immune cell activity. Epithelial tissue is the lining of the digestive and respiratory tracts and is the first main defense of our immune system. The epithelial cells form a physical barrier that keeps bad things out while allowing nutrients to freely pass. As the epithelial cells degrade, this barrier becomes weaker and weaker allowing higher levels of contaminants to pass. By promoting epithelial health, vitamin C stimulates this first line of defense. *
Vitamin D3 in the form of cholecalciferol, is an integral part of respiratory and immune health, due to its ability to encourage production of specific molecules responsible for harming lung tissue and support the function of immune cells, including T-cells and macrophages, that protect your body from foreign cells. *
Packed with antioxidants, elderberry berries and flowers are packed with immune-boosting properties that can help the body heal faster, lessen stress, while also helping protect your heart. *
Zinc is an essential trace mineral necessary for almost 100 enzymes to carry out vital chemical reactions. It is vital in the creation of DNA, growth of cells, building proteins, and supporting a healthy immune system.
An essential micronutrient, chromium has been shown to play a significant role in boosting the immune response by supporting increased production of T-Cells, B-Cells, cytokine, and macrophages. *
Marshmallow root helps increase the body's healing time and activates the immune system, specifically by expediting a process called phagocytosis, which cleans up damaged or dead cells from the body. Marshmallow root also supports the mucosal relief activity of NAC by being a natural source of mucilage, a lubricating compound that alleviates irritation of the respiratory tract sometimes caused by excessive coughing. *
ImmunityMD® Plus is Potent Immune and Respiratory System Support*
In clinical trials, significant improvement began at the 3 month marker.*
Month 1

In more than 11 clinical trials, improvements in common cough, shortness of breath, fatigue, and wheezing began to occur between 1 to 2 weeks after starting supplementation.*

Month 2

Increase in the production of glutathione, a powerful antioxidant found in every cell of the body, which supports vital functions, including immunity, regeneration, and lung health.*

Month 3 & Beyond

Strengthened T-cell and white blood cell production work to dramatically stimulate immune and respiratory system functions.*
*Individual results may vary. This timeline may not reflect the typical purchaser's experience, and is not intended to represent or guarantee that anyone will achieve the same or similar results.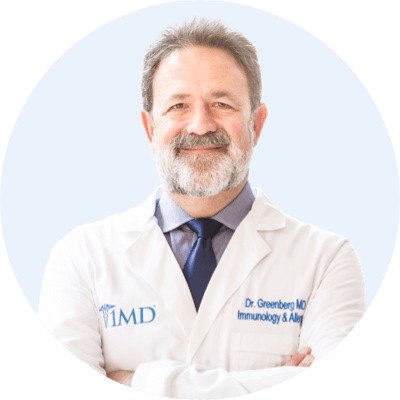 Doctor Formulated
Dr. Brian Greenberg
As a UCLA trained Pediatrician, Allergist and Immunologist I have spent almost 30 years helping patients of all ages maintain their respiratory health. In my quest to stay cutting-edge and to utilize all vehicles possible to take care of my patients, I helped introduce groundbreaking therapies and have championed the use of natural methods to improve our body's own immune system to promote health and healing.
This is why I stand behind 1MD's ImmunityMD® Plus, a truly revolutionary immune and respiratory system supplement, clinically proven to promote proper lung function, stimulate and maintain the body's proper immune response, and effectively stop foreign cells from gaining a foothold in our body.
This one-of-a-kind immunity and respiratory formula contains clinically effective dosages of wild geranium, elderberry, NAC, vitamin E, vitamin D, and vitamin C, that work synergistically with the recommended daily allowance of zinc, chromium, and marshmallow root to provide unparalleled whole body health.
In my opinion, 1MD has created the best immune and respiratory health supplement on the market, by combining these highly bioavailable, clinically proven nutrients. I recommend ImmunityMD® Plus to anyone looking to encourage increased antioxidant activity, aid respiratory system performance, and maintain a strong healthy immune system.
A Groundbreaking Formula with Clinically Effective Ingredients That Actually Make a Difference*
ImmunityMD® Plus combines clinically studied dosages of six powerful, immune-support ingredients shown to promote effective lung function and health.*
South African

South African Geranium is an astringent herb that is clinically proven to benefit respiratory, immune, digestive, and cardiovascular system health.*

NAC

NAC is essential for proper production of the powerful antioxidant, glutathione, which plays a vital role in all cellular processes of the body.*

Vitamin C

Vitamin C provides protection against oxidative stress and aids in numerous bodily functions, including immune system defense and iron absorption. *

Vitamin E

Vitamin E helps shield cells from unwanted damage, while promoting proper production of large white blood cells, which help protect your body.*

Vitamin D3

Maintaining proper levels of vitamin D3 in the body, plays an important role in lung health and prevents damage to the cellular lining of the respiratory tract.*

Elderberry

Elderberry is clinically proven to help support the body's natural ability to heal and aid the proper function of the immune system.*

Zinc

Daily zinc supplementation is clinically proven to help increase the number of healthful days and supercharge the immune system.*

Marshmallow Root

Marshmallow Root is scientifically proven to help alleviate irritated mucous membranes and relieve common, cough-related chest discomfort.*

Chromium

Chromium has been shown to help with the rapid reproduction of crucial cells essential for a healthy immune response.*
You can rest assured knowing there are never any harmful fillers or additives
ImmunityMD® Plus

Supplement Facts

Serving Size: 2 Capsules | Servings Per Container: 30
Amount Per Serving
%DV

Vitamin C

(as Ascorbic Acid)

120 mg
133%

Vitamin D3

(as Cholecalciferol)

100 mcg (4000 IU)
500%
Vitamin E
40 mg (90 IU)
267%

Zinc

(as Zinc Citrate and Zinc Ascorbate)

20 mg
182%

Chromium

(as Chromium Picolinate)

400 mcg
1143%

Pelargonium sidoides 10:1 Extract

80 mg
**
Elderberry 10:1 Extract
100 mg
**

Marshmallow Root Extract

100 mg
**

N-Acetyl Cysteine

600 mg
**
** Daily Value Not Established
Other Ingredients: Cellulose (Powder and Capsule), Vegetable Oil Powder, Silica
*These statements have not been evaluated by the Food and Drug Administration. This product is not intended to diagnose, treat, cure, or prevent any disease.
Gluten-Free
Soy-Free
Preservative-free
Sugar-Free
Non-Dairy
Non-GMO
Shellfish-Free
How to Take ImmunityMD® Plus

As a dietary supplement, adults take one (1) capsule twice (2x) daily with food, or as recommended by a healthcare professional.
Write a Review
What are people saying?
This product is the BEST that I have ever taken (IT WORKS). On hold right now to order some more.
My Dr. said that it is interfering with one of my medications and I am to stop taking it
It has helped me to get back to normal...My lungs breath free and my slight congestion is almost gone. Feel great.
My order arrived in good time, except it was for the wrong product! I called the "Help" line and was forced to leave a message after waiting several minutes. I did not get a return call for the rest of the day! This is not acceptable customer service.
This is okay to help you breathe better. I had to take an allergy pill with it and it was really good then. The least thing I liked about it is the capsules. It has a weird aftertaste.
Oh, my goodness the Immunity MD is amazing. I have problems whizzing alot...So I already take the liverMD. So I said let me try these and I don't whizzing as much I take two a day one in the morning and one in the evening. They are GREAT!!!! Thank you for this my breathing is much better. I would recommend this.
Have not noticed any change at this time. Only been about twelve days,
It is a wonderful product and helped me tremendously. I am so happy that I tried it, have not used my oxygen or neblizer since I have started it. Jere Ann Ocker,Van Buren, Arkansas
I don't feel any different than before I was using 1MD.
I love this product . I'm so glad I found an Vitamin with an overall Immunity support which also gives extra lung support. In this day and age it's so Important to be retroactive!
Write a Review
Frequently Asked Questions
How is ImmunityMD® Plus different from other immunity or respiratory health supplements?
There is no other formula like ImmunityMD® Plus on the market today. Most supplements benefit one or the other, but 1MD's groundbreaking ImmunityMD® Plus innovatively and effectively supports proper immune and respiratory function, in a powerful daily dose.
What is South African Geranium and why have I never heard of it before?
South African Geranium, also known as the black geranium, is a traditional herb long used in South Africa to soothe the upper respiratory tract. This powerful botanical is clinically shown to help stimulate the body's natural healing rate and has been scientifically shown to help relieve common headache, fatigue, cough, and nasal drippage, making it extremely effective at stimulating the immune system.
What is the difference between vitamin D2 and vitamin D3?
Vitamin D2 is made by plants, whereas vitamin D3 is made by our skin when we are exposed to sunlight. Vitamin D3 is clinically proven to be a more effective, more bioavailable, more absorbable form of vitamin D, which means it stays in the body longer.
Does ImmunityMD® Plus have side effects?
ImmunityMD® Plus is an all-natural supplement with no known side effects. Our product is manufactured in the USA in an FDA-regulated facility using cGMP standards. However, it is advisable that you consult your physician if you are concerned about any interactions with prescription medications you may be taking.
*These statements have not been evaluated by the Food and Drug Administration. This product is not intended to diagnose, treat, cure or prevent any disease.