GutMD® is doctor formulated to provide clinical-strength gut wall repair.*
PRESERVATIVE-Free
Soy-Free
Gluten-Free
Shellfish-Free

Give Your Intestinal Lining a Boost
GutMD® is a powerful way to restore the health and function of your gut. A weak intestinal lining allows toxins and the nutrients you should be absorbing to escape into your body, leading to numerous health challenges. Restoring your defenses can have profound long-term benefits.*
A Comprehensive Approach to Gut Wall Health
Preservative-free formula, with patented Fibregum™ acacia gum, promotes healthy intestinal microbiota metabolism, which has a reparative effect on the epithelial lining of the intestinal wall*
Powerful L-Glutamine, an important amino acid, is clinically proven to help regulate the tight junctions in the intestinal wall, decreasing the amount of contaminants that pass through the intestinal wall and improving immune system response*
Licorice root-based GutGard® helps protect the gut from harmful bacteria, like Helicobacter pylori, that can cause sores in the lining of your stomach*
With patented and clinically studied CARE4U® HMO, hearty prebiotics that nourish the gut's bacterial microbiome and help activate immune responses that can boost overall health*
Make "Rough Gut" Days a Thing of the Past
GutMD® Is Designed to Restore the Intestinal Barrier Now and Defend It for Years to Come
2 Weeks

GutGard® has been shown to significantly decrease stomach upset after 15 days. As the tight junctions of your gut lining begin to be restored, bloating and swelling will also begin to subside.*

Month 1

After 30 days, the balance of beneficial gut bacteria will start to level out. HMO CARE4U® nourishes the immune system, the Acacia Fibregum feeds the good microbes with the nutrients they need, and GutGard® continues fending off bad bacteria, like H. pylori.*

Month 2

As you reclaim control of your gut lining function, L-Glutamine and GutGard® continue to fend off toxins and other particles from crossing through the gut barrier into the rest of your body.*

Month 3 & Beyond

The true "ripple" effect of a healthy gut barrier is only realized over time. As the other systems of your body are relieved of a source of chronic stress, improved mood, decreased joint pain, a stronger immune system, and better weight management are all possible benefits. Stick with it and make feeling good the norm.*
*Individual results may vary. This timeline may not reflect the typical purchaser's experience, and is not intended to represent or guarantee that anyone will achieve the same or similar results.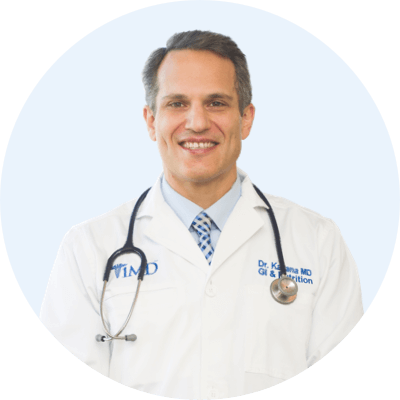 Doctor Formulated
Dr. David Kahana, MD
As a gastroenterologist with years of experience under my belt, I've seen my fair share of patients come in with digestive problems. One such area of concern I see in the clinical setting is the degradation and malfunction of the intestinal lining, covering as much as 2,700 square feet of the surface area, in the small intestine alone.
Comprised of a delicate single-cell layer, the gut lining is one of the most critical components of your immune system, regulating digestion and absorption of nutrients from the digestive tract into the bloodstream. When this wall breaks down, large holes form, and the lining becomes permeable to toxins, antigens, pathogens, and byproducts of fermentation that end up hurting your body. These compounds, for example, can trigger a response from the immune system, which can lead to a whole host of health challenges, including food sensitivities and autoimmune reactions.
This is why I formulated 1MD's GutMD®, a clinical-strength formula containing 4 powerful, clinically-studied ingredients designed to boost the health and function of the intestinal lining. I believe this formula signifies a real breakthrough in gut health innovation.
Clinically Proven Ingredients at Their Clinically Effective Dosages
Give Your Gut What It Needs.
L-Glutamine

The body requires this amino acid to keep the small intestine digesting properly.

GutGard®

Derived from licorice root, a natural remedy for combating damaging "bad" gut bacteria.*

Acacia Fibregum

This prebiotic boosts the "good" gut bacteria, helping with better weight management.*

HMO CARE4U®

Human identical oligosaccharides (HMOs) are synthesized from natural ingredients, helping defend the gut from toxins and actively helping reduce the amount of "bad" bacteria in the gut.*
You can rest assured knowing there are never any harmful fillers or additives
GutMD®

Supplement Facts

Serving Size: 3 Capsules | Servings Per Container: 30
Amount Per Serving
%DV
L-Glutamine
1500 mg
**

CARE4U®

(2'Fucosyllactose HMO)

250 mg
**

Gutgard®

(Licorice Root)

150 mg
**

Fibregum™

(Acacia Fiber)

60 mg
**
Other Ingredients:
Vegetable Cellulose Capsule, Vegetable Oil Powder
Allergen Warnings: Contains Lactose (Milk).
* These statements have not been evaluated by the Food and Drug Administration. This product is not intended to diagnose, treat, cure, or prevent any disease.
** Percent Daily Value based on a 2,000 calorie diet.
Gutgard® is a trademark of NATURAL REMEDIES PRIVATE LTD. exclusively distributed by AIDP in North America.
Fibregum™ is a trademark of Nexira.
CARE4U® is a registered trademark of DuPont and its affiliates.
PRESERVATIVE-Free
Soy-Free
Gluten-Free
Shellfish-Free
How to Take GutMD®

As a dietary supplement, take three (3) capsules, once a day, on an empty stomach with a full glass of water, or as recommended by a healthcare professional. Wait one hour before eating.
Write a Review
What are people saying?
Hope to get better over time
I have just started taking it, it does cause little stomach upset and gas at this time but hope to get better over time.
Just had to write a review.
I'm a business professional and needed to write a review because this is important. I no longer have the worst gas in the world. Been using this product for a few months, and though it's on the pricey side I'm sticking with it.
Happy camper.
Just have to say, this is a must.
Saw results in 2-3 days
Very effective for gas, which I developed from anxiety and stress. I started to feel relief within 2-3 days of starting Gutmd. I tried it with food and without, better without.. Definitely recommend this product!
I am regular again.
This is the best supplement for my gut problems that I have found so far! I did not expect a supplement to serve as a "magic pill" but in terms of alleviating symptoms, this has really worked out for me.
Amazing quality I can feel the difference
I have bought less expensive brands of L-Glutamine supplements in the past and more expensive and I would say this product is better than both. The licorice root extract is an added benefit that has helped my digestion, and the HMO is the main reason I wanted to try this in the first place. It's supposed to be the best thing for the stomach lining with added prebiotics. I take them in the morning on an empty stomach. Great product!
Write a Review
Frequently Asked Questions
Why do gut bacteria matter?
Without the bacteria living within our digestive systems, we would be unable to properly digest the food we eat, or function properly at all for that matter. We are evolutionarily adapted to maintain a mutually beneficial relationship with bacteria—at least in ideal circumstances. When these bacteria are out of balance, the "bad" bacteria can cause tissue irritation throughout the body, poor digestion, gas, bloating, and many other issues. Your digestive system fuels the rest of the body, so any issues in your digestive system can lead to problems throughout the body.
What are probiotics?
Some gut bacteria are more beneficial than others. When these living bacteria are contained within food, drinks, or supplements, they are called probiotics. By digesting these probiotics, you are replenishing the balance of good bacteria in your gut.
What are prebiotics?
Prebiotics are not the bacteria themselves. Prebiotics are the nutrients gut bacteria require to thrive.
Who should be taking GutMD®?
GutMD® is perfect for men and women of any adult age who want to improve their digestive health. A well-balanced gut microbiome can benefit immune, heart, and even cognitive health. That said, GutMD® can prove most beneficial to those with current digestive problems, such as chronic bloating, swelling, and indigestion.*
Can I take GutMD® with other 1MD products?
1MD offers other supplements that can help digestive health in conjunction with GutMD®, such as PrebioMD® for its probiotics and EnzymeMD® for its digestive enzymes. However, you should always check with your doctor before taking any supplement, especially if planning to take multiple supplements concurrently.*
*These statements have not been evaluated by the Food and Drug Administration. This product is not intended to diagnose, treat, cure or prevent any disease.