EnzymeMD® is doctor formulated to help with indigestion, bloating, and restoring long-term digestive health.*
Gluten-Free
Non-GMO
Vegan

Enjoy Your Food Without the Worry
EnzymeMD® helps ensure your body doesn't have to work overtime to convert hard-to-digest food into the necessary fuel it needs to operate at peak excellence.*
Give Your Body the Enzymes It Needs
EnzymeMD® is vegetarian, gluten-free, dairy-free, and 100% non-GMO with no hidden additives, artificial ingredients, or synthetic fillers
18 potent, plant-based digestive enzymes stimulate digestive function and neutralize gas production*
Enzymes and an essential probiotic work together to aid digestion and improve gut health*
Doctor-formulated ingredients mean an effectiveness you can rely on*
Fast-acting enzymes encourage better digestion today and work to improve long-term digestive health as well*
Feel Good Again About What You Eat, Not Worried
EnzymeMD® works fast, but you can enjoy even more benefits when you stick with it over time.
After Your First Meal

Some of the enzymes in EnzymeMD® have been found to significantly reduce gas, bloating, discomfort, and diarrhea, even after patients enjoyed a meal made entirely of cooked beans.*

1 Month

While the more immediate symptoms of indigestion can be reduced from the start, other benefits to your digestive health take more time to develop.

2 Month

As you continue taking EnzymeMD®, you will begin to notice the benefits of the S. boulardii probiotic. By helping reinforce the barrier keeping toxins from escaping your gut into the bloodstream.*

3 Month

As your body continues to become better equipped with the enzymes needed to absorb all the nutrients in your food, you can enjoy the benefits of a healthy diet as well.*
*Individual results may vary. This timeline may not reflect the typical purchaser's experience, and is not intended to represent or guarantee that anyone will achieve the same or similar results.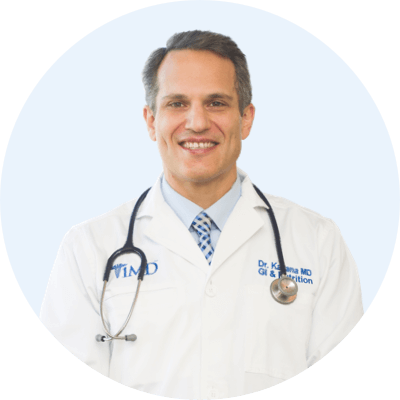 Doctor Formulated
Dr. David Kahana, MD
Digestive enzymes help breakdown our food. Many GI conditions, such as irritable bowel syndrome, gluten sensitivity, lactose intolerance, bloating, and even reflux and dyspepsia, among others, are caused by poor digestion of food. When food is poorly digested, it is fermented by bacteria, which produce noxious by-products that can cause symptoms, from abdominal pain and diarrhea, to fatigue and cloudy mentation.
Digestive enzymes simply aid the process of digestion, thereby limiting bacterial fermentation. With our food supply becoming increasingly difficult to digest, supplementing with digestive enzymes is an easy and effective way to enhance digestion
1MD's EnzymeMD® incorporates the most important enzymes, which are vegan and derived from yeast, in the highest potency possible. My formulation is designed to help you digest all fats and triglycerides, proteins and peptides, carbs and sugars, and reduce the osmotic load within the lumen, something that can lead to dysmotility and cramping.
The addition of Saccharomyces boulardii, a probiotic yeast, helps eliminate toxins and gases, and also stimulates production of endogenous enzymes, thereby aiding innate digestion.
A Special Formula for Your Digestive Health
Don't just love your food, love how you feel after eating it too
EnzymeMD® Proprietary Blend

Contains the probiotic yeast S. boulardii and 18 digestive enzymes formulated specifically for your digestive needs.*
You can rest assured knowing there are never any harmful fillers or additives
EnzymeMD®

Supplement Facts

Serving Size: 2 Capsules | Servings Per Container: 30
Amount Per Serving
%DV

EnzymeMD® Proprietary Blend

Saccharomyces boulardii

Alpha-amylase

Bromelain

Peptidase

Glucoamylase

Protease (pH 2-3)

Protease (pH 3-6)

Protease (pH 6-9)

Papain

Alpha-galactosidase

Cellulase

Lipase

Beta-glucanase

Phytase

Invertase

Maltase

Hemicellulase

Xylanase

Lactase

420 mg
**
** Daily Value Not Established
Other Ingredients: Rice Flour, Vegetable Cellulose Capsule
* These statements have not been evaluated by the Food and Drug Administration. This product is not intended to diagnose, treat, cure, or prevent any disease.
Gluten-Free
Non-GMO
Vegan
How to Take EnzymeMD®

As a dietary supplement, adults take one (1) or two (2) capsules 20 minutes before a meal or as recommended by a healthcare professional.
Write a Review
What are people saying?
Wow!!! Normal, healthy bowel movements like the good ol' days
Less than two weeks since starting the enzymes... Wow!!! Normal, healthy bowel movements like the good ol' days and a complexion that seems to be improving daily.
Superior product
I am struggling with leaky gut, food sensitivies and digestive issues. MediZyme has provided the additional support I need to help heal my body. 1MD is focused on providing a superior product and offers the option of a 90 day money-back guarantee. Give it a try!
This is a great supplement
In the world we live in today, our bodies are constantly trying to recovery from all the toxics we are involuntarily ingesting, breathing, touching. regardless of your diet, processing food can sometimes be very difficult for your bod. especially if you don't know what's going on down there. this is a great supplement to help your body not only process your food easier, but to help pull the nutrition from it as well. we could eat all the kale in the world but if your intestines aren't breaking it out, its just moving right along. these enzymes change that process and support your body to do what its naturally intended to. def worth a try!
Been using these enzymes for a couple years
I have been using these enzymes for a couple years and like them because I know I am getting all the enzymes I need for proper digestion of food.
I feel safe taking this as it is plant based
I have complicated GI problems and food allergies including dairy so I feel safe taking this as it is plant based. It has been a good replacement for yogurt .Although a bit expensive its worth the price if your seeking a dietary supplement that is plant based and works well
Love this product
Another product to health break down our food. Love this product it has really help support my digestive system.
Stomach issues have decreased
Since taking Medizyme my stomach issues have decreased and I am able to enjoy foods that I have had problems with in the past.
Has resolved my problems with gas and digestion
MediZyme has resolved my problems with gas and digestion. I am gluten free and dairy free but was still having issues before using this product. I highly recommend it.
The enzyme works
Between the probiotic and the digestive enzyme , I think the enzyme works better for me and it also contains some (one) probiotic ..............................I would probably opt for the enzyme as part of my daily regimen.
Write a Review
What are digestive enzymes?
Digestive enzymes are specialized proteins made by cells in our bodies which help break down foods into usable nutrients that are then absorbed into the digestive tract and distributed throughout the body.
How do enzymes work?
Enzymes work as a catalyst for biochemical reactions, increasing or accelerating the rate of a reaction. These thousands of chemical reactions that occur in our body every second could not happen without enzymes which speed up these reactions without being destroyed or changed in the process. When you increase the amount of enzymes performing these tasks, you decrease the time required for completing the process.
Why do I need to take a digestive enzyme supplement when my food already contains natural enzymes?
It is true that digestive enzymes are produced naturally by the body and are also found in raw, unprocessed foods. However, when we move away from a mostly raw diet, toward a diet comprised of highly processed foods, the amount of digestive enzymes in our bodies dramatically decreases, making it more difficult for us to effectively breakdown food and absorb its nutrients. Placing this extra work on our digestive system can cause side effects like occasional gas, bloating, and indigestion. To help to prevent or reduce these discomforts and assist the body with proper function, a supplemental digestive enzyme is recommended.*
Are there any negative side effects from taking enzymes?
Generally speaking, digestive enzymes effects on the body are positive, helping provide relief from digestive discomforts like gas, bloating, and indigestion. Consult a doctor before you embark on any new health regimen, and as with any dietary supplement, discontinue use immediately if you experience any negative side effects. If you require additional support or have questions, please contact our customer service department. We're here to help.*
Can I take EnzymeMD® with my other supplements?
Yes, digestive enzymes are frequently taken in combination with various other digestive support supplements including probiotics, fiber supplements, and multivitamins.
Should EnzymeMD® be refrigerated?
No, it is not necessary to refrigerate EnzymeMD® enzymes. We suggest that they be kept in a cool, dry place with a stable temperature at or about 77° F (25°C) or below.
Should EnzymeMD® be taken before, during, or after a meal?
The best time to take EnzymeMD® is 20 - 30 minutes before each meal, or with the first few bites of the meal. If you forget, taking the enzymes at the end of the meal will still provide benefits, as our food stays in the stomach for up to 90 minutes after mealtime.