BiomeMD® is doctor formulated to provide the ultimate in digestive and immune system support.*
Non-GMO
Soy-Free
Gluten-Free
Shellfish-Free

Take Back Control of Your Digestive System
BiomeMD® restores the right probiotic bacteria to your gut's microbiome while giving them the precise prebiotic nutrients they need to thrive. Sometimes the gut becomes unbalanced with unhealthy levels of "bad" bacteria. When this happens, food isn't properly digested, causing gas, bloating, and diarrhea. BiomeMD® helps restore and maintain a strong balance of "good" bacteria in the gut can help to improve immune system function, help with weight management goals, boost nutrient absorption, and a number of other overall health benefits.*
Powerful Probiotics, Revolutionary Prebiotic
BiomeMD® is carefully formulated to include the prebiotic fibers only utilized by the beneficial probiotic strains you want
By reducing chronic immune system stress, probiotics have been shown to help improve your defenses from disease*
Better digestion and nutrient absorption means you get more energy from the food you eat*
A game-changing, patented prebiotic, HMO is a true gut defender. It actually fools the bad bacteria into bonding with it instead of bonding to, and damaging, the cells lining the intestines*
Using the latest in capsule technology, BiomeMD® is able to reach the gut active and effective without being digested in the stomach
Restore the Health of Your Gut and Keep It That Way
Formulated specifically for restoring and maintaining gut health, the benefits start early and only grow over time.
Within Hours

Probiotics, whether you notice it or not, begin working quickly after taking them. While the differences may literally be microscopic, the restoration of your gut microbiome begins almost immediately.*

2 Weeks

The first benefits you may notice with probiotics are for the more immediate symptoms of poor digestive health, such as less-frequent indigestion and acid reflux, reduced diarrhea, reduced constipation, and less overall gas.*

Month 1

HMO CARE4U® oligosaccharides gives your immune system support usually within about 30 days. Other problems with indigestion, bloating, and gas should become rare.*

Month 3 & Beyond

As the weeks go by, probiotics have been shown to help reduce problems associated with numerous digestive health conditions. With a stronger immune system, you will be less likely to get sick and have an easier time fighting off infections that do happen.*
*Individual results may vary. This timeline may not reflect the typical purchaser's experience, and is not intended to represent or guarantee that anyone will achieve the same or similar results.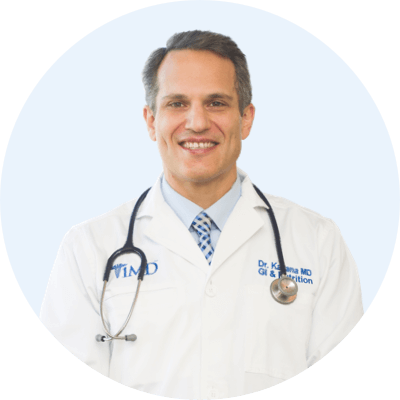 Doctor Formulated
Dr. David Kahana, MD
As a gastroenterologist with years of experience under my belt, I've seen my fair share of patients come in with digestive problems. I most often recommend two things. These two things work time and time again and I have watched in amazement as they improve even the worst cases.
First, getting the proper nutrition can and will improve your health, substantially. Most people already know this.
Second, using a good, solid probiotic can immensely improve your digestive, immune, and overall health. This surprises a lot of my patients. I can't believe how small of a percentage of people suffering from occasional digestive issues use probiotics regularly.
This is why I formulated 1MD's BiomeMD® with 15 clinically-studied probiotic strains, containing an incredibly potent combination of 62 billion viable colony forming units, and a game-changing, patented prebiotic, making it one of the most complete and effective broad-spectrum probiotics on the market today.
Clinically Proven Ingredients, Clinically Proven Results
A comprehensive blend of powerful probiotics and potent prebiotics formulated by a doctor for maximum effectiveness.
Bifidobacterium lactis HN019

This probiotic strain has been shown to help prevent toxins from escaping the digestive tract and entering the bloodstream, consequently providing an immune system boost.*

Lactobacillus rhamnosus GG

This probiotic can relieve gas, bloating, and other symptoms. It can even lead to mood boost, especially when combined with prebiotics.*

BiomeMD® Proprietary Blend

A synergistic formula of 13 powerful probiotic strains designed for digestive and immune health.

HMO CARE4U

Human identical oligosaccharides (HMOs) are synthesized from natural ingredients. They not only act as a potent prebiotic, but also "trick" the "bad" bacteria in to bonding with them and are subsequently flushed from your system.*
You can rest assured knowing there are never any harmful fillers or additives
BiomeMD®

Supplement Facts

Serving Size: 1 Capsule | Servings Per Container: 30
Amount Per Serving
%DV
Bifidobacterium lactis HN019
1 Billion CFU
**
Lactobacillus rhamnosus GG
2.5 Billion CFU
**

BiomeMD® Proprietary Blend

Bifidobacterium lactis B42L

Lactobacillus acidophilus La-14®

Lactobacillus acidophilus L61A

Bifidobacterium longum B12L

Bifidobacterium bifidum B66B

Lactobacillus casei L30C

Lactobacillus plantarum L23P

Lactobacillus plantarum LP-115®

Lactobacillus gasseri L22G

Lactobacillus salivarius L10S

Lactobacillus rhamnosus L08R

Lactobacillus bulgaricus L88B

LactoSpore®

(Bacillus coagulans MTCC5856)

58.5 Billion CFU
**
CARE4U®
(Human Milk Oligosaccharides)
25 mg
**
** Daily Value Not Established
Other Ingredients: Delayed Release Vegetable Cellulose Capsule, XOS (Xylo-oligosaccharides), FOS (Fructo-oligosaccharides), GOS (Galacto-oligosaccharides), Vegetable Oil Powder, Silica
ALLERGEN WARNING: Contains Milk.
* These statements have not been evaluated by the Food and Drug Administration. This product is not intended to diagnose, treat, cure, or prevent any disease.
DRcaps™ & logo are trademarks of Lonza or its affiliates.
LactoSpore® is a registered trademark of Sabinsa Corporation.
CARE4U® is a registered trademark of DuPont and its affiliates.
Non-GMO
Soy-Free
Gluten-Free
Shellfish-Free
How to Take BiomeMD®

As a dietary supplement, take one (1) capsule, once a day, with a food containing fiber and a full glass of water, or as recommended by a healthcare professional.
Write a Review
What are people saying?
I"ve been taking 1MD Probiotics for years and have been very happy with them. The Biome, while no doubt a quality product, causes gas/gut discomfort. I'm used to taking my probiotic in the morning on an empty stomache, and this product should be taken with food, water and fiber.
I think the product works well
All of the md products products give great results
Thank you for your nolegable information on our health and digestive system and for creating a product that will help us improve our health
I absolutely love these products. My gut health is the healthiest ever.
Great stuff I feel a lot better
Seems to be an excellent product, but like all good probiotics, they are quite expensive
I love it, notice improvement very quickly. Will purchase again.
The effectiveness, price and value
Write a Review
Frequently Asked Questions
Why do gut bacteria matter?
Without the bacteria living within our digestive systems, we would be unable to properly digest the food we eat, or function properly at all for that matter. We are evolutionarily adapted to maintain a mutually beneficial relationship with bacteria. At least in ideal circumstances. When these bacteria are out of balance, the unwanted bacteria can "leak" out of the gut and cause damage throughout the body as well as causing poor digestion, gas, bloating, and many other issues. Your digestive system fuels the rest of the body, so any issues in your digestive system can lead to problems throughout the body.*
What are probiotics?
Some gut bacteria are more beneficial than others. When these living bacteria are contained within food, drinks, or supplements, they are called probiotics. By digesting these probiotics, you are replenishing the balance of good bacteria in your gut.
What are prebiotics?
Prebiotics are not the bacteria themselves. Prebiotics are the nutrients gut bacteria require to thrive.
Is there any lactose in BiomeMD®
There are trace amounts of lactose in BiomeMD®. While the HMOs are synthetic, small amounts of lactose are added to the formula to keep the probiotics live and active during production, ensuring delivery of the most effective supplement possible. If you have a lactose intolerance and are worried about taking a supplement containing a trace amount of it, please try 1MD's Complete Probiotics Platinum.
Who should be taking BiomeMD®?
BiomeMD® is designed for adult men and women. If you are looking to improve your digestive, immune, and overall health, then maintain that health, BiomeMD® is the choice for you. If you are primarily concerned you have issues with toxins escaping the digestive tract, and want to restore the gut barrier, GutMD™ is the most effective choice.*
Can I take BiomeMD® with other 1MD products?
Check with your doctor before taking any supplement, and especially if planning to take more than one concurrently. BiomeMD® is a selection of numerous probiotics and prebiotics, but another supplement may be desired to address different health issues, such as improving heart health.
*These statements have not been evaluated by the Food and Drug Administration. This product is not intended to diagnose, treat, cure or prevent any disease.