3 Easy and Delicious Recipes: Quick Ideas for Weekday Dishes
4 minute read
---
Nutrition
Healthy doesn't have to mean boring! These easy recipes are full of nutrients and flavor, perfect for any busy weekday. With 3 simple recipes, you can change it up!




Veggie Sushi Hand Rolls
Enjoy sushi that's prepared with fresh ingredients and antioxidant-rich seaweed.
Ingredients

1 cup cooked brown sushi rice (cooled)
3 tablespoons of sushi seasoning (rice wine vinegar with a pinch of salt and sugar)
10 sheets toasted sushi nori (seaweed)
Half of an English cucumber
1 medium red bell pepper (optional)
2 small avocados, pitted and sliced
White toasted sesame seeds
Instructions
Mix in the sushi seasoning with the rice, fluff using rice paddle.
Cut the vegetables into matchstick sizes.
Cut the nori sheets in half. Place one-half of the nori sheet on a board, shiny side down. Spoon some rice onto the nori (about 2-3 tablespoons). Spread the rice so that you fill one-half of the nori. Top the nori with a few slices of cucumber, and red bell pepper. Top with one slice of avocado, and sprinkle some sesame seeds on top.
Starting with the lower right-hand corner, roll the nori towards the left until you reach the end. Seal the hand roll with a few grains of rice. Repeat with all the other nori sheets.
Serve immediately.

Photo / Recipe Credit: thathealthykitchen.com
---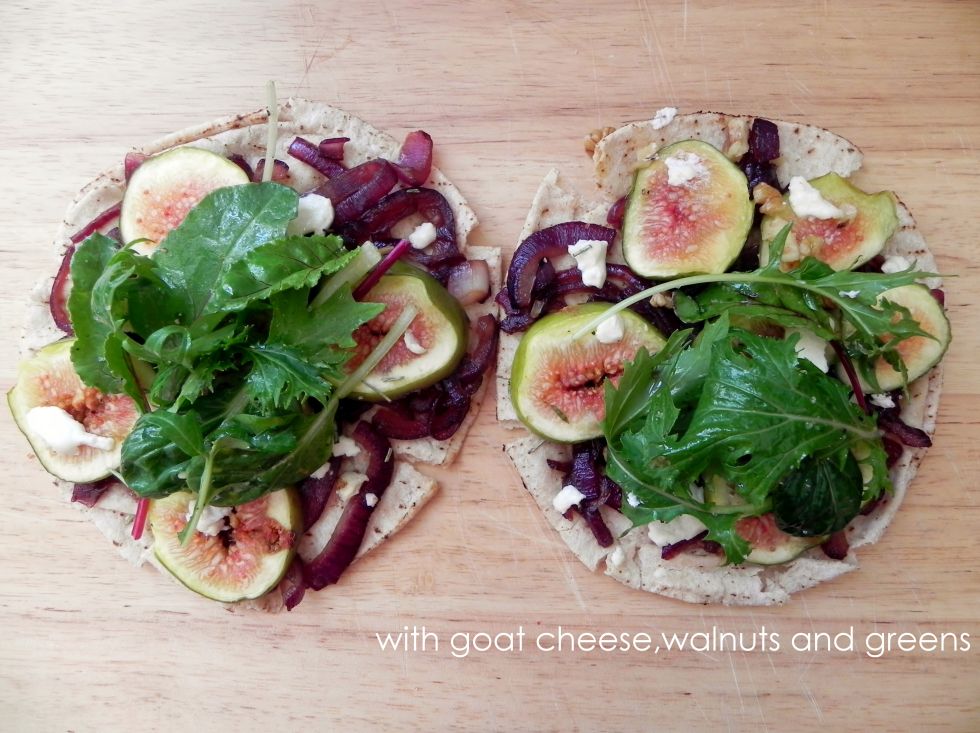 Goat Cheese and Fig Pita Pizza
A low-calorie treat combining savory with sweet with added potassium and fiber.
Ingredients
3 oz soft goat cheese
2 tsp of aged balsamic vinegar
1/4 tsp ground black pepper
2 loaves whole wheat pita bread
1/2 cup red onion, thinly sliced
4 tsp extra virgin olive oil divided
1 ½ cups fresh baby arugula
About 3 fully ripened organic black mission figs
â…› tsp sea salt
*walnuts (optional)
Instructions
Preheat the oven to 450°F
In a small bowl, stir together goat cheese and pepper. Spread over the entire surface of each pita. Scatter onions on top. Drizzle with 2 teaspoons olive oil.
Place pizzas on a large baking sheet. Bake until crust is crisp, about 15 minutes.
Meanwhile, quarter the fresh figs.
Transfer pizzas to a cutting board and slice. Top with arugula and figs; sprinkle with vinegar, salt and remaining 2 teaspoons oil.
Top with crushed walnuts, if desired.
Serve and enjoy!
Photo and Recipe Credit: voraciousvander.com
---
Omega-Rich Chocolate Chip Cookies
The classic sweet treat you love, rich with Omega-3 and fiber. A healthier cookie!

Ingredients
1 1/2 cups all-purpose flour
1 cup quick-cooking oats
2 tbsp ground flaxseed with 6 tbsp of water (it will become gelatinous)
1 tsp baking soda
1/2 tsp salt
1/2 tsp ground cinnamon
1/4 cup coconut oil (soft, not liquid)
1 cup granulated sugar
3/4 cup packed dark brown sugar
1 teaspoon vanilla extract
1 cup semisweet chocolate chips

Instructions
Preheat the oven to 350° F.
Line 2 baking sheets with parchment paper.
Whisk the flour, oats, baking soda, salt and cinnamon in a bowl.
Beat the coconut oil, granulated sugar and brown sugar in a large bowl with a mixer on medium-high speed until fluffy, about 4 minutes. Beat in the flax seed mix slowly, beating well after each addition. Beat in the vanilla. Reduce the mixer speed to low; add the flour mixture and beat until just combined, scraping down the bowl as needed. Stir in the chocolate chips.
Drop heaping tablespoonfuls of dough onto the prepared baking sheets, about 2 inches apart.
Bake until golden brown, 10 to 12 minutes.
Let the cookies cool 3 minutes on the baking sheets, then transfer to racks to cool completely.
Photo and Recipe Credit: wikipedia.org


---