Orzo With Artichoke Pesto & Grilled Corn
8 minute read
---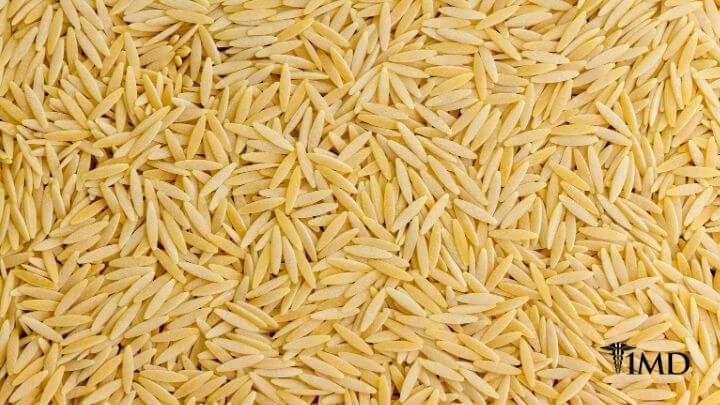 This easy-to-make orzo pasta is packed with vitamin and antioxidant-rich ingredients and is bursting with flavor.
Frozen artichoke hearts keep the prep work to a minimum and a homemade pesto comes together in just minutes. Take advantage of summer's upcoming produce with fresh corn on the cob and cherry tomatoes in this nutrient-rich pasta dish.
Artichokes and Antioxidants
Antioxidants are one of the numerous health benefits found from eating artichokes. In order to understand antioxidants, though, you have to understand free radicals.
| Related: Increase Your Antioxidant Capacity With Turmeric |
Free radicals are molecules that your body produces when it breaks down food or is exposed to harmful agents, such as tobacco smoke or radiation. Too many free radicals may contribute to heart disease, cancer, and other diseases.
Free radicals cause damage by taking electrons from cells in the body. Antioxidants protect the body's cells from free radicals by giving them an electron without becoming destabilized themselves.
Artichokes also contain high amounts of fiber, which helps you to feel fuller longer as well as contributes to a healthy gastrointestinal tract and helps prevent constipation.
Artichokes are among the vegetables with the highest antioxidant content, along with tomatoes.
Health Benefits of Tomatoes
Tomatoes contain high amounts of carotenoids, antioxidants that are also responsible for red, yellow, and orange colors in many fruits and vegetables.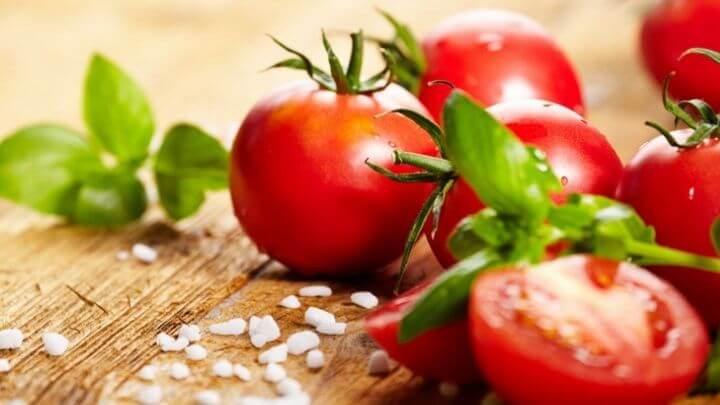 Tomatoes contain all four major types of carotenoids. This includes lutein, which helps support eye health, and lycopene, whose antioxidant properties may reduce the risk of cancer.
Tomatoes are a good source of vitamin C, vitamin K, folate, and potassium.
♦ Vitamin C is a powerful antioxidant and boosts immune health.
♦ Vitamin K contributes to bone health and helps prevent blood clots.
♦ Folate is important for tissue growth, cell function, and is especially important for pregnant women.
♦ Potassium is an important electrolyte and helps regulate fluid balance in the body and supports bone and muscle strength.
The carotenoids in tomatoes are even more readily absorbed by the body when eaten in combination with healthy fats, like olive oil.
Olive Oil: A Super-Healthy Fat
Olive oil is among the healthiest fats that you can eat. It contains omega-6 and omega-3 fatty acids (the same thing found in fish or krill oil supplements as well as oleic acid, which has many health benefits, such as cancer-fighting properties.
Olive oil also contains antioxidants, another cancer fighter that provides anti-inflammatory and antimicrobial benefits as well.
The prevention of heart disease is a major health issue, and olive oil can lead to better heart health. Olive oil can help lower blood pressure, improve cardiovascular health, and improve the function of blood vessels.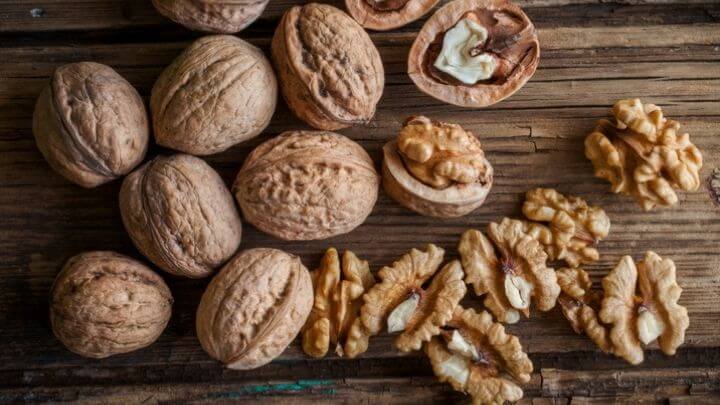 Olive oil is a key part of the Mediterranean diet, which has been extensively studied and has numerous health benefits. One of these benefits, in addition to major heart health benefits, is the prevention of type 2 diabetes.
Extra-virgin olive oil, which is used in the Orzo with Artichoke Pesto and Grilled Corn recipe below, is the least processed of the variety of olive oils available. Due to less processing, it retains the most health benefits and healthful compounds.
Why Walnuts Are Good for You
Another healthy fat that is included in this recipe is in the form of walnuts. Walnuts not only contain the highest amount of omega-3 fatty acids of nuts but also add a little boost of protein.
| Related: Protein-Packed Chicken Souvlaki |
Walnuts can help boost heart health, lower blood pressure, fight inflammation and diabetes, help with weight management, and can even help improve cognitive function and memory.
All of these health benefits in one tasty dish? The recipe below is a great example of how to combine these healthy ingredients and incorporate them into your recipe rotation.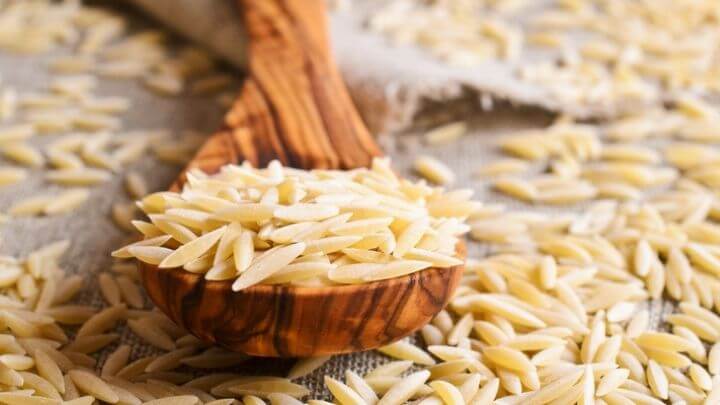 ---
Orzo With Artichoke Pesto and Grilled Corn
Cooking Time: 40 minutes
Number of Servings: Serves 4-6
Ingredients
Kosher salt
1 pound orzo pasta
2 ears corn, shucked and silks removed
1 tablespoon extra-virgin olive oil
12 ounces frozen artichoke hearts, thawed (about 3 cups)
3/4 cup extra-virgin olive oil
1/2 cup walnut halves, toasted (see Cook's Note)
1/2 cup fresh oregano leaves
1/2 cup fresh flat-leaf parsley leaves
1/4 cup fresh lemon juice
1 clove garlic, smashed
Zest of 1 large lemon
1/2 teaspoons kosher salt
1/2 teaspoon freshly ground black pepper
2 cups cherry tomatoes, halved (about 28)
1 1/2 cups grated Parmesan
Freshly ground black pepper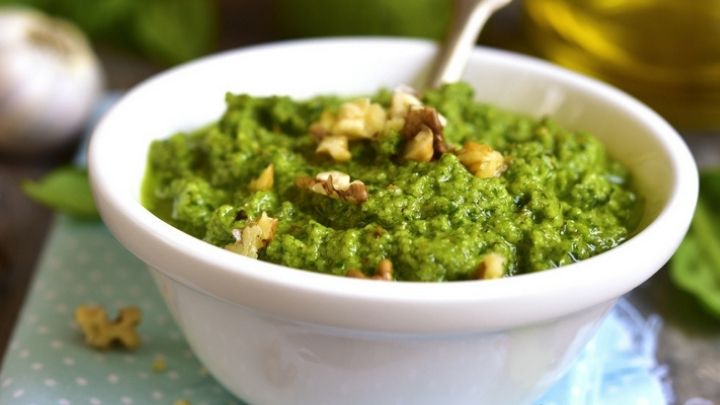 Directions
1. Preheat the oven to 350 degrees F.
2. Arrange walnuts in a single layer on a baking sheet. Bake until lightly toasted, about 8 to 10 minutes. The walnuts will become fragrant when they're toasted, and keep an eye on them because they can burn easily. Cool completely before using to make the pesto.
3. Add a generous amount of salt to a large pot of water and bring it to a boil over high heat. Add the orzo and cook until tender but still firm to the bite (al dente), stirring occasionally, about 8-10 minutes. Drain orzo and place in a large serving bowl.
4. Preheat a grill pan over medium-high heat or preheat a gas or charcoal grill.
5. Brush the corn with the 1 TBS extra-virgin olive oil with a pastry brush. Grill on the preheated grill pan or gas or charcoal grill, turning frequently, until the corn is tender, about 10 minutes. Cool the corn slightly. Remove the kernels from the cob, slicing close to but not into the cob with a large knife. Add the grilled corn kernels to the serving bowl with the orzo.
6. For the pesto, combine 2 cups of the artichokes, ¾ cup extra-virgin olive oil, toasted walnuts, oregano, parsley, lemon juice, garlic, lemon zest, salt, and pepper in a food processor. Blend, scraping down the sides of the bowl as needed until the mixture is thick and smooth.
7. Chop the remaining 1 cup of artichoke hearts into ¾-inch pieces and add to the serving bowl. Add the pesto, halved cherry tomatoes, and parmesan. Toss until all of the ingredients are evenly coated. Add salt and pepper to taste and serve.
The Bottom Line
Orzo with Artichoke Pesto and Grilled Corn contains a variety of ingredients that have various health benefits. It is packed with antioxidants, anti-inflammatory ingredients, and heart-healthy fats.
This recipe includes many ingredients that are key if you're following the heart-healthy Mediterranean diet, such as tomatoes, olive oil, walnuts, and fresh herbs.
Get an extra boost by swapping out the regular orzo for whole-grain orzo for a heartier, healthy dish.
READ NEXT >>> 7 Ways Guava Can Optimize Your Health
---