Celebrate National Pancake Day!
5 minute read
---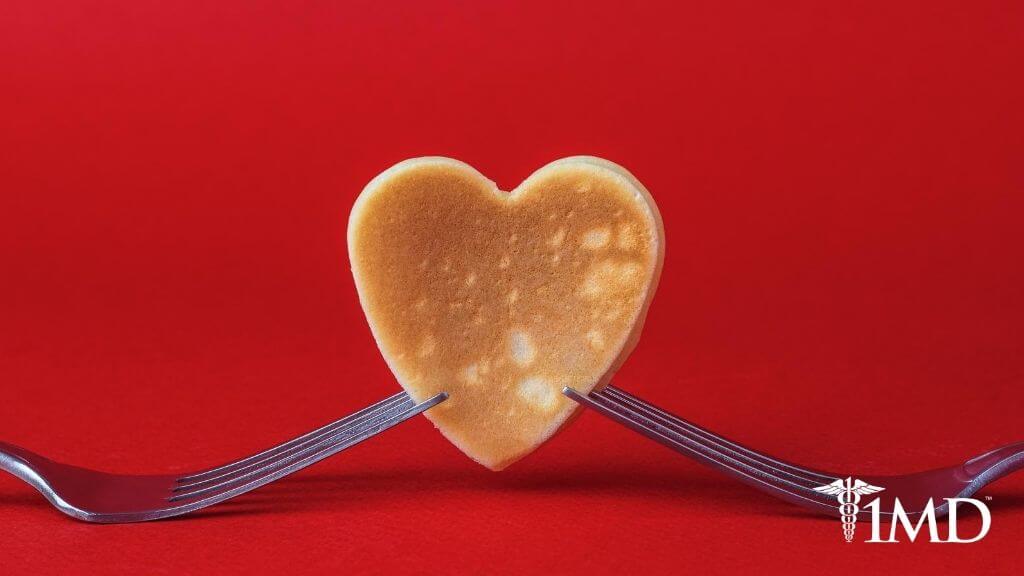 Nutrition
We've got two delicious recipes that will let you enjoy this year's National Pancake Day without the regret that goes along with too much sugar and starch for breakfast.
Why We Love Pancakes for Breakfast
Since our body does most of its digestion work when we're sleeping, we tend to wake up very hungry. By the time we have our first meal of the day, it may have been twelve hours or more since we last ate.
That's why nothing sounds better than starch and sugar first thing in the morning, which is why pancakes are a favorite breakfast food for so many people.
Wouldn't it be great if you could eat some delicious pancakes that were also healthy for you?
We've got two excellent and healthy pancake recipes you can use the next time you get that big craving.
Gluten-Free Blueberry Banana Pancakes
This is an incredibly healthy recipe rich in potassium and antioxidants. These pancakes are naturally sweet, and will give you that boost you need right at the start of your day.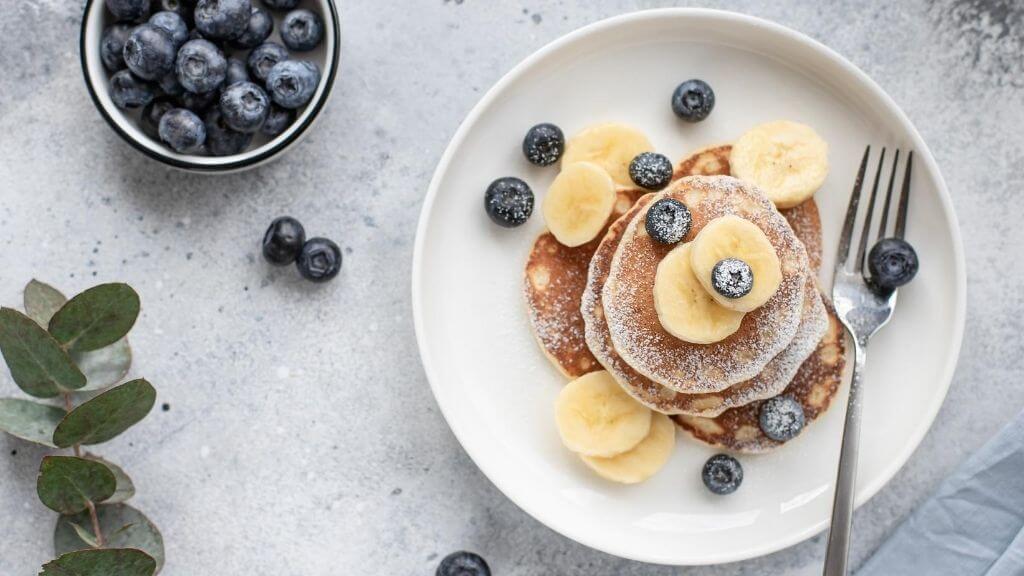 Difficulty: Easy
Time: 15 minutes
Serves: 1
Ingredients:
1 ripe banana, cut into large pieces
1 egg
¼ cup almond butter
¼ tsp baking powder
½ tsp pure vanilla extract
¼ cup fresh or frozen blueberries
1 tsp coconut oil (for greasing)
For serving (optional)
1 tbsp fresh blueberries
½ tsp raw honey
Instructions:
Using an immersion blender, blend banana, almond butter, egg, baking powder, and pure vanilla extract.
Add blueberries and stir.
Heat the pan over medium heat.
Grease with 1 tsp coconut oil.
Pour in ¼ cup of the mixture for each pancake.
Cook until small bubbles appear on the surface, for about 2-3 minutes.
Turn carefully, and cook another 1-2 minutes.
Remove the pancakes from the heat.
Top with fresh blueberries, drizzle with honey and serve
Enjoy!
Next up, a low-sugar twist on a breakfast favorite...
Applesauce Pancakes
Did you know you can replace the sugar you normally use in pancake recipes with applesauce? Not only does this make the pancakes healthier, it makes them more moist and fluffy. Once you try these, you won't be able to go back.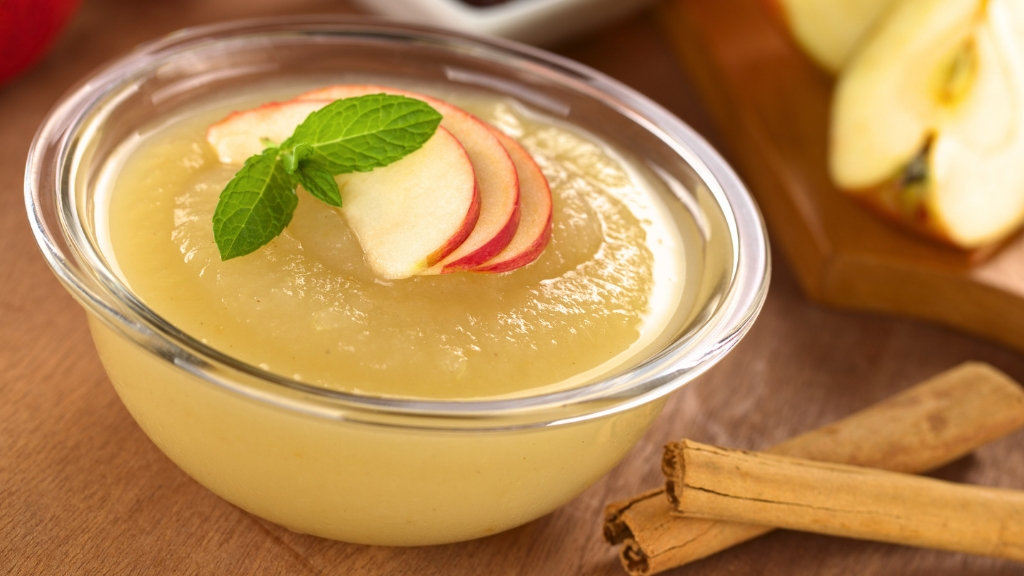 This recipe is great for diabetics because it does not cause large spikes in blood glucose levels. In, fact it is great for everyone because you get the same sweet taste with applesauce as you do with sugar, but with added nutrition.
The Recipe
Ingredients:
1 cup all-purpose flour
1 teaspoon baking soda
1/8 teaspoon salt
2 tablespoons toasted wheat germ
1 cup nonfat buttermilk<
¼ cup unsweetened applesauce
2 teaspoons vegetable oil<
1 large egg, lightly beaten<
Cooking spray<
Fresh fruit slices (optional)
Directions:
1. Combine the first 4 ingredients in a medium bowl and make a well in the center of mixture. Combine the buttermilk and next 3 ingredients on the list in a separate bowl. Add this buttermilk mixture to dry ingredients, stirring just until dry ingredients are moistened.
2. Heat a nonstick griddle or nonstick skillet coated with cooking spray over medium heat. For each pancake, pour ¼ cup batter onto hot griddle, spreading the batter out to a 5-inch circle. Cook pancakes until tops are covered with bubbles and edges look cooked; turn pancakes and cook other side.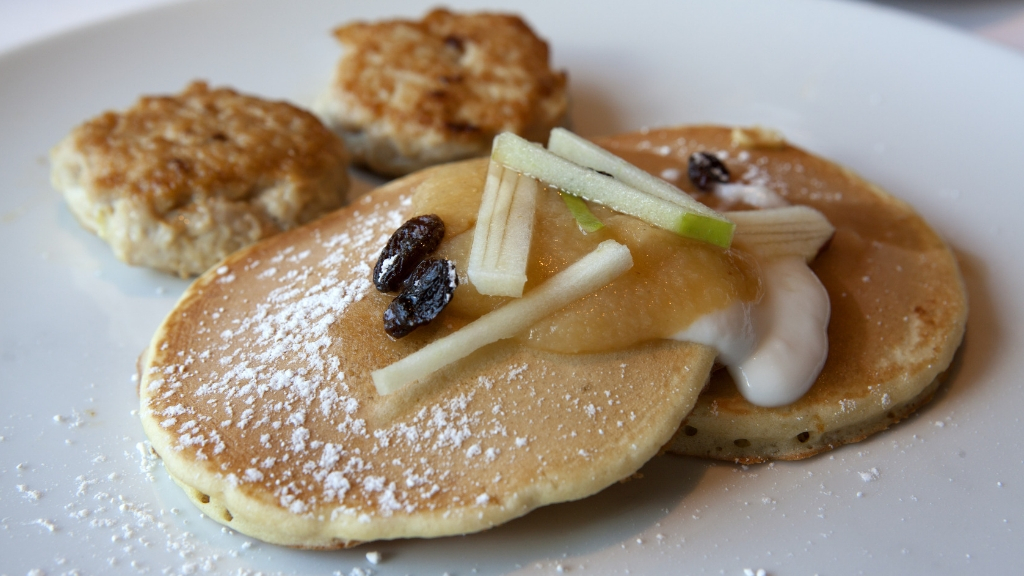 Bottom Line
Delicious doesn't always have to mean unhealthy. You can eat the foods you most crave if you're willing to DIY with some adjustments in the kitchen, and you'll be surprised that the healthier version is even tastier than the one that you're trying to avoid.
Happy National Pancake Day!
---
http://share.upmc.com/2016/04/pros-cons-paleo-diet/

https://www.mayoclinic.org/healthy-lifestyle/nutrition-and-healthy-eating/in-depth/paleo-diet/art-20111182

https://www.healthline.com/nutrition/11-proven-benefits-of-bananas#section9

https://www.ncbi.nlm.nih.gov/pmc/articles/PMC1082903/

https://www.healthline.com/nutrition/10-proven-health-benefits-of-eggs

http://paleogrubs.com/homemade-banana-pancakes