6 Surprisingly Healthy Memorial Day Recipes
12 minute read
---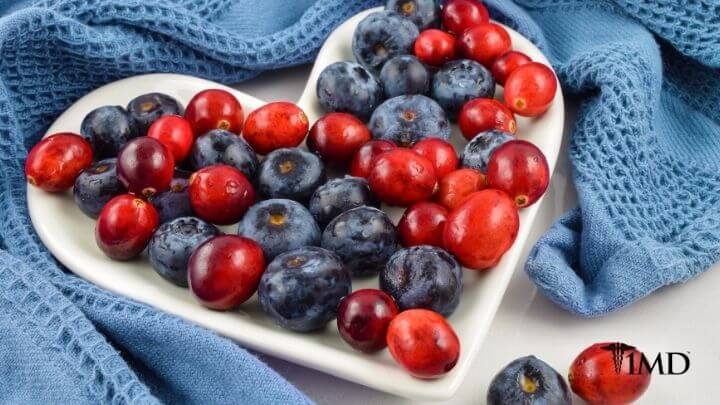 Nutrition
Memorial Day celebrations are the best way to kick off your summer. The highlight of these almost always involves a barbecue and being poolside.
It is tempting to give in to traditions and serve up cheeseburgers, carb-heavy pasta or potato salads, and sugar-filled desserts. Instead you should help your body get summer-ready by going lighter and healthier with your food choices.
Whether you are hosting your own festive feast or contributing to a potluck with friends, bring one of the healthier options below. These tasty treats will keep stomachs happy while promoting a healthier you.
| Related: 9 Overlooked Health Benefits of Guava Leaves |
The grill will still be your best friend, but you can leave the unhealthy sauces and side dishes behind. These delicious ideas will keep you slim, so you can enjoy your healthiest summer ever.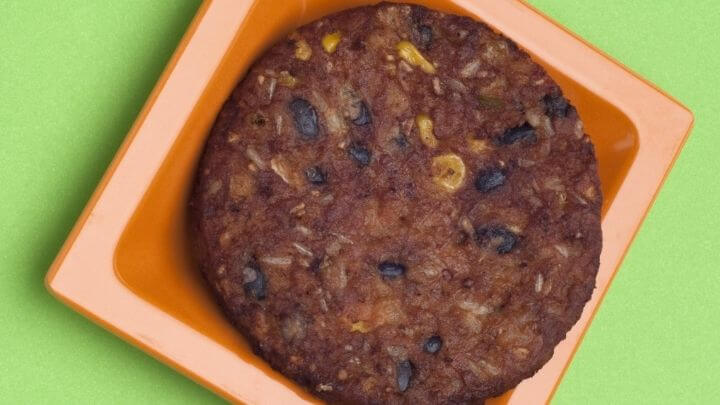 ---
The perfect choice for those who don't eat meat as well as those looking to cut out the unhealthy fats that most red meat contains. Black bean patties are full of taste and nutrition, and make a great alternative to an all-beef patty when grilled.
These patties are low in fat and packed with protein. It is important to watch your intake of unhealthy fats and those in red meat have been linked to serious cardiovascular problems.
Ingredients:
¼ cup rolled oats
1 cup fresh breadcrumbs
¼ teaspoon lime zest
¾ teaspoon chili powder
¼ teaspoon salt
1 15-oz. can black beans, rinsed and drained
1 garlic clove, crushed
½ yellow onion, chopped
1 egg, lightly beaten
1 teaspoon chopped fresh oregano
2 tablespoons olive oil
Directions:
1. Pulse the oats in a food processor and transfer to a large bowl, adding the breadcrumbs, lime zest, chili powder and salt. Whisk all the ingredients together.
2. Combine the beans, garlic and onions in a food processor and pulse until you get a thick paste.
3. Add this paste to the oat mixture, add the egg and oregano and stir until combined.
4. Divide the mix into 4 equal portions and shape into 3-inch patties.
5. Using medium heat, warm oil in a skillet, add the patties and cook until the bottom edges are brown. Turn the patties over and cook until you have brown edges again and serve.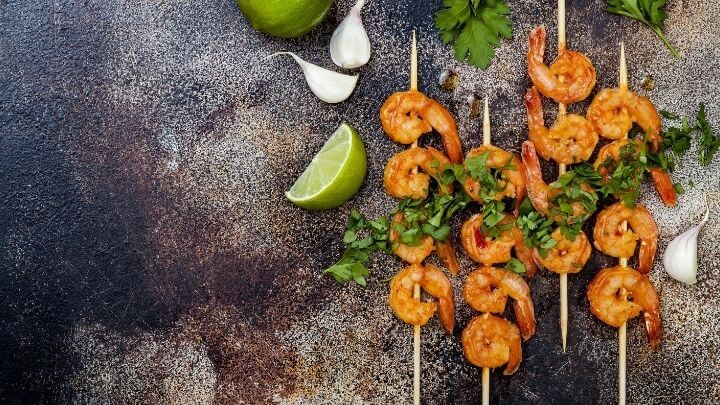 ---
Tequila-Glazed Grilled Shrimp
Add a little southwestern kick to your celebrations with this mouth-watering and healthy shrimp recipe. The marinade is made from orange juice, tequila, jalapeno and garlic.
| Related: Vitamin-Rich Chicken Fajita Roll-Ups |
It's perfect as a light appetizer or paired with grilled vegetables as a main course. Shrimp are full of omega-3 fatty acids, which are essential for your heart and brain health.
Ingredients:
1 pound large shrimp, peeled, deveined, and tails left on
3 tablespoons olive oil
1 jalapeno chili, finely chopped
2 cloves garlic, finely chopped
Zest of 1 lime plus lime wedges
1 teaspoon kosher salt
Fresh ground pepper
1 cup orange juice
1/4 cup tequila
1 shallot, finely chopped
8 bamboo skewers
Directions:
1. Combine the shrimp, oil, half the jalapeno, half the garlic zest, salt, and pepper in a large Ziploc bag. Marinate in the fridge between 20 minutes and an hour.
2. In a saucepan, mix the remaining jalapeno and garlic as well as salt, pepper, orange juice, tequila, and shallots.
3. Boil over a medium heat and cook until thick. Be sure to soak your skewers before adding the shrimp and thread four pieces per skewer.
4. Grill the shrimp, turning at least once for about 5 minutes. Place skewers on plates and drizzle with the tequila sauce.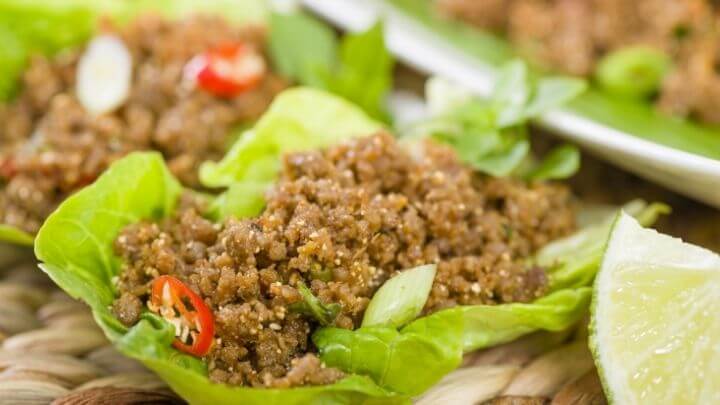 ---
Pork Lettuce Wraps
For those who must have meat, these wraps are a healthy alternative to burgers, and, by giving up the bread, you can cut down on carbohydrates.
| Related: Protein-Packed Vegan Chili |
Pork is a leaner meat which limits your unhealthy fat consumption, as compared to red meats. This umami-filled pork wrap with plum sauce and fresh limes can be whipped up quickly for those impromptu visits from friends.
Ingredients:
2 teaspoons vegetable oil
1 pound lean ground pork
4 green onions, thinly sliced
1 teaspoon ground allspice
1/2 teaspoon ground ginger
2 cloves garlic, chopped
2 tablespoons low-sodium soy sauce
16 leaves of butter lettuce or romaine lettuce
8 teaspoons plum sauce
2 tablespoons cilantro, chopped
1 lime, sliced into 4 wedges
| Related: Paleo Cabbage Rolls (Golumbki) |
Directions:
1. In a large frying pan, heat oil on a high heat and add the pork. Cook until it starts to turn brown, then drain out the excess fat.
2. Stir in the green onions, allspice, ginger, garlic, and soy sauce, cooking until the green onions are tender.
3. Place the lettuce leaves on a plate and fill with the pork mixture, topping each one with plum sauce and cilantro.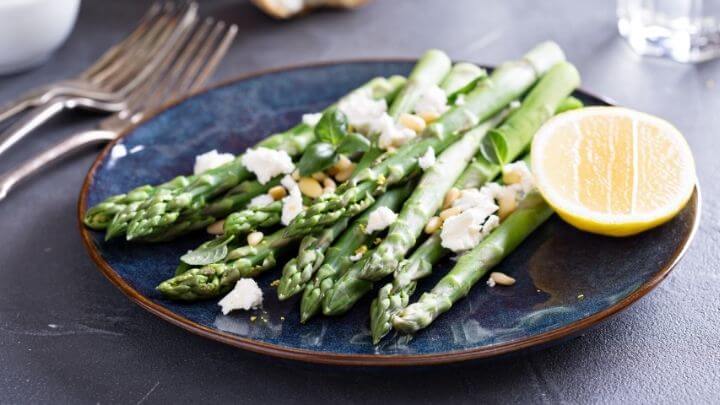 ---
Roasted Asparagus
No other vegetable marks springtime better than asparagus. As an excellent source of fiber, folate, and vitamins A, C, and K, this side dish is the ideal healthy option for any barbecue dish. Vitamin K is an essential nutrient that often gets forgotten, but you should be mindful and keep your intake up because it is important in blood clotting and heart health. This dish is easy to make with an olive oil marinade and some light roasting.
You'd never expect that something so simple is not only great tasting but also good for your health.
Ingredients:
1/4 cup olive oil
4 cloves garlic, pressed
Zest from 1 lemon
1 teaspoon oregano
1/4 teaspoon red pepper flakes
1/2 cup pistachios, shelled and unsalted
1 pound asparagus with the ends trimmed
1/4 cup feta cheese
Juice from 1 lemon
Directions:
1. Preheat your oven to 400 degrees.
2. In a pan heat olive oil over a medium heat, then add garlic, lemon zest, oregano and red pepper flakes.
3. Sauté the mix for 5 minutes making sure to adjust your heat so the garlic does not get brown.
4. Put the pistachios in an airtight bag and crush with a rolling pin. Dip your asparagus in the oil mixture and place on a baking sheet then sprinkle with the pistachios.
5. Once coated on both sides, garnish with feta cheese and bake in the oven for 10 to 15 minutes. Before service, pour lemon juice over the asparagus.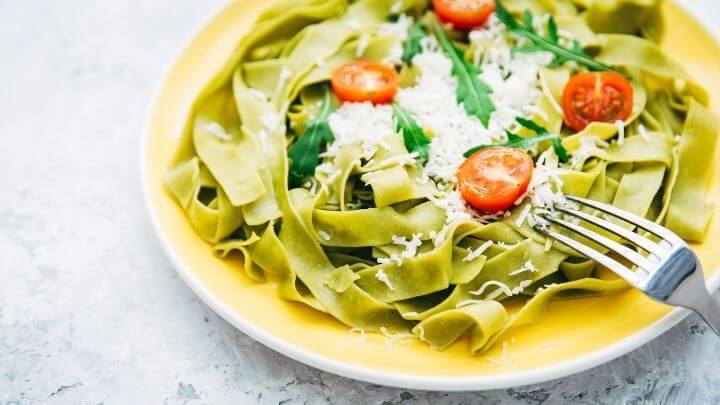 ---
Pasta Primavera With Pesto
No Memorial Day celebration would be complete without a pasta salad, and thankfully there is a healthy one you can opt for. No need to go with a traditional mayonnaise-laden salad when you can lighten things up with a delightful and tasty pesto.
| Related: Coconut-Crusted Tofu With Sweet Chili Sauce |
This pasta salad tastes so good that people will not even realize they are eating vegetables, and it is a great way to sneak veggies on to a picky child's plate.
Ingredients:
For the pasta and vegetables:
16 ounces shirataki tofu fettuccine noodles
Olive oil cooking spray
Salt and pepper
1 teaspoon fresh thyme
1 teaspoon fresh oregano, chopped
2 cups broccoli florets
1 yellow squash, cut into thin strips
1 zucchini, cut into thin strips
1 bell pepper, chopped
1 red onion, chopped into large chunks
1 medium carrot, sliced or diced
For the pesto:
1/2 cup raw shelled sunflower seeds, soaked in water overnight
1 small garlic clove
2 cups (packed) arugula leaves
1 cup (packed) fresh basil leaves
1/4 cup extra virgin olive oil
2 teaspoons honey
Zest of one lemon
Juice of half a lemon
Directions:
1. Preheat your oven to 450 degrees.
2. On a baking sheet, combine the vegetables and spray with oil. Toss with salt, pepper and herbs then bake until brown, stirring halfway through.
3. Start making your pasta and pesto. Drain and rinse the sunflower seeds, then puree in a blender with the garlic, arugula, basil, oil, honey, and lemon zest until smooth.
4. In a large bowl, toss the cooked pasta, vegetables, and pesto.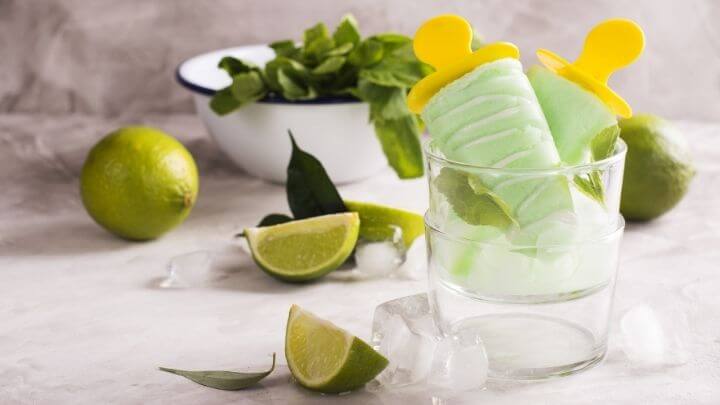 ---
Mojito Popsicles
Instead of heavy cakes and pies that are full of sugar, carbohydrates and fat go with a lighter option with less calories. These mojito popsicles are refreshing on a sunny day and help you stick to your diet (although these treats aren't for the kids).
Ingredients:
1 1/2 cups fresh lime juice
2 1/2 cups club soda
1 cup cold water
1/3 cup fresh mint leaves
1 lemon, peeled and cut into wedges
3 limes, peeled and cut into wedges
1 teaspoon liquid Stevia
4 tablespoons light rum
Popsicle molds
Directions:
1. Pour the lime juice, soda, and water into a pitcher and let sit for 5 minutes. Add the mint, lemon and lime wedges, Stevia, and rum.
2. Mash all the ingredients together with a wooden spoon and pour into the molds.
3. Insert sticks and freeze for at least 12 hours.
The Bottom Line
Wherever the celebration is, there is no reason to sacrifice your health for the sake of tasty food. You can have both with these delicious and healthy recipes.
Everyone wants to look their best for the summer, and now there is no need to dread all those barbecues and parties. Be the one who changes things up and bring a new healthy dish.
You just might be a summer trendsetter, and you and your friends can eat delicious food while staying healthy.
---