11 Delicious, Healthy Recipes to Make This 4th of July Sparkle
15 minute read
---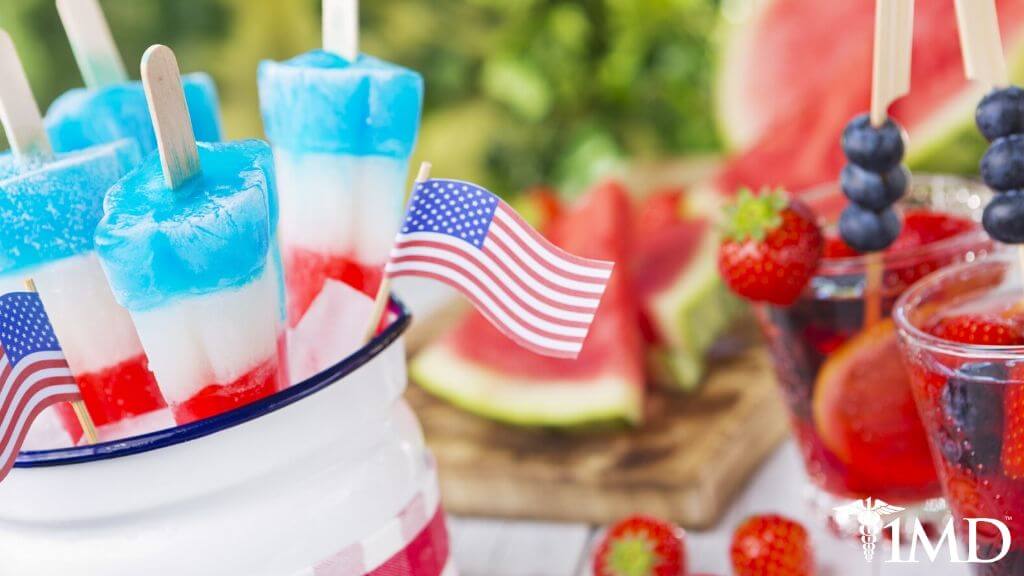 Nutrition
The 4th of July is the most important day of the summer. It's our chance to celebrate the nation's birthday with BBQs, pool parties, fireworks, and great food.
All the celebrating, however, does not mean you have to sacrifice your health. 4th of July treats can be just as delicious as they are nutritious, so long as you have the right recipes.
Thankfully, we have 11 healthy ideas that will be the talk of any party and will keep you on top of your health and fitness goals.
Sangria is a favorite when it comes to summer drinks. By adding the right fruit, you can make a healthy and flavorful beverage for your friends.
Berries, such as blueberries and strawberries, are powerful antioxidants, which help to remove free radicals from your body that can cause serious cell and tissue damage as well as cancer.
| Related: Red Wine Compound May Slow Brain Aging |
These berries also contain powerful phytonutrients that protect your heart health, prevent cancer, and promote overall health and well-being.
Ingredients:
♦ 2 bottles chilled, sweet white wine
♦ 2 liters mineral water, well chilled
♦ 1/2 watermelon, divided
♦ 1/2 pineapple, cored, peeled, and chopped
♦ 1 pint blueberries
♦ 1/2 pint raspberries or strawberries
Directions: In a large punch bowl or container, combine the wine and seltzer. Chop one half of the watermelon into bite-size pieces, and scoop the flesh from the rind of the other half then blend into a puree. Add the puree and fruit pieces to the punch along with the rest of the fruit and carefully stir.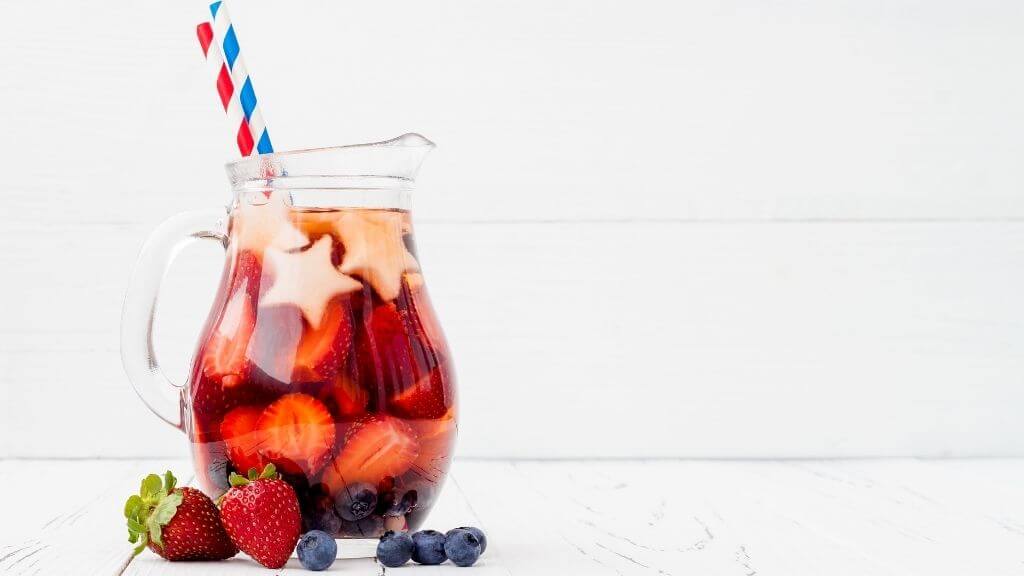 2. Red, White, and Blueberry Lemonade
To really make this drink festive, use a star-shaped cookie cutter for the apple pieces. This patriotic, fresh squeezed lemonade will give you flavor and quench your thirst without an overdose of dangerous sugars.
| Related: Sugar Conspiracy? What Big Sugar Kept Secret |
Ingredients:
♦ 1 can frozen white grape juice concentrate
♦ 1 cup freshly squeezed lemon juice
♦ 1 gallon cold water
♦ 2 apples
♦ 1 pint blueberries
♦ 1 pint strawberries, halved
Directions: In a pitcher, combine the water, grape juice concentrate, and lemon juice. Cut your apple pieces into star shapes (or regular chunks if you prefer) and add to the lemonade. Add all remaining fruit and stir well.
3. Strawberry and Avocado Salad
Salads are the perfect summer food because they are light and full of nutrition. Add some 4th of July spirit by using red, white, and blue foods to truly entertain your guests.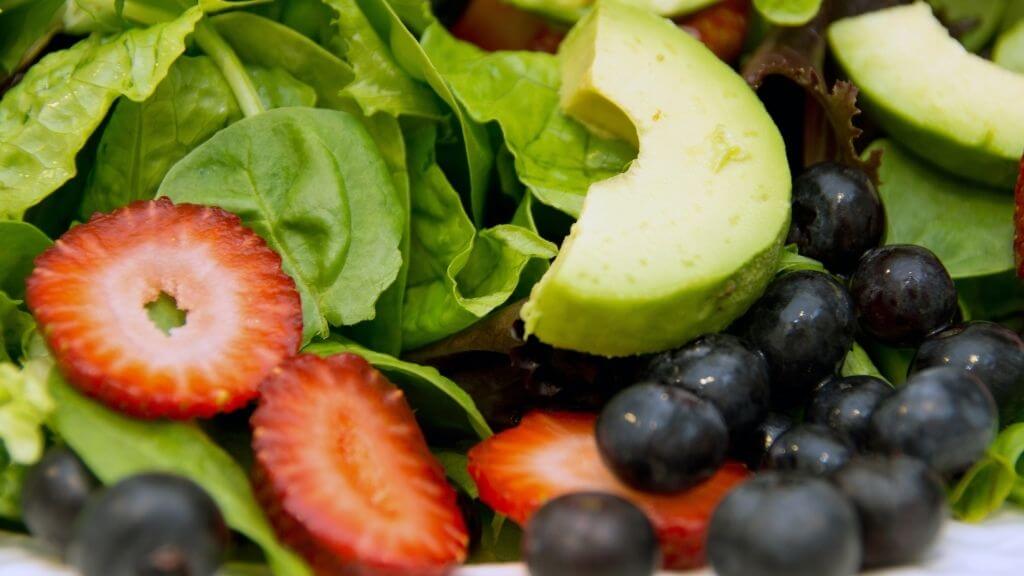 The health benefits of berries have already been discussed, and this salad delivers one more super food for your health: the avocado. Avocados are full of the healthy fats that you need and they fill you up to prevent overeating.
| Related: 6 Healthy Recipes for Cinco de Mayo |
The abundance of monounsaturated fats within avocados along with powerful anti-inflammatory agents help to keep your heart healthy and prevent cardiovascular disease.
Ingredients:
♦ 4 cups fresh baby spinach leaves
♦ 4 cups arugula
♦ 1/2 cup sliced strawberries
♦ 1/3 cup sliced avocado
♦ 1/3 cup blueberries or blackberries
♦ 1/2 oz goat cheese
For the dressing:
♦ 1/2 cup cut strawberries
♦ 1 tbsp balsamic vinegar
Directions: Blend the dressing ingredients in a food processor. In a large salad bowl, combine the salad ingredients and toss well. Pour the dressing over the salad and toss again, making sure everything is evenly covered.
4. Strawberry, Basil, and Goat Cheese Bruschetta
This will be your ultimate 4th of July appetizer with its combination of sweet and tangy tastes and a mouthful of nutrition with every bite.
Ingredients:
♦ 1 baguette (French, sourdough, or whole wheat), sliced into ¾-inch thick pieces
♦ Olive oil
♦ Salt
♦ 4 ounces goat cheese
♦ 1 pint sliced strawberries
♦ 2 tablespoons balsamic vinegar
♦ 1/3 cup fresh basil leaves, chopped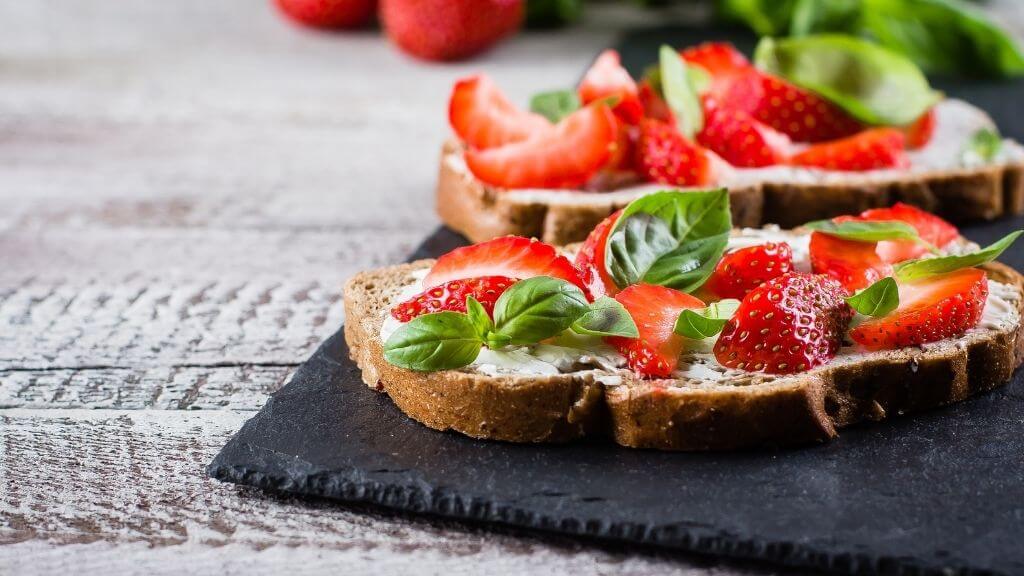 Directions: Preheat your oven to 400 degrees and drizzle each bread slice with olive oil and add a pinch of salt. Place on a baking sheet and bake for 7 to 10 minutes. In a bowl, stir your strawberries and vinegar together and let sit for 10 minutes. Spread goat cheese onto each piece of toasted bread, sprinkle with basil, and add the balsamic strawberry topping to each one.
5. Patriotic Watermelon and Feta Flag
Tempt your guests with a colorful salute to the flag and a unique display of good food. Berries, watermelon, and cheese not only fit in with the patriotic party theme, but offer advantageous health benefits to all.
| Related: Surprisingly Healthy Memorial Day Recipes |
Blueberries are full of antioxidant powers and cheese is packed full of protein. Watermelon not only helps keep you hydrated, but it is also packed full of compounds that possess powerful anti-cancer effects.
Ingredients:
♦ 1 pint fresh blueberries
♦ 5 cups cubed watermelon
♦ One 8-ounce package of feta cheese, cut into cubes
Directions: On a rectangular tray, place blueberries in a corner to represent the stars. For the stripes of the flag, arrange alternating rows of cubed watermelon and cubed feta.
6. Red, White, and Blue Dinner Salad
If you decide to keep things light, and serve a salad as your main course instead of firing up the BBQ, this salad adds just the right amount of patriotism to the meal.
Ingredients:
♦ Romaine lettuce (chopped)
♦ 1-2 pounds strawberries, cut into quarters
♦ Sliced, grilled chicken breasts (approximately 1 breast per person)
♦ Crumbled blue cheese
♦ Your favorite salad dressing
Directions: Place the lettuce on a plate and top with strawberries and grilled chicken breast slices. Sprinkle with blue cheese crumbles and drizzle with your favorite dressing.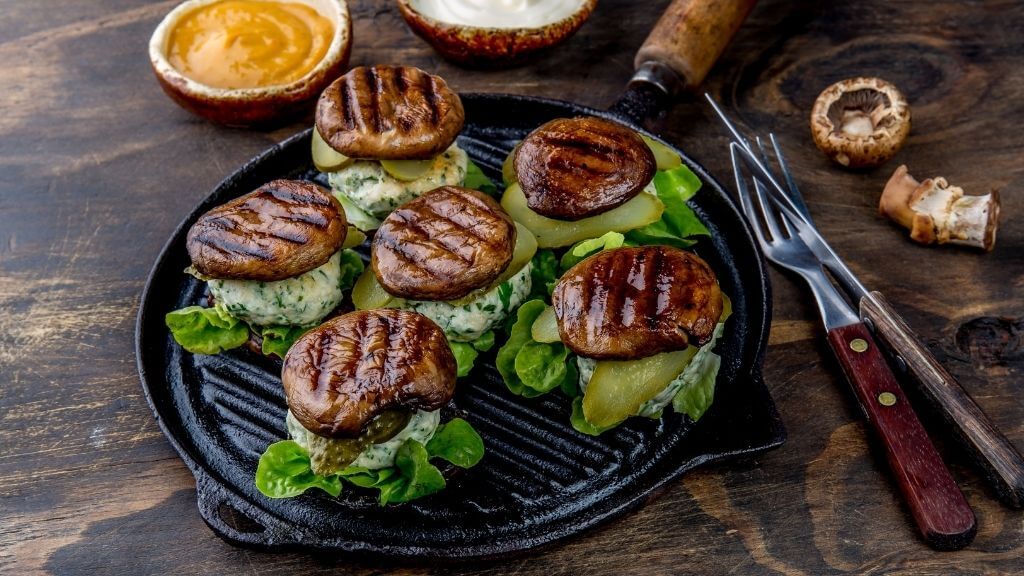 7. Grilled Portobello Burgers
Who said you can't have burgers and be healthy at the same time? A grilled Portobello burger is not just for your vegetarian guests—it is a healthy and tasty treat for all. Mushrooms are great! With so much taste packed into every bite, even the meat-eaters will be coming back for more.
Ingredients:
♦ 4 large Portobello mushrooms
♦ 2 tablespoons of olive oil
♦ 8 pieces of sourdough bread
♦ 4 slices of provolone cheese
♦ 1 large roasted red pepper, julienned
♦ 1 cup of buckwheat sprouts
♦ Balsamic reduction
Directions: Spread olive oil evenly across your mushroom caps. On a medium heat, grill each side of the mushrooms for 5 minutes. Before removing from the heat, add a slice of provolone to each one and let it slightly melt. Place the bread on the grill for about 2 to 3 minutes on each side. You can then assemble your burger using bread, mushroom, roasted red peppers, sprouts, and the balsamic reduction.
8. Turkey Veggie Burger
Staying healthy over the summer doesn't mean you still can't enjoy a grilled burger. Using turkey meat instead of beef doesn't deny any flavor, and comes with more health advantages.
Turkey is a leaner meat and does not contain as much unhealthier fat as red meat. The high saturated fat content of beef raises cholesterol levels, causes hypertension, and can lead to serious cardiovascular problems.
Fire up the grill for the 4th of July by all means, but consider switching to turkey burgers to keep your heart healthy.
Ingredients:
♦ 1 pound lean ground turkey
♦ 1 cup grated carrot
♦ 1 cup grated zucchini
♦ 2 cloves garlic, minced
♦ 1/2 teaspoon black pepper
♦ Kosher salt to taste
♦ 2 teaspoons olive oil
♦ 6 slices whole grain artisan bread
♦ 6 Romaine heart lettuce leafs
♦ 1 medium tomato, sliced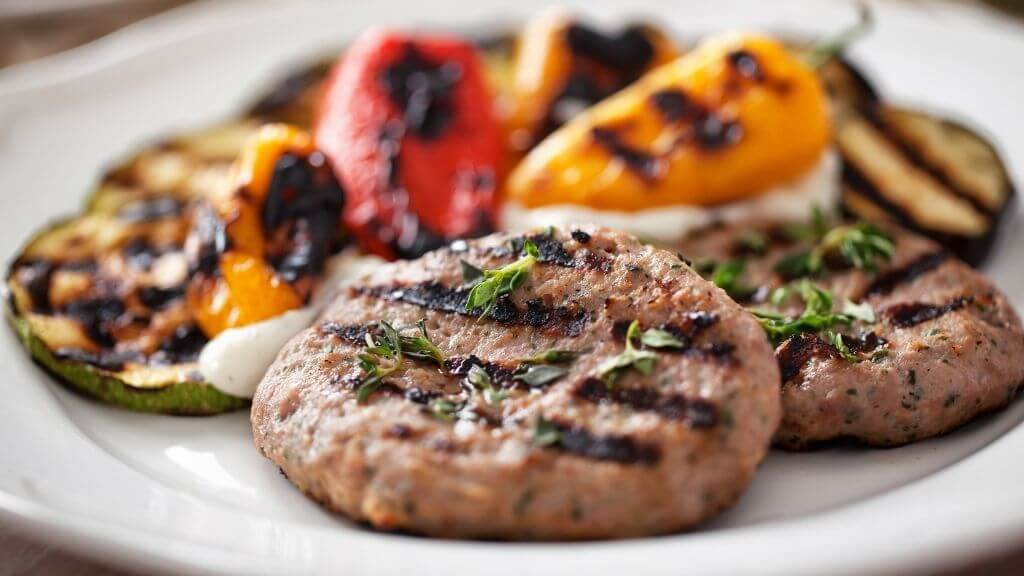 Directions: Combine the first 6 ingredients in a large bowl and shape the mix into 6 patties. You can cook the patties however you like: using a grill, skillet, or broiler. Be sure you cook until there is no longer any pink in the middle. Brush olive oil onto your bread slices and cook in a skillet until golden brown. Add your favorite condiments and add the burger on top.
9. Grilled Chicken With Berry Salsa
This recipe works well with chicken as well as fish. The powerful antioxidant salsa will help clear your body of damaging free radicals, and the chicken or fish can give you all the protein you need.
Fish not only gives you protein, but omega-3 fatty acids, too. These essential compounds help support heart health, brain health and protect you from age-related deterioration.
Ingredients:
♦ 4 (6 oz) chicken breasts or fish filets
♦ Olive oil (for grilling the meat)
♦ Salt and pepper
♦ Prepared couscous (optional, for serving)

Red & Blue (berry) Salsa:
♦ 1/2 cup chopped, fresh blueberries
♦ 1/2 cup fresh whole blueberries
♦ 1/2 red bell pepper, diced
♦ 1/4 red onion, diced
♦ 3 tablespoons fresh minced parsley
♦ 1 tablespoon lemon juice
Directions: Stir all the salsa ingredients together in a bowl and refrigerate until ready to use. Lightly brush the chicken or fish with olive oil, season with salt and pepper, and grill until fully cooked. Top with the already prepared salsa and serve with couscous.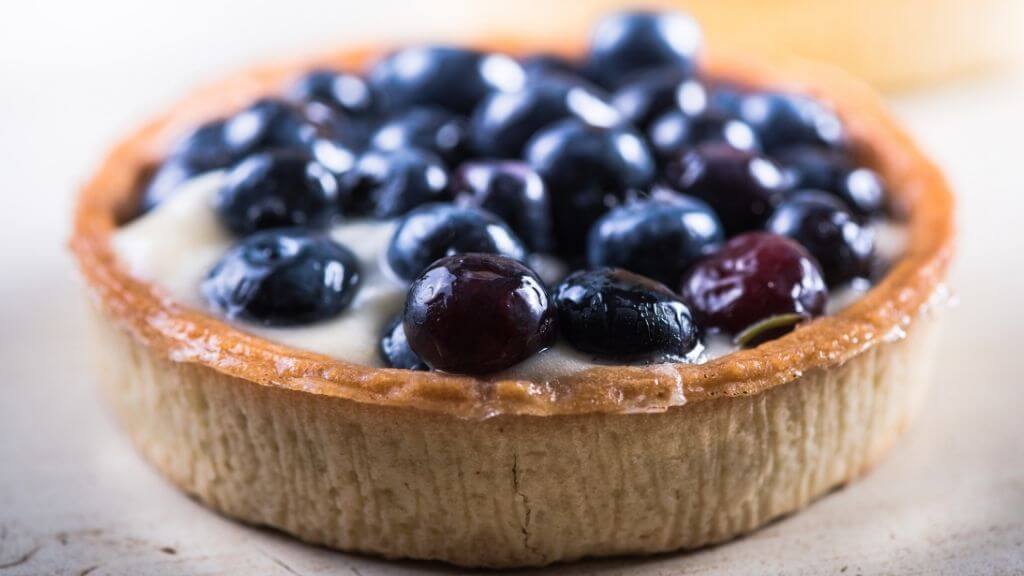 10. Clean-Eating Blueberry Pie
You can have your dessert and eat it too, especially when it is good for you. As the ultimate summer pie, this clean-eating blueberry treat incorporates healthy ingredients to give you taste and nutrition.
| Related: No-Bake Triple Choco Energy Balls |
Ingredients:
Crust:
♦ 1 1/2 cups whole wheat pastry flour
♦ 1/2 cup oat flour
♦ 1 tablespoon coconut sugar
♦ 1/2 teaspoon salt
♦ 2/3 cup coconut oil, cold (optional, pure unsalted butter)
♦ Ice cold water
Filling:
♦ 6 cups fresh blueberries
♦ 1/2 cup coconut palm sugar
♦ 2 tablespoons white whole wheat flour
♦ Juice of one lemon
♦ 1/2 teaspoon ground cardamom
♦ 1/2 teaspoon ground ginger
♦ Pinch Kosher or sea salt
♦ 2 teaspoons pure vanilla extract
♦ 1 egg, lightly beaten
Directions: Make your crust by mixing the oat flour, wheat flour, sugar, and salt into a bowl. Add the coconut oil and work through with your hands. Add ice water slowly until a dough is formed. Make your filling by mixing every ingredient except for the egg. Divide the crust dough in half and roll one half out flat, then place in a pie pan. Add your filling. Roll out the rest of the dough to make a flat pie cover, or cut into strips to lie across the fruit filling. Brush the dough with the beaten egg and bake for 45 minutes at 400 degrees.
11. Red, White, and Blueberry Yogurt Popsicles
These fun and healthy treats will get more "ooohs" and "aaahs" than the fireworks. Perfect for the adults and kids, this nutritious frozen treat is a healthy alternative to sugary ice creams and baked goods.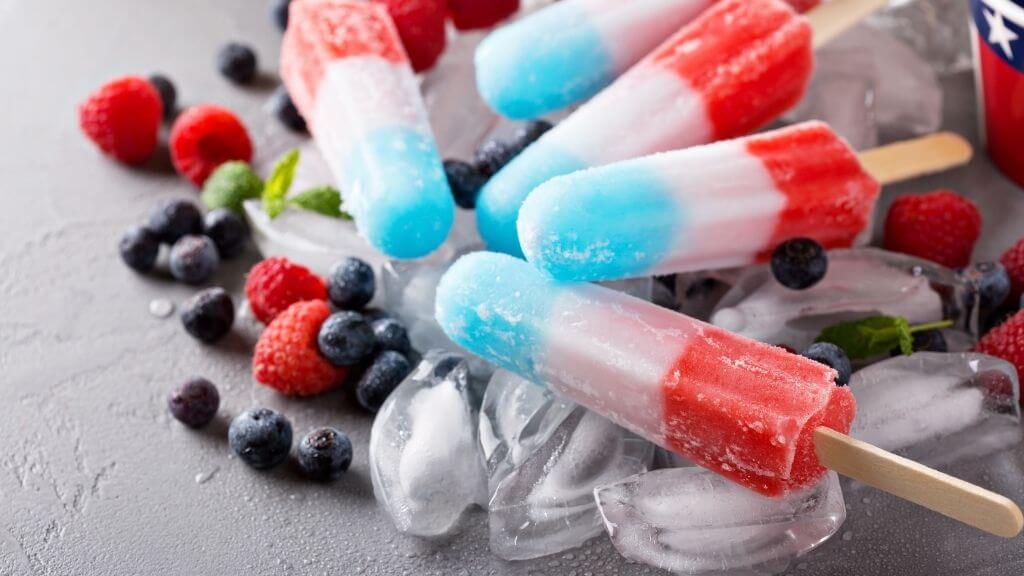 Ingredients:
♦ 1 heaping cup raspberries
♦ 1 cup blueberries
♦ 1 cup vanilla-flavored Greek yogurt
Directions: Blend the raspberries until smooth and set aside. Repeat with the blueberries. To layer the popsicles, start with blueberry in the bottom of the mold and place in the freezer until firm. Then add a layer of yogurt for the next stripe and add the popsicle sticks. Return to the freezer until firm. Next will be the raspberry stripe, and you will repeat this pattern until the mold is full. Once they are completely frozen, you can un-mold them but this should not be done until you are ready to serve.
The Bottom Line
Summer parties and 4th of July celebrations can be fun, tasty, and nutritious. You no longer have to sacrifice taste for health, and nutritious food doesn't have to be bland and boring.
These patriotic recipes will catch more eyes than the firework display and will keep your health goals on track.
---