Kids Recipes: 3 Fast and Fun (and Healthy) Snacks for the Kiddos
5 minute read
---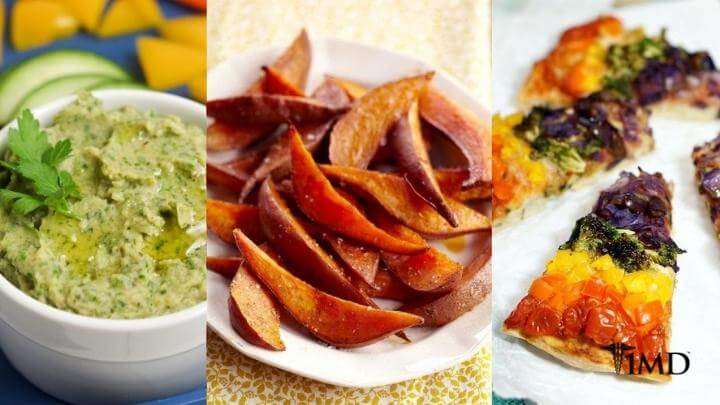 Diet & Fitness
Keep the little ones happy and healthy with these 3 kid-friendly (delicious) recipes:
1. Fun & Easy Green Hummus
Kids love this one because it's tasty, it's a dip, it's well-seasoned, and it's amazing.
Ingredients

1 cup spinach
1/2 avocado
2 tablespoons parmesan
2 cloves garlic
1/2 teaspoon salt
1 1/2 tablespoons lemon juice
1 can great northern beans/white beans

Instructions
In a food processor, pulse spinach until mostly pureed.
Add avocado, parmesan, garlic, salt, and lemon juice.
Pulse until combined and pureed.
Rinse and drain one can of great northern beans.
Add to the food processor and pulse until the entire mixture is well pureed, scraping the sides as needed. Add extra liquid from the can if necessary.
Refrigerate for a few hours before serving.
Photo and Recipe Credit: superhealthykids.com | Katrina Nelson (Kids will love it!)
---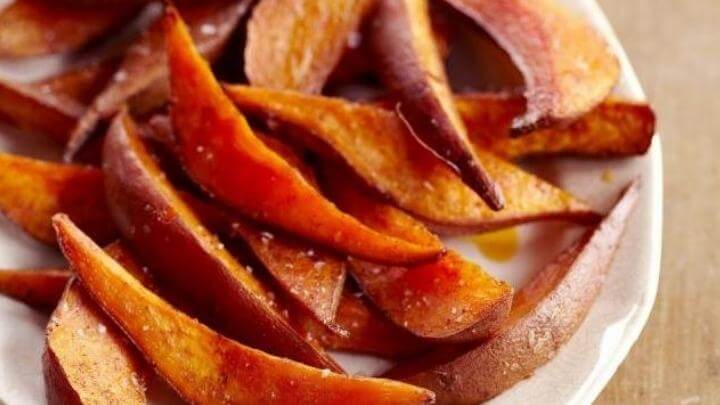 2. Baked Sweet Potato Fries
What's not for every kid to love? The unique flavor of sweet potato, with the baked, tasty goodness of french fries. Be warned: Kids may start requesting these a lot.
Ingredients
2 pounds sweet potatoes (about 4 small)
2 tablespoons olive oil
1 1/2 teaspoons chili powder
1 1/2 teaspoons kosher salt
Instructions
Preheat the oven to 425°F. Cut each sweet potato in half lengthwise, and place it flat side down on a cutting board. Cut the potato halves into 1-inch-wide wedges.
In a small bowl, combine the oil, chili powder and 1 teaspoon of the salt.
Place the potatoes on a roasting pan and brush with the oil mixture.
Lay the potatoes flesh side down on the pan and put the pan in the oven.
Cook until potatoes, turning once, become soft, 20 to 25 minutes.
Remove the pan from the oven and season with remaining 1/2 teaspoon salt. Let the wedges cool for a bit, and serve warm.
For dunking, ketchup works well (at 15 calories per tablespoon) or try a squeeze of fresh lime juice for a British chips-and-vinegar effect.
Nutrition Information (per serving): Calories 171, Carbs 30g, Fiber 5g, Protein 2g, Total Fat 5g, Saturated Fat 1g
Photo and Recipe Credit: parenting.com | Allison Fishman (This one's a no-brainer!)
---


3. ROYGBIV Rainbow Pizza
While a little more complex to put together, the end results will have them smiling.

Ingredients
For The Crust
1 package (23 oz.) ready-made pizza dough
1 cup cooked kale leaves, finely chopped
½ cup shredded Parmesan cheese
For The Toppings
R (Red) - Cherry tomatoes, chopped
O (Orange) - Bell pepper, diced
Y (Yellow) - Bell pepper, diced
G (Green) - Broccoli, chopped
B (Blue) - Purple Cabbage, chopped & steamed
I (indigo) - Purple Japanese eggplant or purple potatoes, diced
V (Violet) - Red Onion, diced
Pizza or Tomato sauce
Shredded Mozzarella cheese
Shredded Provolone Cheese


Instructions
For The Crust
Squeeze any liquid out of the kale leaves, using a potato ricer or a tea towel.
Stretch pizza dough into a rectangle about ½-inch thick.
Sprinkle chopped kale leaves and Parmesan cheese.
Roll dough jelly roll style. Then cut into thirds.
Shape each third portion into the shape of a rainbow.
Makes 3 small pizzas, about 4 x 10 inches each.
To Make The Pizza
Spread pizza/tomato sauce on rainbow-shaped pizza crust.
Sprinkle the cheeses.
Lay vegetables on top of the cheese in the order of the colors of a rainbow (ROYGBIV).
Bake in a pre-heated oven at 450°F, for 15 minutes.
Let cool slightly, serve and enjoy!
Recipe Notes

*This recipe makes 3 small pizzas.

Photo and Recipe Credit: fiestafriday.net | The Novice Gardener (Thanks you guys!)


---